Come down to earth at Airfield
14A Airfield Park €430k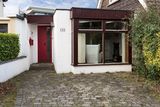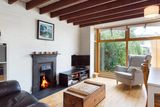 Airfield Park in Donnybrook, Dublin 4, is in the grounds of Airfield House, a 19th century manor that for many years was home to the RTE drama department.
Almost directly across the street from the house is a little bungalow adjoining 14 Airfield Park, where the garage used to be.
Designed by an architect, 14A Airfield Park has its own driveway and entrance and its own walled back garden, so it makes for a perfectly private pied-à-terre.
There's a small public garden out the front of the house, full of ornamental trees, and as the street is a cul-de-sac, it's also reasonably quiet.
Number 14A has modest proportions of 667 sq ft, but the agents suggest there may be potential to extend. That existing floor area does include two bedrooms, both with wood floors and one with patio doors to the back garden.
By way of daytime rooms, there's a fitted kitchen with white cabinets and integrated appliances, and a living room with exposed roof beams and a painted brick wall with a mock fireplace.
A floor-to-ceiling bay window in the living room overlooks the front garden, facing south, so there's plenty of light.
The back garden is paved but the walls are clad with a vigorous climber and there's one striking palm tree reaching skyward.
The front garden is cobbled so you can park there, and there's a hedge screening you from the neighbours.
Airfield Park is just across the Stillorgan Road from RTE, and next door to the Teresian School. St Vincent's hospital is about a kilometre away down Nutley Lane, and it's about 15 minutes' walk or less to Donnybrook Village.
Number 14A Airfield Park is for sale with agent Owen Reilly at Grand Canal Dock (01) 677 7100. The asking price is €430,000.