The husband, the father, the son, the professional and one of the lads: Can men really be all things to everyone?
Society has always expected men to earn a living, but today they've also got increasing responsibilities at home. Is it any wonder that growing numbers are suffering high levels of stress?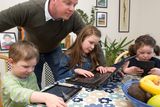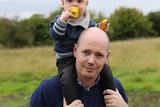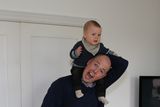 My mobile phone vibrates in my pocket but I keep smiling. I'm mid-interview with a prominent politician but know I have to check the voicemail. Earlier that morning, my eldest daughter had complained of a headache at the school gates and I had a feeling I'd be summoned to get her at some stage.
I'm right. "Mr Clifford, Molly has a temperature, can you collect her, please?" asks the teacher on the message. I wrap up the interview and leave Cork city bound for my daughter's school.
Along the way, I check in with my editor who wants me in Limerick later on in the day. My accountant also needs an urgent word. My wife is on a training course in Dublin so I'm wearing multiple hats.
Between getting out of the car and arriving at the school gates, I check in with my mother who recently had a health setback. She wants a chat... but I simply don't have time. I collect Molly, get her medicine, then food for ­dinner, make a few work calls, arrange for a ­childminder at the last ­minute, then head for ­Limerick, my head in a spin.
Just another day of ­juggling. You see, the modern Irish man often feels that he has to be all things to all people - the loving husband, the attentive father, the hard-working professional, one of the lads, a dutiful son - headache central.
And it's believed the additional weight of social expectation is leading to an increase in our levels of anxiety.
New research carried out by the British mental health charity MIND found that 80pc of men repress feelings of anxiety rather than ­externalise their emotions, and that stress levels are on the increase.
How often do we hear the terms 'be a man' or 'grow a pair' if our shield appears to be slipping?
For many Irish men, the additional pressures brought on by the economic crash here means many have to work harder and longer to ensure the mortgage and bills are paid.
We're a proud lot, want to fend for our families and when the world crumbles around us, we often are the last to reach out and ask for help.
While calls to the St ­Patrick's Mental Health ­Support line were up by almost 30pc last year, men accounted for only a quarter of all calls and the director of Clinical Services at St Patrick's, Tom Maher, says Irish men are still finding it difficult to discuss anxiety or distress.
"It's a common phenomenon, both nationally and internationally, females have much better social supports and they are much more willing to talk about mental health and difficulties that they have. Irish men, in particular, are not as forthcoming when it comes to talking about what can be very intimate details about their psychological well-being," he says.
Personally, I believe the concept of the 'modern man' has contributed heavily to the anxiety levels of men across Ireland. I often say that if I ever find the very first 'modern man', I'll punch his lights out.
It is against him that we are measured and I know many men who just can't win. We're expected to be caring, sensitive and romantic while simultaneously displaying raw male traits. We must defend our lair….and then hoover it.
A devoted husband and father, I take my responsibilities very seriously. My wife and I are blessed to have three beautiful children. When they were tiny, I changed their nappies, pushed them in their prams, cuddled and sang them to sleep. As they grow I make sure to help them at every turn and will always be there for them whenever they need me.
As a professional, I work hard to progress my career - often from 6.30am to very late into the night, and I also play a major role in helping my parents, both now in their mid-70s, as their health deteriorates.
While most of my closest friends are now fathers themselves, there's always an opportunity for a wild session and I try to juggle all commitments to make them happen when I can. All things, to all people. That juggling act undoubtedly leads to anxiety - though, being a typical man, I park it to one side and plough on.
For father-of-two Kieran Farrell, a digital producer from Dublin, the daily commute to and from work means he doesn't get as much time as he'd like at home with his children and wife Betty.
"I'm up at 7am and head from Rathfarnham to Ringsend either on my bike or by car. At that time our two kids Diego (6) and Mia (5 months) are still asleep or just waking. I never get the chance to drop Diego to school, which I'd really love to do. If I'm lucky, I'll get home for 6.30pm, so I might get an hour-and-a-half to spend time with the children before they go to bed.
"After they've fallen asleep, I'll get some work out and keep going at that until 10 or 11pm, sometimes later. I don't want to stay late at work and forsake the early years of my children's lives - but need to stay on top of things at work too."
He admits that he's missing out on man's time. Kieran tells the Irish Independent: "Sometimes on a Saturday morning, I'll meet the lads up at Marlay Park and we'll bring our kids so the moms can have a lie in. But other than that, there isn't a lot of free time during the week or month to hook up with friends. Maybe once a month or every two months we'll go out together if we're lucky. But look, I chose this life, I'm not crying on anyone's shoulder. If it's a choice between spending time with the children or friends, it has to be the children at this stage when they are so small."
Kieran believes that the State must do more to recognise the role of the father in Irish society and extend paternity leave. "In Sweden, fathers must take some time off on paternity leave. All together, the parents get 480 days of paid parental leave, 60 of those days are reserved for the father and men take about a quarter of all parental leave. In Ireland, the State offers next to nothing to the father."
Ireland is in a minority of Western countries in not having mandatory paid paternity leave. Iceland offers up to 91 paid leave days for dads and Norway 70.
"There's talk about bringing in legislation to help fathers but we seem to have a view that only the mother needs time off with the child," explains Kieran, adding: "Like in our constitution, the woman, and not the man, is recognised as being in the home. If we want to help men in Ireland, we really need to change this. It's time Irish society grew up in relation to paternity leave."
In Ennis, Darren ­O'Connor decided that if the State wasn't going to help him spend more time with his little boy Nathan, then he was going to grab the bull by the horns and make it happen himself.
"Like so many men, I was leaving for work at 8am and not getting home until six, sitting in an office in a shirt and tie thinking of my boy. I had very little choice as we needed the money. If I was lucky, I'd grab an hour with Nathan (now 11 months old) before he'd go down to sleep. Something had to be done so my wife, Sinead, and I sat down to make a plan," explains Darren.
Being away from his young family each day took its toll on him, he tells me: "I started to experience increased anxiety, my blood pressure was high and eventually I started getting anxiety attacks. At the same time, as Nathan was born, we were building our new home and I'd changed jobs, it was all too much, my doctor told me I had to slow down and that I had too much on my plate."
Something had to be done. Darren decided to take a gamble and set up a confectionery business from home. He invested in kitting out his kitchen and garden shed for his ambitious venture.
Now he has the best of both worlds, as he explains: "I want to spend as much time as possible with my family and now I can. My father was a provider, he stretched himself to do everything he could for us and I want to do that too, but at the same time have the opportunity every day to relax with my son. Since changing my lifestyle, my anxiety levels have dropped but I'm sure many men feel trapped in work situations because they fear if they lose their job, they'll also lose their home."
In Midleton, Co Cork psychotherapist, counsellor, husband and father Tom Evans told me that bravado still holds men back from seeking help when needed.
"Of course, men today are under all kinds of pressures that their fathers, and their fathers before them, simply didn't have," he says. "We're expected to be a lot more involved in family life while, at the same time, still work to bring in the bacon. We've evolved from hunter-gatherer to the man with the pipe, newspaper and slippers to where we are now. One thing that hasn't changed too much though is our innate reluctance to open up about our emotions, even when we're struggling. Instinctively we don't reach out for help."
And the father-of-three explains that, nowadays, men frequently suffer from mental exhaustion which, if ignored, can be destructive to relationships.
"Men have to be gentle on themselves and it's important that they hold on to their own individual outlet, whether that's going to the football, meeting friends for a drink or something else. Men-with-men time is very important, we underestimate how vital it is to 'shoot the breeze' and laugh. Years ago in rural areas, farmers used to do this during a day at the bog, but in modern Irish society there are less opportunities to do this," says Tom Evans.
And he said Irish society too can play its role in helping men feel like they're not going to buckle under the weight of expectation. "Men's rights and concerns have to be listened to and respected," he explains. "This is particularly important for men's mental health and self-care. We need to go easy on men and not expect them to be super-human."