'I wouldn't even wish an eating disorder on my worst enemy'- Anorexia survivor (19) opens up about her battle with the disorder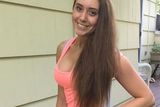 A New York blogger has opened up about her battle with Anorexia Nervosa and said that her sister's fears that she would die motivated her difficult recovery.
Sarah Francati (19) has amassed more than 25,000 followers on Instagram since she began documenting her recovery from the eating disorder, which she said "trapped" her during her teenage years.
"I built a wall. Every time I weighed myself the wall grew taller," Sarah said.
"Brick by brick. The wall separated me from reality. My eating disorder had me trapped and I could not push past the wall I had built. My siblings need an older sister. I deserve life. One day that wall will be gone. All the bricks will be smashed."
Read more:
Speaking to The Daily Mail, Sarah said her younger sister was the inspiration that motivated her recovery after years of battling with the disorder in her teens.
"What really changed me was when my sister told me: "I'm not ready to lose my big sister"
"I knew my siblings needed me. I knew I wanted to be a mom some day, a successful nurse and I wanted to see the world.
"And none of these were possible to achieve until I realised I had to eat," she said.
Read more:
The Instagram star revealed that she has found a new passion in weight-lifting and body sculpting, which she said has aided her recovery.
"I'm not a competitor, I don't have an impressive squat PR, deadlift, or bench.
"I'm just a girl who decided to step away from the treadmills at the gym and walk into the weight room," she said.
"No one deserves to live in a battle zone with themselves," she said
"I wouldn't even wish an eating disorder on my worst enemy."
For information and support on Anorexia Nervosa or other eating disorders visit www.seechange.ie or www.bodywhys.ie or call the Irish Helpline on: 1890 200 444