Irish mum shifts 4 stone through the power of her 19000 Instagram followers
Mum of two Ursula Walsh has shed over 56lbs after starting an Instagram account to document her weight loss journey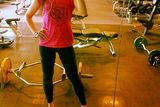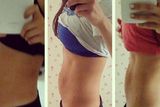 An Irish mother who shed four stone in less than one year credits Instagram for keeping her on the straight and narrow.
Mother-of-two Ursula Walsh (31) has accumulated over 19000 followers on the social networking site, where she documents her meals and fitness regimes daily.
The now slim mum reached breaking point last March after giving birth to her second son and was on the brink of a size 16.
"After having my second baby my jeans didn't fit. Not even my coat would close and I was really down about my weight," said Ursula, who is originally from Mexico but lives in Tullamore Co. Offaly.
"I was at home with two babies while my husband worked in Dublin and I could eat a whole packet of Jacob's biscuits in one morning or a huge bar of dark chocolate."
After having her children Ursula said she was motivated by her mother's experience.
"When my mother had her children she never really lost that weight and I know how she felt about it. I didn't want to feel like that. I really wanted to be physically healthy for them and have the high energy levels I needed for them," she said.
"People always ask me for before pictures but I don't have many as I was always avoiding the camera or deleting the photos after they had been taken."
Reaching breaking point last March, Ursula decided to do something about it and kick-start a healthier lifestyle. She signed up to Instagram anonymously as a way to keep track of her meals and intake.
"I had read on a food blog that those who keep a food diary tend to be more successful and I signed up to Instagram anonymously to keep track of what I ate.
"I thought that if I had to post a photo of things I ate I would be less likely to eat really bad things," said Ursula.
The mum's account soon began to garner interest from her mainly Irish Instagrammers and now she is heading towards 20000 followers.
"I was thrilled when I reached 1000 followers but to be at almost 20000 just months later is incredible.
"My followers have been so positive. I follow other health blogs and the comments sometimes aren't as kind but I think Irish Instagrammers, which mine mainly are, are great.
Follow Ursula on Instagram: www.instagram.com/momfitnessdiary