Couch to Camino: 'Maybe the peace got to my head a little, but I began to feel really grateful for my life' - Andrea Smith
After weeks of writing about it, Andrea Smith is three days down on her 115km Camino trek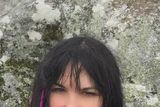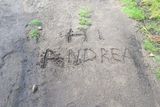 Magical scenery, invigorating idleness and a new sense of gratitude, Andrea Smith has completed the third day of her 115km Camino trek.
Tuesday, October 6
Today I insisted on walking by myself, as I felt I was so slow, it was holding the others back. As I set off, the remedial class of Cathy, Harry and Mags walked ahead but had decided among themselves to wait for me at the 5km stage where there was a coffee shop.
Unfortunately I went slightly wrong and ended up on the main road rather than the trail through the mountain, and although I was blissfully unaware I was wrong, I did think it was rather hairy to be walking along the side of the road without a footpath with the traffic whizzing by.
And as it was still raining, I got splashed a few times.
When I jumped into the ditch to avoid an oncoming truck for the third time, I did wonder why the Camino people thought this was a suitable route, but sure I'm obviously as thick as I look as I just kept going.
It also crossed my mind that nobody else was passing me and I hadn't seen any shell signs, but sure I just kept truckin' up the hill.
Umberto from Follow The Camino phoned a few times and I assured him I was grand, and then I came to a coffee shop and decided to have an early lunch as I knew we were crossing the mountains and there was nothing more on offer for 15km.
I was blissfully enjoying my toasted sandwich when he phoned and asked where I was, and twenty minutes later the poor, ever-patient man came bursting in the door, perspiring and out of breath.
This was when I discovered I was on a parallel road and the remedial class had waited for an hour and a half for me at another cafe… oops, sorry guys.
Umberto had run back to find me and had then run to other road to find me - I'd say he ended up doing two Caminos this week with all the trailing back and forth to check on me! He strapped a GPS watch with the route programmed in onto my wrist, which I thought was hilarious as I felt like a prisoner on day release.
It would also let him know where I was so if I  fell down and broke my neck, they would know where to find me. In saying that, you can't really go wrong on the Camino as the shells and arrows at every junction clearly point the way!
Once I entered the mountain, the weather began to cheer up and the trail was pretty flat with just gently inclines and slopes. It was so pretty and the scenery was magical, and as I walked along by myself, listening to my iPod, I suddenly began to understand the appeal of this whole Camino thing.
When you're walking along, and all you have to worry about is putting one front in front of the other, it's a great way to get out of your head and forget about your everyday life for a bit. I tried to think about work, but, nope, my brain wouldn't allow it.
For someone like me who lives in my head and rarely gets physical, it was kind of invigorating to be idly walking in the gorgeous mountains, looking at nature and trees and gorgeous views around every corner with not very much else cluttering up my mind. The sun began to shine and I felt amazing.
I was also chuffed that I was coping physically, as apart from a few horrendous blisters, a bit of chafing and sore feet, I was doing grand with the distances of over 20km per day. And let's face it, we all suspected (even me) that I would have a heart attack and die along the way, given how fat and unfit I am, proving all those naysayers who regularly predict my imminent demise right.
But no, I was actually grand, and I only got a  bit breathless going up hills, and while I was slower than everyone else, I managed absolutely swimmingly.
A weird thing happened as I walked along and maybe the peace got to my head a little, but I began to feel really grateful for my life. Like I felt really thankful that I still have my lovely parents, when so many of my friends have lost theirs, and that all my troubles are little ones.
I got so sentimental at one point, that when I came to a cross that was covered in stones that people had carried, I picked one up and carried one for all my family and friends and you readers (see video).
The idea is that you carry a stone for someone's troubles through the walk and move it on to another point, and while I had rolled my eyes at that concept at the beginning, the Camino magic was kicking in and I now thought it was a lovely idea.
I met a German girl called Stephanie who had been walking the Camino since September 2nd and we walked for a few km and chatted about her life and experiences to date.
Then I began my steep descent from the mountain, and while Frances Black had warned me that it was rocky and difficult, she wasn't kidding. It was really hard on my blistered feet picking my way through stony, uneven ground and it literally took me hours to get down. Poor Frances kept texting to check I was okay, and I felt so guilty as she should have been relaxing after her equally rocky descent.
Umberto was less concerned as I had my tracker on me, and he was getting used to my very-slow-but-gets-there pace and fierce independence. I was also touched to see a note that the remedial class had left in the sand for me saying hi as I trudged along.
Eventually I arrived at the village of See and was physically shattered from that 23km journey. I only made it barely in time for dinner, where I chatted to the lovely Sinead, Tess, Hazel and Aisling, after which we had a fantastic singsong. Who knew there were such good singers in the group, as apart from Frances obviously, Liz, Mary, Cepta and Umberto were all fabulous, and I belted out a number or two as well.
Umberto and I did a duet of Je t'aime that was great fun, and we had such laughter and craic and hilarity for the evening. They are a truly great group of people, with great camaraderie among us, and dare I say it, I'm actually having a ball on the Camino.
Tomorrow we walk to Finesterre, known as The End of The World. Tune in to see why. And if anyone would like to sponsor me for Frances Black's charity, The Rise Foundation, which helps families who have loved ones in addiction, my link is www.mycharity.ie/event/couchtocamino/
Read more here:
It's not all hardship on the Camino ... If you want to hear Andrea Smith duet with Umberto Di Venosa click to donate www.mycharity.ie/event/couchtocamino/and then view the attached video!

Posted by Brenda O'Grady on Wednesday, October 7, 2015