'Words can't describe how difficult the whole process was' - Two Irish women share their journeys of infertility to being mothers
Female fertility is a hot topic these days, for all kinds of reasons. Denise Smith talks to one woman who suffers from unexplained infertility and another who had childhood cancer. Their desire to become mothers helped them to overcome challenging times.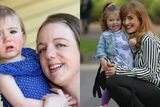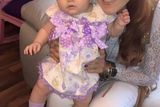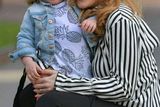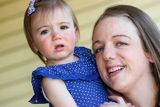 For some women falling pregnant is the most natural thing in the world but for others, fertility is a black shadow that hangs over their lives.
Every pregnancy announcement and baby shower is made all the harder with each failed pregnancy test and the hollowness that comes with feeling you will never hold a baby in your arms. Despite their secret heartache, many women refuse to give up.
Jean Gill and Denise Philips share their inspiring IVF journeys and explain why infertility is something no woman should be ashamed of.
Denise Phillips (33) and her daughter Beth
When salon owner Denise Phillips, from Naas in Co Kildare, was told she was infertile at just 28 years of age, she never gave up hope that one day she would hold her baby in her arms
"For two years, I tried for a baby and nothing happened. I went to the doctor, I was referred to the hospital and went to the Well Woman Clinic and still, nothing happened.
"I was told 'You are young, you have loads of time. I was put on different drugs, diagnosed with coeliac disease and tested for a bone disorder and then, at 28, I was finally diagnosed with unexplained infertility.
"My whole world fell apart, I had always dreamed of having a baby, my one dream in life was being a mother - not getting married or having my own business, just having a baby.
"I was so angry with myself, my body and society that I decided I didn't want to have a baby. I didn't think I could afford IVF, so we began to look at adoption. We were at the end stage when we decided IVF could be an option.
"A week after we came home from our honeymoon, I started my IVF journey. I don't think words can adequately describe how difficult the whole process was. My worst experience was every time it failed, when I had cancelled cycles, when I had a failed cycle, when I had 16 eggs and only six fertilised and only one survived.
"But despite everything, I never stopped believing. I dreamt I had a girl, I dreamt what she looked like and I told myself I would hold her. I just believed one day I will eventually have my child."
Two years on, Denise was given a birthday present like no other, when she discovered she was pregnant on her 30th birthday.
"On the day of my 30th, I was having a party so I waited until everyone left at 2am to take the test. It was the moment I had been dreaming of.
"Beth is two-and-a-half now and she has changed our lives forever. I would love to give Beth a baby brother or sister, but it is such a gruelling process, it really takes its toll on you emotionally.
"It's hard to know when to stop. When your marriage is suffering? When you are in debt? When you are pushing your family and friends away because they don't understand?
"Do you say, 'We will do three cycles and pay €15,000 and then give up on your dream?
"People say they can't afford it and I take issue with that. I had a husband that was out of work and I was earning a normal wage - if you want something you might not be able to get it in a year, but save: don't go on your holiday, don't drink, don't smoke, you can afford it.
"For nearly two years, I didn't do anything but had fertility treatment. Instead of a car loan, I have a baby loan. Ireland and Lithuania are the only two countries in the whole of the EU who don't have funding for IVF, even though it is classified as disease by the World Health Organization.
"It the loneliest time in the world because people are not educated and they ask you ridiculous questions, not out of badness but simply because they are not informed.
"I remember people asking me, 'So are you pregnant yet? Is the baby in you now?'
"It is so important to be mindful of other women and what they may be going through in silence."
Having suffered with postnatal depression, Denise - who is also a proud stepmum to 12-year-old Ellie, her partner's daughter from a previous relationship - is also known by her social media handle 'MillionDollarBaby', now blogs about her experience to raise awareness about IVF.
"IVF mammies are four times more likely to suffer with postnatal depression. After Beth was born, I felt bad if I wanted an hour to myself, I felt guilty for asking for help. I wanted her so badly, yet I was feeling lonely and sad. I isolated myself from friends because I didn't want them to see me struggle.
"When Beth was six months old, I went to counselling to talk about my infertility and how it affected my confidence. I learnt to fully accept that I was infertile. I still have bad days but accepting has really helped me.
"Most women struggling to conceive keep it a secret. It's a lonely road and a hard topic to discuss or understand unless you have walked it.
"Please talk to someone, write a journal or express your feelings because you are not alone."
You can follow Denise's journey on Instagram (@milliondollarbaby_ivf) or Facebook (www.facebook.com/myivfjourney)
Jean (34) and her daughter Sadie Gill
Thirty-one, single and self-employed, having a baby was the last thing on Jean Gill's mind until she was told time was running out.
"I was 14 when I was diagnosed with Hodgkin's lymphoma. At the time, I underwent chemotherapy and I was told that it could affect my fertility. At that age, fertility wasn't something I even considered.
"Over the year's, family members would say you must get it checked out and I just smiled and nodded but never did anything.
"And then one day, my housemate said to me, 'Do you have your period again? Jesus, you always have it.' And then I started working out that I did always have it, I had an 18-day cycle.
"I went to the Well Woman Clinic and got a blood test and I was put on the Pill, but a couple of days later they called me and told me to come off it. I was told that my egg count was very low. I had an AMH reading of 0.8 [Anti-Mullerian Hormone test - a measure of ovarian reserve], while it should have been between 8-13 for my age."
Determined to start a family, the choreographer arranged to go to an open day in Sims in Clonskeagh.
"I spoke to Dr Kennedy and I was told that if I wanted children, I need to start treatment as soon as possible.
"I was single, self-employed and I was living with my housemate - doing the normal 31-year-old thing.
"I asked how long I had to think about it and I was told six to 12 months, which was a major shock. Even though I was single and not in an ideal living situation, the urge to have a child outweighed everything else.
"I knew it was now or never. When I returned to the clinic, I had an internal scan to check the lining of my womb and really to check if everything was in order.
"Before I knew it, my journey had begun. The next thing was choosing the donor. In a way, it was very straight forward. I picked everything from eye to hair colour. Because I was undergoing IVF alone, they explained that a lot of people in my situation normally tend to pick what they look like themselves.
"Three weeks later, I had a donor and then it all came down to my cycle. I called the clinic on the first day of my period, they took a note of it and then I started on tablets. On day three, I began injections and on day five, I added more injections.
"I was inseminated on August 24, my mum's birthday, and then waited two weeks to see if I was pregnant.
"I remember waking up at 5am after the two week mark and doing a pregnancy test. I could see a faint line, so I woke my mum up but she couldn't see it. I went back to bed and tried again later with the same result.
"The clinic confirmed it was a positive result. It was the most surreal moment, I couldn't believe that it had worked the first time.
"Sadie was born on April 22, just 18 months after I found out about my fertility and now she is 15 months old. When people found out that I was having a baby, the first thing they said was 'I didn't know you were with someone', they couldn't believe it, but you can do it by yourself. Yes, there are huge obstacles - even financially there are obstacles, especially with the rent crisis.
"We live in a one-bed apartment and that is fine at the moment, because she is in a cot, but in the next year, I want my own space back but I can't afford a two-bed on my salary, especially being self-employed.
"My journey may not have been straightforward, but I wouldn't change it for a second - Sadie is the best thing that has ever happened to me. She is a ball of energy and I know she gets that from me.
"At times, it has been a struggle, but I have no regrets in the slightest.
"The message I want to send is for women to get their eggs checked. We get these letters that say get your breasts checked, get your smear test, but why don't we get one that says get your eggs checked?"