Boy (6) who lost leg in horror lawnmower accident gets out of wheelchair for first time thanks to football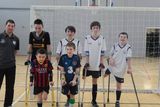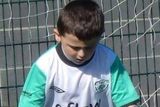 An Irish mum, whose son lost his leg after a lawnmower accident last summer, has thanked the Irish Amputee Football Association of Ireland for encouraging him out of his wheelchair.
Conor Dufficy (6) had his leg amputated through the knee after he was involved in an accident involving a ride-on lawnmower ten months ago.
"Last summer Conor was involved in an accident in Limerick at his grandparents' house. He fell under a ride on lawnmower and he lost his left leg," said Conor's mum Niamh Dufficy speaking to RTE 2fm's Tubridy Show.
"I got a call to say that Conor had an accident and they didn't know if he was going to make it."
The child was airlifted to University Hospital Cork where his severe injuries meant his lower leg had to be amputated.
Although Niamh revealed that the accident was "every parent's worst nightmare" she said she and her husband Ciaran were relieved that Conor had made it through the ordeal.
"My initial reaction was that I was so relieved that Connor was alive. We were told that Conor's left leg would be amputated through the knee his foot had been amputated and his leg couldn't be saved.
"It was every parent's worst nightmare. You always think that these things happen to other people you never think they will happen to you.
"We were heartbroken. We were devastated but we had a little boy who was alive and we had to be strong and positive for him."
The couple, who also have a little girl Holly (3), said that the aftermath of the accident was difficult on the family as they had never met another amputee and were struggling to encourage Conor to move from his wheelchair to crutches.
"After the accident Conor was on a huge amount of medication and he was in shock. Then we had to deal with the trauma of trying to get him out of a bed and into a wheel chair.
"We had never met another amputee and all of a sudden my son was an amputee. It was a life changer for everybody.
"Conor was in the wheelchair and we had crutches in the house.
"He was nervous of falling and hurting himself so he was reluctant to get on the crutches," she said.
The mum of two said the support of the local community in Moate, Co. Westmeath has been phenomenal and introduced her family to the Irish Amputee Football Association of Ireland.
"Our community rallied around us in the months after the accident and as part of that they organised a fun day for Conor.
"Somebody who knew somebody, who knew somebody as these things go, was involved in the Irish Amputee Football Association," she said.
Ahead of the World Cup last year, the Irish team arranged a training session in Conor's home town of Moate which allowed him to see and meet other amputees for the first time.
"The team came down and had a training weekend in Moate and they were training for the Amputee World Cup which was on in Mexico last year.
"It was the first time we had met another amputee and the first time we had seen a prosthetic leg and it was the first time Conor had seen someone with a short leg like himself using crutches," said Niamh.
Two days after seeing the team playing Conor moved from his wheelchair and onto crutches with their encouragement.
"Conor had just started playing with our local GAA team before the accident and always wanted to play rugby and it was important that we now had some kind of sport that Conor could belong to and a group he could feel a part of.
"They train every second Saturday in Clonsilla and we do it willingly and happily.
"At the moment there are seven boys and as well as being a great resource for the kids it is a huge support for both children and parents," said Niamh.
Niamh has urged any family who have children coping with amputation to become involved in the organisation.
"There are seven boys on the team at the moment but they will soon move up to another level. It has been such a wonderful thing for Conor and a huge support to our family coping with this," she said.
For more information visit www.irishamputeefootballassociation.com