The benefits of bilingualism
Ireland is now home to a host of language communities but it can be easy to fall into using English only. Claire O'Mahony discovers a wealth of supports to help parents pass on their mother tongue to their kids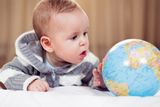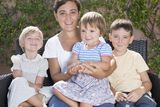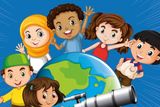 Ireland is an ever-increasingly multicultural nation and this is reflected in the variety of languages now spoken here. There's Irish, the national and first official language, but you're also likely to hear Polish, German, Arabic, Chinese, Lithuanian, Russian and many more.
For parents who want to raise their children as bilingual, studies have indicated that there are numerous benefits in doing so. Bilingual children find it easier to learn other languages and, on a practical level, it means they can communicate with their extended families. In 2017, Dr Francesca La Morgia, assistant professor in Clinical Speech and Language Studies in Trinity College Dublin, founded not-for-profit organisation Mother Tongues. La Morgia moved to Ireland from Italy in 2004 and is raising her children to speak English and Italian. Mother Tongues came about when, through her research, she encountered the same questions from parents about bilingualism. Thus far, more than 1,000 people have become involved in Mother Tongues' educational and creative programmes in 20 different languages, which provide advice and support for parents, as well as to education and healthcare professionals.
"A lot of parents come with the challenge that their children don't speak their languages. The parents want to know why the child is using English only and also what they can do to promote their own mother tongue in the house," La Morgia explains. "You could be an Italian speaker married to a Spanish speaker, and English is so dominant, it's very difficult to find the time and the opportunities to keep up those languages. That's the main underlying challenge and it can be difficult for parents to find a community of speakers who share the same language and that could act as support for them."
Other considerations can present themselves depending on the age of the child, La Morgia says. "With a new baby, the challenge is how much can we speak to them and how many opportunities can we provide. With an older child, you have also the impact of their friends, and the influence of peers and of schools, so how do you continue when the child is rebelling or is feeling they don't want to be different? You hear a lot of contrasting reports. Some parents say, 'My child is really proud we speak Polish at home.' Some other parents would say their children don't want to speak it, and my own daughter would even say to me, 'Mammy, speak English.' Children are very sensitive to what is appropriate. Sometimes they don't want to exclude a family member so if a dad speaks Polish and the mother speaks English and doesn't understand Polish, the children don't want to create circumstances where one parent is excluded from the conversation."
One of Mother Tongue's projects is The Language Explorer, an educational programme where they visit primary school classes to talk about languages, reflect on the languages that they speak, and where they find languages around the city. The programme is for everyone, not just bilingual children, and was awarded the European Language Label, which recognises innovative initiatives in the realm of language teaching and learning. The Language Explorers activity book, produced in collaboration with Jenny Siung, head of education at the Chester Beatty Library, launches on September 18 and is available to purchase from the Mother Tongues website.
This September also sees multilingual storytelling taking place in various locations around Dublin, where parents who would like to read stories or tell stories from their past are encouraged to attend. It's also a way of identifying books in different languages, which are available in public libraries but can be difficult to find, and Mother Tongues hope to make a list of these books for national circulation. Parents can also become members of the organisation; this costs €25 and includes free entry to all family meet-ups until December 2018, a 40pc discount on selected books, and 20pc discount on other services. Members can also avail of unlimited help via email, Skype or face to face.
La Morgia has three children, Samuel (eight), Bianca (four) and Edel (two), with her husband, who is Irish, and is well aware herself of the struggles involved in raising bilingual children. "Something I didn't expect is that my children approach language in very different ways," she says. "My first child was exposed to language the most. He was the one I was able to take to a lot of playgroups. When more children were born, I found it more and more difficult to do that. Also, they speak to one another in English - that's what happens to a lot of families. It takes a lot of effort if you want to keep it up, especially if you have more than one child, because you're trying to juggle so much. I have experienced how difficult it is and how it important it is to have friends to rely on and a community of speakers to keep you going."
But the advantages of bilingualism are clear, according to La Morgia. "It benefits in terms of literacy and the development of skills in reading and writing, just purely because you're learning about, and you speak and hear, more than one language. You become aware of how language works and that makes your language better but also makes you a better linguist, because you start to understand the patterns in written and spoken language, and that makes children more precocious readers."
Agnieszka Pędrak is an outreach officer and public speaker with Mother Tongues. Her blog, Bilingual Mind (bilingualmind.com), is aimed at parents and carers of bilingual children, as well as anyone who is interested in bilingualism and the Polish language abroad. "The Polish [community] is the largest migrant community in Ireland, so it's a bit easier, I feel, for Polish parents because there are a lots of places, such as Saturday schools, Polish libraries, Polish churches and bookshops," she says.
Like La Morgia, she believes that the benefits of bilingualism are manifold.
"It's not only about language but about supporting the attitude to the heritage language. [The children] feel that they belong to this community and they know other children who have this same background and share the same language, and a similar experience is having two languages. It's very supportive for the children and gives them a positive attitude towards the language and bilingualism in general."
Bilingual children, she maintains, are more creative and they have better focus because they think in both languages, which helps with problem solving.
"They also have a broader perspective on the world, because it's not only about language but language is connected to culture and they can think a little bit differently and see things that are happening in the world from two different perspectives. They accept diversity, I think, and they celebrate diversity as well. It benefits their social development," adds Pędrak.
Jolante Kampka, who has two daughters, is raising her children as trilingual. The Google employee speaks German and her husband speaks Arabic. She became aware of Mother Tongues when La Morgia came to Google to give a talk (there is a large bilingual population of parents at the company) and she found the advice given to be practical and easy to implement. "My husband and I speak English to each other at home and we make a conscious switch when addressing the kids. I can't say we always succeed, as especially when you're trying to bring a message across like 'stop that', it's difficult to switch your own brain. Also being around others, whether it's playdates or birthday parties, where not everyone would speak the same language, trying to talk to your child in your mother tongue, versus English, is an ongoing challenge," she says.
After La Morgia's talk at her workplace, Kampka made the conscious effort to speak in German for all her interactions with her children. "It's just getting in that mindset. My husband, similarly, tries to engage with them in Arabic as much as he can. What is also very helpful is the likes of Netflix, where you can switch to the German language when they watch cartoons, for example.
"I'm hoping that it will open their mindset in terms of diversity and the globalised world - everything from how they interact with others to also career and study opportunities in different countries."
See mothertongues.ie for more information