Rewild your child: why families need to reconnect with nature
September is a time of year which can see children spending increasing amounts of time indoors. But the health and psychological benefits for little ones being out in nature means that families need to try and immerse themselves in the great outdoors, writes Arlene Harris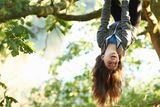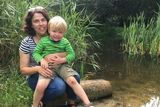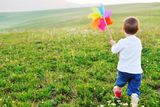 There is a whole world of exciting creatures and plants out there to discover, so before the winter sets in, get your wellies on and get down and dirty with the kids.
When I was a child everyone knew what a nettle was and as soon as they got stung, would search for a dock leaf to ease the pain. We were aware of the names of the most common birds, could identify several species of trees and flowers and would always be able to tell the difference between a wasp and a bumble bee.
When my own three boys were growing up, they spent most of their time in nature and even when we lived in the city, would revel in spotting tiny things like ladybirds or spiders. But according to recent research, many children today could do none of the above and have little or no experience of being out in nature.
Melanie Malone can relate to this as she says her two daughters have zero interest in plants or wildlife and she isn't inclined to encourage them.
"I grew up in the countryside and my father taught me how to recognise plants and wildlife," she says. "I liked it as a kid but hated it as a teenager so when I moved to Dublin, I never wanted to look at another piece of greenery or insect again.
READ MORE:
"We only have a small garden so when the girls came along, there wasn't much for me to teach them about and when we go to the park, it's usually to go cycling or to meet friends. They have never shown any interest in nature and I honestly don't think they are missing out by not knowing the name of a certain flower or bird."
But child psychologist Peadar Maxwell says nature is very important for children and it's unusual for someone like Melanie to have no interest.
"It is sad but there are a lot of people who are quite disconnected from nature and wouldn't be able to name trees, birds or insects," he says. "What is interesting about studies on this topic is that not only are many people less in contact with nature than their parents and grandparents but many want to bridge the gap between themselves and nature - so most people who had a connection, will miss it.
"The worry is for very young people who never connected with the great outdoors as the psychological benefits of nature are numerous - it's calming, a break from screens and pressure and it makes up for the lack of fresh air inside our homes, workplaces and schools.
READ MORE:
"Nature slows us down and teaches a natural kind of being mindful when we observe plants, trees, water, and creatures. Teaching children to seek out nature, to enjoy and appreciate it helps them to understand life and the importance of caring for the planet. It also teaches how to focus our attention towards something slow, natural and beautiful."
Maxwell says our attention span is being "shortened and restricted by our fast-paced technological world" so breaking that cycle with nature brings us back to what's important and real.
"Something as simple as noticing that there is a tree on your street or knowing the names of different plant and wildlife species brings nature and our environment alive," he says. "This crucial information which is part of science, geography or learning about the environment in school is all brought alive in the woods, park, or beach. When we make things tangible and practical, children learn more and learn better - they make what they have learnt relevant to their lives. That could include the importance of trees to our air and groundwater or why we don't trim hedgerows during nesting. It affects how we feel about litter and pollution and maybe encourages the responsibility to do something about these."
Helen Cassidy is a busy mum of three boys (Jack, Sam and Danny) aged 11, 6 and 3. Living with her husband Brian near Dún Laoghaire, the nutritional therapist also runs her own business foodhugs.ie but always makes the time to immerse her sons in the natural world.
"I think nature is really important as it's super for their imagination, they can play hide-and-seek in forests, make dens, play shops, use sticks as weapons (maybe this is a boy thing), or for walking and as a pot stirrer," she says.
"It's also great for their co-ordination doing stuff like climbing trees, scrambling over rocks, or running on forest tracks - so it offers great exercise while being fun. They learn how good they feel after being outdoors and I find this especially with my 11-, nearly 12-year-old as with longer days in school and more scheduled activities, he can feel a bit hemmed in and can start to get a bit anxious. But a good run around Killiney Hill with some tree climbing really seems to reset his mood and outlook. In fact, when I came across the Japanese term 'forest bathing' it made perfect sense that getting outdoors could be therapeutic."
The mother-of-three says as well as being a free activity, children learn so much from nature and realising how plants and animals live in the world with us is very important.
"Seeing bees, butterflies and ladybirds are our favourite things to do in the forest, or looking for crabs in a rock pool - my 6-year-old calls it 'hunting for mini beasts'," she laughs.
"They love picking blackberries this time of year and picking wild garlic to make pesto in May, while during the summer we're out every second day in nature with mini trips to Sandycove beach, Kilmacurragh botanic gardens or Knocksink Wood. And we go to Killiney Hill a lot - the youngest loves it there and will quite happily play house with his friend for hours using stones, sticks and muck. The older two love exploring the woods and going up to the summit the 'secret way' as well as climbing rocks and trees.
READ MORE:
"I really think it's important for kids to feel connected to the earth, to know where food comes from and to respect the ecosystem. We talk to the younger ones about what the bees are doing on the flowers or what ladybirds are good for. We grow raspberries, blackberries and blueberries in the garden, as well as lettuce, rhubarb and herbs. And as they grow older, they understand that simply buying stuff to play with all the time and spending money for entertainment is not required or sustainable."
Stella O'Malley, psychotherapist and author of Cotton Wool Kids, Bully-Proof Kids and Fragile, agrees and says children really need to spend as much time getting to know the outdoors as possible.
"I think spending time in nature is essential for children's wellbeing," she says. "It teaches them about the complexities of life, about how we all have peaks and troughs and how we are all fighting, in our way, to survive. This helps children to cope with life's vicissitudes without falling into despair that bad things happen only to them.
"And they naturally seek challenges in nature, whether it is rolling down a hill or climbing a tree - this is not only good for their health and fitness levels but also they can feel accomplished as they battle with themselves to go achieve random tasks. Tree climbing is fun and self-monitored and so the child learns how to become the captain of his soul and the master of his fate."
Of course, not everyone has access to rolling hills and lush woodland but O'Malley says we can always find nature if we look hard enough and it's very important to teach children as much about the environment as possible.
"There are many inventive ways for parents to bring nature into the urban landscape," she says. "Children can have small pets such as hamsters, cats or dogs. Bird feeders also can be a really helpful way to connect a child to nature - wildlife doesn't have to involve large parks, it is happening all around us.
"Richard Louv, in his seminal book, The Last Child in the Woods, explains how children need to know about the names and functions of the plants, insects and animals because this provides children with an understanding of how life works, about how we are all interconnected and how we all rely upon each other. When children realise that all aspects of nature has been studied and catalogued, they often gain a deeper respect for the intricate nature of life and the universe."
Teaching children about nature
● Experts say we can teach children about nature in many ways, including simply taking a walk and talking about what we see.
● Children love hearing the names for plants, birds or animals and if parents are unsure of certain species, looking them up together is a fun activity.
● Planting a tree or some flowers together is a great way to have a conversation about why we are doing it and what these plants will do for birds and bees.
● Children will love growing 'easy' plants such as watercress, snap peas, radishes and lettuce and are more likely to eat them if they have been responsible for their growth.
● Even if you don't have your own garden you could use a window box or a small planter to grow some flowers or herbs.
● All the information you could ever need about nature can be found online, but there is nothing nicer than a book and many stores offer children's nature encyclopaedias, dictionaries or better still, workbooks where they can jot down useful information and tick off plants and wildlife when they have discovered them.