Meet the Irish couple breastfeeding triplets and a preschooler between them: 'We've had a lot of people waiting for us to fail'
For World Breastfeeding Week, our reporter meets Sue and Cliona Kelly, the couple feeding triplets and a preschooler between them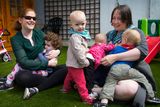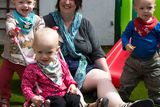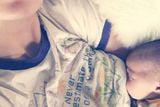 After just an hour in the company of Sue and Cliona Kelly I'm ready to officially declare them superheroes. The couple are parents to 18-month-old triplets and a three-year-old - all of whom are breastfed. They are trying to make lunch, see to their barking dog and keep watch as all four children try to go in different directions, dangerously brandishing pots of yoghurt and crayons.
"It's our normal," laughs Cliona a little later in a moment of relative calm as she sits breastfeeding Aoife (3) in their Dublin home while the triplets rotate at Sue's bosom.
With the hashtag #normalisebreastfeeding trending on Twitter and glamorous celebrities including actresses Blake Lively, Olivia Wilde and Victoria's Secret supermodel Candice Swanepoel speaking out and sharing pictures of themselves feeding to naturalise the scenario, would they rather I didn't bestow 'supermum' status on them?
"Ah no," they chuckle. "It's our normal but day to day it can be very difficult, so it's nice to get a bit of positivity. We've had a lot of people waiting for us to fail."
From the outset, they both knew that they wanted their triplets, birthed by Sue (39), to be breastfed. But to achieve it, they've had to overcome battles along the way.
"As soon as you say you're having triplets, it's assumed you won't be breastfeeding," says Sue.
"People think you're mad. Then in the hospital they bring trollies round with formula saying 'take a bottle, just in case'. We've had some horrendous advice... A lot of doctors just aren't big on breastfeeding," she continues.
They were faced with a series of obstacles early on, and Sue's pregnancy was difficult. It took a while to conceive (they used the same sperm donor as before, Cliona giving birth to Aoife) and the couple endured several distressing miscarriages.
Sue spent much of the time ill and suffering bleeds until the triplets were delivered premature at 31 weeks and six days with Dara weighing 4lbs 2oz, Saibh 3lbs 8oz and Niamh a tiny 2lbs 4oz. The babies spent the next few weeks in the neonatal intensive care unit with Sue pumping up to 12 times a day.
"They were just these tiny little things that we had worried would die," she says. "My hormones were all over the place. You feel very vulnerable and you have to really trust your gut that you're doing the right thing. I believed that my body had grown them, it was able to feed them."
She and Cliona (36) did regular kangaroo care with the babies with Sue putting them to the breast to promote positive association even though they were too small to latch on. She says she was given disappointingly limited support in hospital and the wrong size flange for pumping which left her with nipple damage and mastitis.
Eventually after three and a half weeks, they were able to take one baby home, but it wasn't until five weeks that their last tot was allowed off the ward.
"People would say things to us like 'that will ease you in' or 'enjoy the peace', but it was gut-wrenching, all we wanted was to have them home."
All babies needed tongue-ties snipped and, once home, Sue spent "the next eight months, sitting up feeding 24 hours a day".
Sue isn't sugar-coating the reality of nursing triplets. Both she and Cliona believe that part of the problem around Ireland's woefully low breastfeeding rates is that people assume breastfeeding will be easy.
"I think people can think that, if it's hard work, then it isn't working right," says Sue. "There needs to be better information and support around the reality of breastfeeding.
"I don't want people to think 'ah, it was easy for them' or 'they were lucky it worked for them' because it isn't luck or because we have 'back-up boobs' that it's worked, breastfeeding was, and is, a huge investment."
"We definitely don't want people thinking that you need a second mammy to breastfeed triplets," agrees Cliona, who works as an assistant professor at UCD. "You need support, someone to do all the other stuff if one person is breastfeeding."
Sue does the vast majority of the triplet feeds with Cliona providing the odd bit of 'bainne' in emergency situations. They have an army of family, friends and teenage helpers in the area to aid with dog walking and babysitting and also credit the groups Cuidiu and Irish Premature Babies with providing great support. "It takes a village," laughs Cliona.
Cliona's experience breastfeeding Aoife is another remarkable story. After giving birth to Aoife, Cliona was unable to nurse her because Aoife had a severe, undiagnosed tongue tie and wouldn't take the breast. Cliona's milk dried up, but after resolving the tongue tie and seeing a lactation consultant, the mum managed to relactate and transition Aoife from formula to exclusively breastfed at 12 weeks.
On a breastfeeding support Facebook group I belong to, the two mums (to their kids Sue is 'mammy' to Cliona's 'mummy') are nothing short of legends. Friends of Breastfeeding recently named Sue their breastfeeding mum of the year. But there will, of course, be people outside the breastfeeding bubble who will ask 'why bother?' Cliona and Sue's reply is simply that this is what works for their family.
"We knew from Aoife what a powerful parenting tool breastfeeding is," says Sue. "It's about so much more than just nutrition. Also, there is no easy way to parent triplets. This is what works best for us. I would have been up far more during the night if we'd had to prepare bottles. I think breastfeeding and babywearing has helped with their development as preemies (premature babies), they're definitely sick less than other multiples we know.
"I honestly wouldn't know how to parent without it."
She's aware that singing the praises of breastfeeding can garner a mixed response.
"I often find people think I'm judging them for not breastfeeding but I would never judge another parent, I think you just have to do what's right for you. I know there have been times when the sight of me breastfeeding has triggered a very defensive and angry response in some people."
Sometimes people get up and walk away when she breastfeeds in public. But happily for as many times as that happens, someone else will come over and say something positive.
"I always appreciate the positives," smiles Sue. "We love our four babies and wouldn't have it any other way, but it is not easy. I miss sleep and I haven't showered in about three days!
"When you've had 24 hours of crazy, a bit of positivity, just someone saying 'well done' rather than 'you're doing it all wrong', well that's lovely to get."