'People are obsessed' - Irish internet superstars the Saccone Jolys on transforming their lives into an empire
Girl from Cork meets boy from Terenure. Boy films their dates, his proposal, their wedding, the birth of their three children, and broadcasts all of it on YouTube. Our reporter meets Jonathan Joly to find out how he turned his family into internet superstars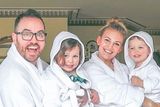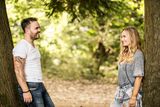 Cork couple Jonathan and Anna Saccone Joly live in London's commuter belt with their children Emilia (4), Eduardo (2) and new baby Alessia.
So far, so ordinary. The inside of their rented house is furnished to show-home standards. Which is just as well, because it's not just a home, it's a set - the backdrop to their online show which airs daily to their two million (and counting) subscribers on YouTube. The furniture, the kitchen island, the pictures on the wall - all are intimately familiar to their followers. The house's precise location, however, is top secret. Jonathan looks edgy when I so much as mention the name of the nearest town. It is strictly off the record. Because to be popular in the way the Saccone Jolys are popular, is also to be hunted.
"People are a little bit obsessed," he explains. For the most part, the ardour of their public is innocent and well-meaning. "It's not really their fault, in a way, when people get excited," Joly says. "And sometimes people can ring our buzzer and they're like, 'Oh we've driven down from Manchester with the whole family'. And it's like, 'Look, you can't. OK?'"
If you are over 35, you might never have never heard of the Saccone Jolys. But they are arguably the biggest Irish pop-culture export since Westlife. As Jonathan himself notes: "I never think about it, but if you were to put physically, the amount of people who watch our videos in front of me, it's not Croke Park, it's 20 times that, it's 100 times that."
The couple were among the pioneers of internet vlogging. When they started documenting their lives and broadcasting their efforts on YouTube back in 2009, they were an unmarried young couple with a dog. They were virtually alone in doing it, and almost no-one was watching. But over several years they built a modest following of several thousand, and, in Ireland, the mainstream media started to take notice.
The tipping point, however, was when they broadcast the birth of their first daughter, Emilia, in 2012. The video went viral and to date it has had more than 4.5 million views. Now, a proposal, a wedding and two more birth videos later, vlogging has grown from a hobby to an all-consuming family business. And a lucrative one, at that. Last estimates put their earnings, (generated from advertising on their channel) well into six figures.
Sometimes the attention turns nasty. Before the family packed up their home in Rochestown, Cork, and moved over to the UK, Anna had her car vandalised by a stranger who decided to take trolling into the physical world. And in their adopted home, the couple have been reported to social services by observers who disagree with their decision to make internet stars of their children.
Such are the occupational hazards of life as social-media 'influencers'. Jonathan is well aware what they've signed up for. The relationship the family has with their followers redefines celebrity, and he understands implicitly the rather peculiar terms of it. "If you watch my show for eight years," he says, "you've met me since we left university, and then I met a girlfriend and we moved in together and then we got a dog, and then we got married and had a child, and another child and now another child and six dogs and we've moved to the UK," he says.
"That's a journey and you've come along. That's a story we've shared together. And it's quite intimate in some ways and it has tragedy and emotions and sadness, and not only is it about my life that you are watching, you've lived your life at the same time. So there's milestones where you think, 'Oh, remember that time when Jonathan and Anna overcame this obstacle, but during that period, I was also, having a break-up, I was also getting married, I was also having a tragedy of my own'. So your life and my life, we have this parallel journey, and we can align each other. So that's something that's really important to people..."
This intimacy, he knows, is the essence of the popularity of their YouTube show. But it does make it "difficult for me to explain the boundary. I know when you watch the video, you feel like we're friends and we're family, which we are, in this environment. But the safety and security of our children and the small little bit of privacy that we do have, we try really really hard to manage that very well."
We need your consent to load this Social Media content. We use a number of different Social Media outlets to manage extra content that can set cookies on your device and collect data about your activity.
Which, perhaps, explains in part why the Saccone Jolys are rather less accessible than they might seem.
Goldfish bowl
When I approached the couple to do an interview, I was hoping to get a view of life inside the goldfish bowl. The idea that I proposed to their management company was that I would pay them a visit at the heart of where it all happens - hang out with Anna around her kitchen island, from where she regularly vlogs what she's having for breakfast for 'What I ate Wednesday'; chat to Jonathan in the plush soft-furnished den where he horses around on camera with Emilia and Eduardo, the couple's two eldest children, and glimpse, up-close, the domestic magic that keeps viewers around the globe hooked.
But they are wary. And overzealous fans are not the only reason. Jonathan, I am told by their agent, will be available to meet me, but not at their home. And Anna, fast approaching her due date with her third child, is not available. Eventually, the agent agrees to a compromise. Anna won't meet me in person, but will provide some time in the dimension she is most comfortable - online. Five minutes after meeting Jonathan, however, it seems clear that this will not come to pass. The Irish media, he says have never given them a fair hearing, and their expectations are low.
"The Irish press either ridicule me or write negative pieces about me," he says. "When you guys rang up and said, 'Hey, do you want to do a piece?', Anna was like, 'No. No way am I going to talk to these people, because they're going to twist everything we say and write something negative about us'.
"It's sad, because I want my home country to appreciate me. I want it to. And Anna's like, 'Oh, just forget them. There have been times when we've been on RTE, live, and they've sprung stuff on us... They've misled me to go on to interviews and then pounced on me for the wrong reasons. Just respect us!" I tell him that I'm disappointed not to have had the chance to meet Anna. "She doesn't trust you," he says.
He doesn't bother feigning nonchalance about it; Joly feels attacked and is plainly hurt. "It irritates me... the English press celebrate us for how we've succeeded and what we've done. I love Ireland and I want to be recognised... when we fly to Ireland, the people appreciate us so much." It's the media, he says, that is biased against them. "There's not a lot of successful social-media talent coming out of Ireland. So it's like, why not support the ones that are coming out?"
Perhaps it's that the naked self-promotion that is a necessary part of online popularity doesn't sit easily in Ireland. Or maybe, as Joly suspects, it's just plain old begrudgery. Either way, he is convinced that in order to really succeed at what they'd started, they had to leave home. "I could have stayed in Ireland. We were the biggest social-media thing. We could have maintained quite a comfortable living." But he had got restless, wondering: "What if there's more? What if we could do something really impressive? What if we could bring our little business that we have and bring it over to a huge, big scary place of 65 million people, and try to grow the business here? A lot of the revenue is generated from advertising. Advertising in Ireland with a small customer base is not going to be as appealing as here."
To those born before the digital age, the Saccone Joly recipe for success can seem as perplexing and obscure as jazz was to the Edwardians. Their videos are very much rooted in the quotidian aspects of suburban life: family meals, date nights, the school run.
We need your consent to load this Social Media content. We use a number of different Social Media outlets to manage extra content that can set cookies on your device and collect data about your activity.
Exhaustive detail
One sample video in which an impeccably made-up Anna describes, with perfect earnestness, how she launders her clothes has almost 200,000 views. She is partial to cataloguing what she has eaten in exhaustive detail. Unlike traditional reality television, they do not "produce up" their content or contrive to create conflict or drama. They are not afraid to be mundane.
"You've got the Kardashian business model and the Saccone Joly business model, and they are basically the same thing, but they are very different," says Joly. "We focus on an emotional connection with our viewers. It's always about a journey, an observation of life... It is filled with tragedy and drama and romance and happiness, but they're not all contained in one 15 minutes. Whereas when you watch a television show, in 30 minutes you are going to be delivered 12 emotions - I'm not going to give you that, because that's not realistic. Reality TV is scripted content. YouTube is reality. It's real life. Real life is boring."
But, real life being what it is, alongside the ordinary routine of their lives, their followers are also invited in to witness on the rare occasions that momentous things do happen. Their most popular videos cover the big stuff - the time Jonathan proposed to Anna (1.7 million views); their wedding day ( 2 million views); the births of each of their three children, and the day when they discovered, at a sonographer office in London that their third pregnancy had ended in a missed miscarriage at 12 weeks. (3.1 million views).
If the candid-camera filming style makes the show's production look breezy, accidental and spontaneous, it's not. The Saccone Joly formula has been carefully crafted by Jonathan, who is producer, director, editor, author and star. On-screen, he is the affable, goofy dad - his key character trait being his devotion to his children. But there's a lot more to the project than just switching on a video recorder. He takes it extremely seriously. There is no limit to his ambition.
"Over the next year you are going to see Saccone Jolys moving into new areas," he says. "Off-platform work." He's looking at ways of spinning the brand into a multitude of off-shoots. "Can I grow another business that doesn't require me to be the focus of it every single day? To give us a little bit more anonymity? There's a 100 NDAs, I can't talk about them," he says. His comparison to the Kardashians is not accidental - global ubiquity is definitely part of his plan. "When you start a job as an intern, he says, the CEO is the goal. I'm very competitive; I'm very driven. This job, the more work I put into it, the more rewards I get."
We need your consent to load this Social Media content. We use a number of different Social Media outlets to manage extra content that can set cookies on your device and collect data about your activity.
The Saccone Joly channel's USP is that it's a sunny, upbeat look at family life. It's the positivity that resonates with his viewers, Joly insists. But perhaps he has another motivation for wanting to present a rosy view. As he reveals in the episode Draw My Life, the affluent, harmonious home environment he presents to his viewers is the opposite of own early life experiences. He grew up one of four children in Terenure in the 1980s. The financial pressures were intense and his parents' dramatic rows were near constant. "Eighties Dublin was tough," he says. "I don't blame my parents for the shit that we went through, because no one had money," he says.
The unhappiness at home had an impact, though. He became clinically depressed as a child, and after an episode of bullying at school, ended up spending four years in a special school for children with emotional difficulties. "I just like, shut down... That stuff stays with you in life." Depression and anxiety remain features of his life to this day. And naturally, have been the subject of an episode of the show.
He had innumerable false-starts and "shit jobs" throughout his 20s before he met Anna in a bar in Cork. The daughter of an Italian-American academic, she was born in Baltimore in the US and moved to Ireland when she was seven. When she met Jonathan, she has just started a beauty vlog that was attracting a promising following. It was when they started to create videos focussing on their life as a couple, however, that things really started to take off.
As the Saccone Joly's sphere of influence enters the mainstream, a number of commentators (as well as countless online trolls) have questioned whether their decision to involve their children in their lucrative social-media experiment might be doing them harm. It is an issue that Joly is, understandably, defensive about. But he is, of course, well aware that life online carries risks.
"We don't really focus on the benefits of it, we're just scared shitless," he says matter-of-factly. "And as a parent of a child - my brothers and sisters all have kids - they're all terrified... Raising kids, who knows? Maybe Emilia is going to get a hard time in school because she wore a hat one day. Maybe because she likes Westlife and everyone else likes One Direction. And maybe that's why she has a hard time. Who knows what it's going to be? I had a horrible time in school because I went to Terenure College. I didn't want to play rugby. I was more interested in feminine things, in creativity... I wanted to express myself in more creative ways. And that resulted in me getting horribly beaten up and bullied."
As a parent, he says: "There's only so much you can do... but I'm there for them, every single day. And I try and raise them as best as I can. And I have to work. And the job that I have chosen to do is a more public role, like anyone who is politics or entertainment or media. That's what you got to pay. You get mom and dad more, but unfortunately you have to understand that there's rules."
The careful editing of the show, he says, is designed to protect his children as much as possible. To avoid hostages to fortune in their future, and to tell the story of their family in a way that they can feel proud of. He doesn't deny that it's an incomplete view. For one thing, he and Anna, like any normal couple, are not always perfectly at peace with each other. They fight. "If you watch an episode and it's nice and bright and then it cuts to 7pm that evening - that's because we've been killing each other all day. Never to the point where we thought our relationship is in jeopardy.
"When we met, I'd been through about 50 relationships - loads of failed relationships. Anna had been in one. I was eight years older than her, but I think I needed those years to grow up. That day we met, in that cocktail bar in Cork, I still feel the same way about her today as I did about her there. The marriage has never got boring or stale, because I don't feel like I'm married, really - we're just friends who like each other and who are best friends, and they live together and have had kids together. Sure, you fight and hate each other sometimes. Never to the point where you think, 'This isn't going to work out'. And not about money, or raising the kids, because we both have the same idea of what we are doing."