Newstalk presenter Dil Wickremasinghe and her partner Anne Marie Toole on the joy of their first baby
Between them, they have successfully overcome the challenges of dealing with sexual abuse, an eating disorder and public scrutiny. Mental health advocates Dil Wickremasinghe and Anne Marie Toole talk of their joy and delight at expecting their first baby together.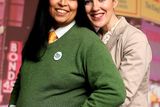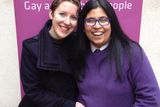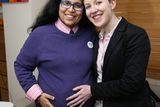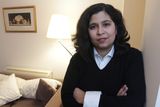 Two parents-to-be are sitting in their pretty Dublin home, counting down the final three months to the birth of their first baby with delighted, nervous anticipation. Pregnancy is a very precious time, but carries inherent vulnerabilities, and most people wouldn't dream of upsetting a mum-to-be at such a delicate time.
Which makes you wonder what was going through the heads of those who tweeted abusive texts to Dil Wickremasinghe (41), who will be 28 weeks pregnant tomorrow on her first child.
Apparently incensed by the fact that the baby's other parent is her same-sex partner, Anne Marie Toole (34), the keyboard warriors were out in force, vilifying the women. Some accused them of inflicting a form of child abuse on the baby by making it "fatherless by design," which particularly upset Dil, herself a survivor of child sexual abuse. She was also distressed when David Quinn of The Iona Institute tweeted, 'Who's the father?'
Read more:
Franklin D Roosevelt said: "If civilisation is to survive, we must cultivate the science of human relationships - the ability of all peoples, of all kinds, to live together, in the same world at peace." Most of us believe that love should be cherished no matter what form it takes, but those fuelling the ongoing, inflammatory, conversation about Dil's pregnancy clearly feel that matters are more complex.
Dil and Anne Marie are gorgeous, warm and enlightened people who are very much in love, and have put a lot of thought and care into this pregnancy. As Dil has a public profile as a TV3 Midday panellist and presenter with Newstalk, they have been very open about conceiving their baby through IVF using donor sperm. Very few same-sex couples are willing to publicly share their conception stories, fearing a backlash, so they hope that sharing their story will help others.
Read more:
Going public requires strength and bravery, however. It means shrugging off those who feel entitled to ask Dil why she paid a clinic to get pregnant, and just didn't go off and sleep with a man? "I was thinking that this may have been how the victims of mother and baby homes felt years ago," she says. "They were pregnant outside the traditional structure of marriage, and some parts of society felt entitled to call them horrendous names, like "fallen women" and "sinners," and say their innocent children were "illegitimate" and "bastards." There are people out there who are trying to devalue my pregnancy and cheapen my experience of becoming a parent. Thankfully, the majority of people have been absolutely amazing and so supportive, because for every negative tweet I have received, there were 100 positive ones."
Read more:
The negative reaction is precisely why the marriage equality referendum on May 22 is so important, because if passed, it will send a very clear message that same-sex marriages are equal to heterosexual ones in the eyes of the State. One problem is that some opponents like to muddy the waters by bringing the subject of children into it, when it has nothing to do with having a family. In fact, the Government recently published the Children and Family Relationships Bill 2015, which aims to reform family law to address the needs of children living in all kinds of diverse family situations. In the meantime, Dil and Anne Marie are currently drawing up agreements and wills with a solicitor to protect them and their baby. "I don't want to give birth worrying about what will become of the baby if something happens to me," says Dil. "Anne Marie is the only one I trust to take care of the child, and she is its other parent."
Dil was born in Rome to Sri Lankan parents, and her family lived between the two locations. When she was 12, she was sexually abused. She later fell in love with a girl, and her mother, who had become a Jehovah's Witness, tried to "cure" her of her lesbianism with religion. Dil left the family home at 17 and was homeless for three years. She got a job in radio, but she was sacked, so she moved to Bahrain, where she dated an Irish woman. She moved to Ireland in June 2000, and 24 hours after she landed, found herself dancing down O'Connell Street, singing along to 'It's Raining Men' at the Dublin Pride festival. "It was so liberating," she says, "as I had experienced a lot of homophobia in Italy, Sri Lanka and Bahrain. I quickly realised that Ireland was where I wanted to put down roots."
Read more:
While she was happy initially, the shame Dil harboured over the sexual abuse and rejection for being gay caught up with her, and turned into depression. Her healing began when she had therapy at One in Four, which specifically supports victims of sexual abuse. She now hosts Global Village on Newstalk, which highlights social justice and mental health issues by focusing on those affected by them.
She met Anne Marie at a weekend mental health conference in Wicklow, on April 30, 2010, the day Gerry Ryan passed away. Both were unimpressed at being told that they would have to share a hotel room, but decided to meet each other anyway. Anne Marie asked Dil if she could make her a cup of tea, and they quickly realised they had lots in common. They were both passionate about mental health, and a friendship quickly blossomed in a very natural way. While Dil was openly gay, Anne Marie revealed over the course of the weekend that she had only come out quite recently.
Having grown up as the youngest of her family's five children from Co Meath, she recalls being quite shy and bookish with awful 'jam jar' glasses. "They got bigger every year," she laughs. "I had very good friends, but wasn't as sure of myself as other girls. I thought I was very chubby and unattractive, whether that was the truth or not, and that held me back."
Read more:
The gentle Anne Marie studied French and German at Trinity, living on campus in final year, where she was surrounded by pals and fun. She graduated and went to live in Nice aged 22, principally because she was dating a French guy, but found herself alone when the relationship ended after a month. She was living in a hostel and doing little jobs to try to make things work out, and in retrospect, realises that her mental health difficulties began at that point. "I was so isolated," she says. "I started to restrict my eating or else I'd binge-eat. I did all kinds of crazy stuff. I was highly anxious, and my thinking just shut down. I lasted three months and then came home."
The Dublin she returned to was a different, almost barren, place to the one she had left, as most of her pals had moved abroad for work. She lived in a shared apartment on Bachelor's Walk and worked in admin at a recruitment agency, but once work was finished for the day, her mood would plummet, and she found weekends and bank holidays difficult. "Somehow I had lost the confidence and ability to make new friends comfortably," she says. "I began going to the gym too much, and started making myself sick after I had eaten. I felt like the cleverest person in the world, as I could eat what I wanted and not put on weight."
Looking back, Anne Marie wasn't heavy, but she didn't have an accurate perception of herself at that time. She decided to move to London, and feels that because she didn't feel comfortable at a very deep level in her own skin, she mistakenly thought that trying to escape from where she lived would make her feel better. What actually happened was that she felt even worse in London. More isolated, confused, and stressed out, her bingeing and purging episodes escalated and spiralled out of control. She was fully in the grip of the eating disorder, bulimia nervosa. "Then one day, I went to Marks and Spencer and loaded up on sugary stuff, and came back to the office and made myself sick as I couldn't handle having food inside me," she recalls. "I was sitting at my computer and felt savagely hungry, and the screen began to float in front of me. I suddenly had a lightbulb moment, where something within me realised that I wasn't well and saw that I couldn't keep doing this to myself."
Read more:
To Anne Marie, it felt that her mind was breaking down, so she spoke to her manager and decided to take six months sick leave. The news that she had an eating disorder came as no surprise to her colleagues as she was extremely thin. Did she see herself as fat? "It wasn't the classic image of a tiny person looking in the mirror and seeing a distorted image," she says. "I don't think I saw myself at all, to be honest, because there really wasn't a person there to see. I felt invisible, and I think I was trying to fade myself away."
Anne Marie spoke to her family about what was happening and they were wonderful. She moved back to her parents' home for a while, and embarked on getting medical help. This was traumatic, and she found it painful when her GP asked if she had considered suicide? "I knew, intuitively, that if I hadn't got support when I did, I would have unravelled very far, and who knows where that would have gone?" she admits. "I was so sensitive and exposed, and was as fragile as a fragment of a leaf." There was a four-month waiting list to enter St Patrick's hospital for treatment, so she bought self-help and CBT books to try to put herself into recovery. Learning to regulate her eating patterns was difficult, and the turning point was spending eight weeks on a programme in St Pat's - two weeks as an in-patient and six weeks attending daycare. It was a refuge and a haven for her troubled mind, and while it was helping her on a personal level, a light sparked inside her as she realised that she was drawn to the area of psychology.
As her recovery progressed and Anne Marie successfully got her bulimia under control, she decided to become a counsellor herself. It was when she attended the mandatory personal therapy that was part of her therapist's training course that she slowly came to realise that she might be gay. Mind you, the actual moment of realisation came while watching The Black Eyed Peas on TV, and her flatmate remarked that lead singer Fergie had "experimented" with women before she married Hollywood star, Josh Duhamel. At that point, something went off in Anne Marie's head - she got a feeling, you might say. Describing it like a nut cracking, she says that when the lens you view the world with has been heterosexual and your world has always looked one way, the internal shift that sees you stepping into this other world is really scary.
"And yet you still want to go towards it," says the now accredited psychotherapist and counsellor, adding that she believes that her mental health problems were inextricably bound up in the repression of her sexuality.
When she came out, Anne Marie had a fantastic response from her family and friends, and met Dil three months later. Looking back now, the women realise that their souls connected from the very start, and as the weekend progressed, they developed having feelings for one another. "I couldn't sleep at all the second night as I was aware that a woman I was very attracted to was sleeping across the room," Dil recalls. "I loved Anne Marie's blue eyes, and her deep knowledge of the internal world."
They started dating a month later, but the realisation that she was Anne Marie's first gay partner petrified Dil. "As a seasoned lesbian, the last thing you do is go out with a woman who has just come out," she says. "You are not sure if this person is going to stay out or jump back in the closet, and you don't want to get your heart broken." Happily, it all worked out and Dil proposed on Dun Laoghaire pier six months later, but they won't make a formal commitment until marriage equality is in place. Dil jokes that Anne Marie fell for her because she likes exotic people (she once dated a Malaysian man) while her fiancee protests that it was because Dil is such a creative and open thinker. The women went on to set up Insight Matters, which provides affordable "inclusive and culturally sensitive" psychotherapy, counselling and personal development guidance.
As Dil is seven years older at 41, they decided that she would be the one to bear their first baby, and Anne Marie will hopefully become pregnant with their next child. "I saw the last bus coming, so I said to Anne Marie, 'Leg it,'" laughs Dil. They attended Clane Fertility Clinic together in November 2012, and Dil underwent tests to make sure everything was physically in order. She and Anne Marie also worked on themselves to become psychologically and emotionally prepared for becoming parents, and Dil got herself into the best space possible through acupuncture and mindfulness.
Having unsuccessfully undergone intrauterine insemination in January 2014, which involved the injection of prepared donor sperm into Dil's uterine cavity around the time of ovulation, they decided to go for in vitro fertilisation in September 2014, where an egg is fertilised by sperm outside the body and transferred to the womb. "The donor can never contact us, but if our child chooses to contact him at 18, he or she will have our full support," says Anne Marie. She and Dil were over the moon to find out that Dil was pregnant, and their much-longed-for baby is due on June 1st. They have engaged the services of a midwife and hope to have a home birth. "I always thought Dil was stunning, but since she became pregnant with our baby, she has never looked more beautiful to me," says a thrilled Anne Marie. "We are so happy."
Those who oppose the idea of same-sex parents, often believe that a growing child needs to have both a male and female influence. Was it a consideration for the mamas-to-be? "It was, but we concluded that apart from having spades of love and dedication to give to our child, the qualities and attributes we have between us will help him or her to grow into a well-rounded individual," says Dil. "If people are worried about a masculine influence, Anne Marie and I feel confident that I can provide that. I vehemently oppose gender stereotyping, because I have never fit the stereotype of what a woman should be. Apart from the clothes I wear, I have masculine qualities such as being incredibly practical, independent and resourceful, and being brave in standing up for myself and others. I also love DIY and maintaining my car. My parents didn't have any sons, and my dad was delighted when I threw away my first doll as I much preferred remote control cars, Meccano sets and playing soccer. He taught me how to rewire plugs, service cars and parallel park at the age of 13. We are confident that we will help our child to grow up into a kind, brave, caring, strong-minded, driven and equality-loving individual. We will love him or her unconditionally, no matter what or who they become."
Dil and Anne Marie say that the baby won't be short of wonderful, strong male role models, in particular Anne Marie's dad, who is an amazing man and former schoolteacher and principal. She also has three brothers, two of whom are dads, and Dil has three male friends who are very close to both of them. All are incredible men. "One of them is comedian Steve Cummins, who is a proud "yummy mummy" as he puts it, and a stay-at-home dad," says Dil. "He wrote a brilliant book called Where Do Daddies Come From? which is a pregnancy book for expectant dads."
Lucky baby, to be so wanted by two such loving parents. Dil and Anne Marie are intelligent, kind and courageous, and this baby will be very much loved and cherished and brought up in an inclusive and nurturing household. Who in their right mind could possibly find it in their hearts to object to that?
"Ireland uses Danish sperm banks, and the lovely thing about that is that Denmark is the most equality-loving country in the world," says Dil. "That, combined with the fact that I'm an equality and social justice activist, means that I expect this child will come out bearing a placard saying, 'Down with the water charges!"
Global Village, Saturday 7-9 pm, Newstalk, Midday, 11.30 am, TV3,
Insight Matters, www.insightmatters.ie