Multicultural love: What life is like when two cultures merge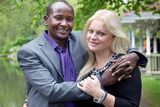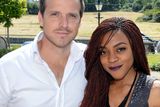 Up to 20 years ago, the sight of two people from different ethnicities dating in Ireland would have raised eyebrows. Thankfully, we're now a multicultural country. These couples discuss what life is like when two cultures merge.
Dubliner Siobhan Byrne Learat, 47, is married to Kasao Learat, 42, from Kenya. An elder of the Samburu tribe, Kasao has two sons, Sabaya, 11, and Sariku, 9, and also adopted his sister's son, Dulla, 19. Siobhan has a son, Jonathon, 30, from a previous relationship, and three sons from her previous marriage, Adam, 23, Sam, 19, and Richard, 18. She also has a brand new grand-daughter, Amelia. Her travel company, www.irishluxury.com, arranged Kim Kardashian and Kanye West's Irish honeymoon.
Siobhan and Kasao Learat met through work in Kenya in 2007, and were married there in 2010, with all of their children present.
"My kids all imitate Kasao's chuckle, as it just makes everyone happy," she says. "He also has a lovely big bum. He is genuinely a good person, and while I was happy to be free and single, I knew that guys like him don't come along often."
On paper, they couldn't be more different. Siobhan grew up in Mount Merrion, Dublin, and has three siblings. She is educated to Master's level, and set up Adams & Butler in 2003, which specialises in luxury travel.
Kasao grew up in northern Kenya with eight siblings. His late father, Puati, also had 14 children with his two other wives. They were a nomadic family with cows, goats, sheep and camels, and his mother still lives in a hut and moves every three months.
"Where I am from, women stay home and take care of the families, and the woman is the head of the house," says Kasao. "Siobhan was very happy and talkative and I liked her face and her smile."
Kasao went to boarding school, followed by ranger school in South Africa. He was put in charge of the anti-poaching unit, and was made an honorary warden for life with the Kenyan Wildlife Service. He also works with visiting photographers and documentary-makers.
"It is not common for a man from my area to marry a white, European girl, but when my family saw that Siobhan had pictures of my kids on her computer, they saw it as her accepting and becoming part of my family," he says.
"She is very kind, and as she doesn't speak the same language as they do, she used to act out what she was saying, which made them laugh."
Kasao comes to Ireland three times a year, and he and Siobhan Skype and phone each other all the time. They say they miss each other horrendously when they are apart, and Kasao's sons will come to live with Siobhan later this year.
"I will go wherever Siobhan is," says Kasao. "It is a very different culture in Ireland, but people are very kind and welcoming. It is like Kenya in that way, as everyone says hello and the countryside is beautiful."
Siobhan says that the African community in Kenya has been very positive about their relationship, especially Kasao's tribe and racial group.
"They have also set up a charity in his area to help the girls go to school. When they first met, Kasao encouraged Siobhan to do things like camping on top of a mountain for three days with no comforts, which she loved.
"Kasao knew that I was able for life in the bush and eventually we want to move there," she says. "We will live in a ridge on a mountain that the community have gifted to us, and when we have the money, we will build a house there. It's a place where you have to walk 10 kilometres just to collect water."
"Kasao's immediate family were very welcoming and are more concerned that I am not Samburu, rather than me being white, which to them is irrelevant," she adds. "I think his family thought I was quite funny to look at, because the women all had to shave their heads, and wow, I have long hair, like a man!"
Siobhan says that the differences between them are amusing ones. When she cuts the grass, Kasao wonders why they just don't get a goat?
"We have never had a problem in Ireland," she says. "People are always genuinely interested in how we met. Our story makes a lot of people feel happy as it proves that true love is out there. Especially for those seeking it the second-time around."
"However, while the black Kenyans had no problem, a few white Kenyans have been a problem.
"The other 90pc were welcoming. Many high-profile mixed couples in Kenya have broken up, especially white, middle-class women with bushmen, so we are in a serious minority. But I really think that we have both gone through so much in life that we realise a good thing when we see it. We will work on this until the day we die. Our kids also get it and want it to work - they feel the love."
Fleur Phoenix-Munroe, 26, was born in London and her mother, Mutale, is Zambian. She has a brother, half-sister and two half-brothers, and works as an actress, model and fashion design consultant. She's been dating Ray Kelly, 32, from Firhouse, Dublin, for the past four years. He is a self-employed importer of natural-stone products, and has just completed a degree.
Having lived in both London and Zambia for a few years, Fleur came to live in Ireland when she was a young teenager. She recalls her years living in Zambian capital Lusaka fondly.
"Zambia is very warm and busy," she says. "A lot of people are poor, although there is a lot of wealth there too. But there is a very large gap between the really rich and really poor. Everyone wants to work and better themselves, so there are a lot of entrepreneurial-type businesses with people selling whatever they can. People are very friendly and open, and they have a very positive outlook there. Even though they may be poor, they're happy and they just get on with things."
Fleur and her mother moved to London initially, and then came to live in Dun Laoghaire when she was 13. Her mother had been worried that she was beginning to hang out with the wrong crowd, and felt Ireland might be a more calm environment.
"I went to school in Rockford Manor, and was the only black person there at one point," she says. "Everyone was very nice and welcoming and tried their best to be very PC, as I think they were afraid of offending me.
"The first negative experience I had in Dublin was when I was 14 and was at the Dart station with a group of friends. Someone from another group saw me and shouted the "n" word at me. I didn't understand what he was saying at first, so I went over and he kept saying it to me. I felt really down about it for a long time."
Fleur says that while she likes Ireland, and it has been very good to her, she doesn't quite feel it's her home yet.
She thinks Zambians are a little more open and inclusive than Irish people, in general. "I think that Irish people are  very nice but can be a bit stand-offish," she says, "although I wouldn't say they are more xenophobic than anywhere else in the world. The infrastructure here is really good, and there are greater opportunities to better yourself and have a brighter future."
Fleur met Ray in 2008 and they had a few dates before he went off to Australia for 18 months. "When I came back, I had to chase her really hard," he says, with a laugh. "We had the same sense of humour, and she was great at putting up with my keen interest in sport."
Fleur says that she doesn't understand GAA at all, but the main cultural difference between them was food, as Ray was apprehensive about trying any ethnic cuisine.
They hope to visit Zambia in the next year. "I'd be very keen to go over," says Ray, who says his family are all mad about Fleur. "I get on great with Fleur's mother and brother, and am looking forward to meeting her dad."
Fleur is very clued-up on racism in Ireland as her mum's partner, Ken McCue, works with SARI — Sports Against Racism Ireland. Luckily, the worst they have experienced themselves is being stared at.
"I think older people tend to look twice, which used to infuriate me in the early days, but I'm used to it now and I ignore it," says Ray.
"People can make indirectly racist comments or jokes without even realising it, but, then again, I didn't think certain things I said could come across as thoughtless before I met Fleur. We are very happy and really committed to one another, and very much see our future together."