Irish mum on accepting her sons are now daughters: 'They're still my children- I love them more than anything in the world'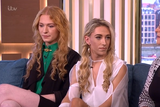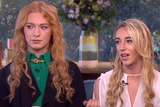 An Irish mum has said that she is happy that her sons are more comfortable in themselves after they made the decision to identify as women last year.
Cork sisters Chloe (23) and Jamie O'Herlihy (20) appeared on UTV's This Morning with their mum Sarah to speak about coming out as transgender and the journey which led them to identifying as women at the same time.
Speaking to presenters Eamonn Holmes and Ruth Langsford, Chloe and Jamie's mum said her acceptance of her children has never been an issue as she loves them completely.
"They told me in September of last year. I came back from Greece and Jamie face-timed me and said 'I am transgender'," said Sarah.
"I wasn't surprised, it means a change for her. We use gender all the time, 'her' and 'him', those pronouns needed to change. I didn't have an issue really because I gave birth to two beautiful babies and they're still my children. Gender isn't really an issue for me.
"It's not been a reluctant acceptance. Not a bit. They're my children. I love them more than anything or anyone in the world," she said.
The sisters said that they always enjoyed dressing up and playing with dolls in throughout their childhood, but it was only when they were adults that they began to struggle with their gender identity.
Chloe said she came out as gender fluid before coming out as transgender, and went to her graduation as her female self. At this point, Jamie had also been struggling with her identity and a short time later, decided to begin the process of becoming a woman like her elder sister.
Chloe has already had a psychiatric evaluation and is in the process of starting Hormone Replacement Therapy (HRT), which is also the course of action for Jamie.
Jamie (20) admitted that being in the wrong body is "tiring and depressing" and said she is excited to begin HRT.
"You're dragging around this body you don't want to be dragging around. It's really depressing and tiring. Once we start the HRT, we'll start noticing the differences. Going through that female puberty is going to be really, really exciting.
"I think I'm the same person, I'm just wearing heels and have dyed hair. I'm a big fan of Britney Spears so I guess that's where the blonde hair comes from," she said.
The 20-year-old has also found love since she began to live life as a woman.
"I found love two months ago we went to a transgender training facility set up by the TENI group. I didn't go there looking for love, but to find out more about myself but Harry walked in and that was it," she said.
For more information on Transgender issues and for support visit www.teni.ie