Call the male midwife: 'When I walk in the door at 6ft 1in faces freeze'
A report on the men working in the ultimate woman's world - the maternity ward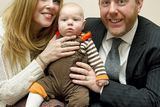 Dan Oakes hesitates when people ask him what he does for a living. As the first male midwife to graduate from Dundalk Institute of Technology (and one of around 30 in Ireland) his answer tends to provoke a strong reaction.
"It either shuts down all further conversation instantly, or people are completely fascinated and want to talk about nothing else," he says.
There are still those who think it strange that a man would want to be a midwife. And there are few places more overwhelmingly 'female' than a maternity hospital.
Dan admits it wasn't an obvious career choice, and he came to the job in a roundabout way.
Originally from Alaska, Dan moved to his father's hometown of Dundalk with his wife. "I worked as an electrician and then a project manager for Smart Homes but when the property bubble burst, it was natural opportunity to retrain," he explains.
"Midwifery was my wife's idea. I was in the birthing pool with her when our first child was born, and it was a totally awe-inspiring experience."
He undertook a four year direct-entry scheme, introduced in Ireland in 2006 to fast-track training and to make it possible to become a midwife without first qualifying as a nurse. He was the only male student on the course, and acknowledges that not all women would welcome a male midwife.
"I completely respect that some families might have reservations about having a male midwife, but I've never been asked by a woman in labour not to attend a delivery because I'm a man," he says.
Since qualifying 18 months ago, Dan and a fellow student midwife, Tracy Donegan, set up Neighbourhood Midwives (neighbourhoodmidwives.com); a service which offers home-based private maternity care to women in Ireland.
Dan was one of two midwives who attended Anne Harper (38), a clarinettist and doula, when she delivered her third baby, Lugh, now 13 weeks old, at home in Banbridge, Co Down. Anne was unfazed by Dan's presence.
"The term midwife means simply to be with a woman giving birth. I understand that some people might feel uncomfortable with a male midwife, but many obstetricians are male, so what's the difference?"
"Dads are quick to crack jokes about what to call a male midwife - midman is a popular suggestion - but I think many fathers actually appreciate another male presence in the room at a time that is traditionally very female-centred," Dan says.
"At times, especially if something unexpected happens and a father gets a stricken look on his face, I have felt able to offer dads particular support."
Mother-of-five Corrina Stone (34), from Kildare, had a male midwife present for the birth of her third child, and feels her husband was more involved in the birth experience and bonded better with their baby.
"It honestly felt more like we were friends chatting in a bar than strangers going through labour together, and the male midwife put my husband at ease wonderfully well," she explains.
Roseanne Dolan (36) lives in Dublin with her husband, Paul, and their four-month-old son Sam, who was also delivered at home with Dan attending as midwife.
"Dan was really helpful after Sam was born, including helping me with getting breastfeeding established. He did what any other homebirth midwife would do - he stayed in the background and offered support and encouragement. He didn't force us into any breastfeeding position and gave excellent advice."
As a software engineer working in a male-dominated environment, Roseanne feels particular empathy for Dan as a male in a traditionally-female role.
Critics might suggest that a male midwife can't ever compare with his female counterparts for the simple reason that he can never appreciate what a labouring woman goes through. But Dan see things differently.
"I've given a lot of thought to that throughout my training," he says. "But not knowing what it's like to go through childbirth myself doesn't necessarily put me at a disadvantage; it also means I don't project my own experiences onto labouring women, or make any assumptions or have any preconceived notions about the birth experience."
That's a sentiment shared by Kathryn Muldoon, Head of Discipline of Midwifery and Director of Midwifery Programmes at the School of Nursing and Midwifery, Trinity College Dublin.
"Many female student midwives won't have given birth when they undertake their training either, and in fact having given birth is of no real consequence because every woman you care for is different and therefore it's not necessary to bring your own experiences into your professional care."
Rather than lacking the skills required to support a woman through childbirth, perhaps some men are in possession of an 'edge' over their female colleagues.
"Perhaps because he's a man, Dan is more acutely aware of how important it is to be sensitive towards a pregnant or labouring woman," says Anne. "Some of the female midwives I've met seem to almost forget that they're dealing with somebody else's body."
Is he ever made to feel odd as a man in what is traditionally considered a woman's job?
"I have encountered that; some hospital policy documents officially recognise maternity hospitals as female-controlled zones, but that's just the flip side of my days working in the construction industry, where everyone was addressed as 'lads' although we might have had a female electrician on the team. I don't take any offence."
To say thank you for the part Dan played in Lugh's arrival, Anne bought him a pink stethoscope. "They say only real men can wear pink," she explains.
"And as I said to Dan after our very first conversation, I think a man who wants to be a midwife in a culture like ours must be a very special kind of person."
'When I walk through the door, at 6 ft 1in tall, faces freeze'
Mikey O'Brien is a midwife at the Rotunda Hospital in Dublin. After following in family footsteps to train as a nurse in 2003, his interest in midwifery developed when he worked in A&E and was involved in the emergency delivery of a number of babies.
Mikey (29) trained as a midwife in 2009, and has worked on the busiest labour ward in the country ever since. He loves his job.
"Whether it's my first or my fourth baby of the night, I just love that I get to share this magical, life-changing moment with people," he says.
"A senior midwife once told me that if ever the moment comes when I don't get a lump in my throat as I'm delivering a baby, then it'll be time to get out of midwifery. I think that's great advice."
"When I walk through the door, at 6 ft 1in tall, and introduce myself as Mikey the midwife, you can see people's faces freeze for a second, or they'll look at me as if to say 'You're not serious'.
"So I think as a man, a midwife almost has to have something extra going for him; a larger-than-life personality helps, because a large part of my job is to put a woman at ease and to convince her birth partner that they can trust me to do my best for the woman in labour. I think dads often feel that little bit more comfortable with a male midwife. It helps that I can get them talking about sport, which breaks the ice and puts them at ease too; people forget that expectant dads have huge emotional involvement in the delivery room."
"Obviously a labour ward is a female-dominated environment but I've never feel isolated or unwelcome; the total opposite, in fact. Some of the women I work with have said that having a guy in the mix changes the environment for the better.
"What matters most about the labour ward dynamics isn't the ratio of men to women, but that we're a safe, reliable, and competent team. Midwifery is all about teamwork - with the backup of obstetric doctors - and I like being a part of that.
"I have been asked not to attend a woman in labour around four or five times, but each time it's been a matter of her cultural beliefs, and she has also refused a male doctor, so it's never personal. But whether or not I'm an attending midwife, my role is to make sure a woman feels supported, and sometimes that means not delivering her baby."