'Alzheimer's sucks, dementia sucks... there is really no upside' - Neil Hannon on dealing with his dad's illness
Neil Hannon tells our reporter about finding a soulmate, his dad's Alzheimer's and why he always preferred Prince to David Bowie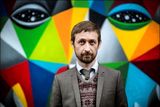 He has been known to sit doing jigsaw puzzles while conducting interviews over the phone, such is Neil Hannon's disdain for the often banal questions put to him about his life and music. But when I manage to engage him with a bit of tittle-tattle about fellow music legend Morrissey, imparted by a friend who met him in Dublin recently, and not to be repeated in a public format (unfortunately), lo and behold, the Londonderry-born bishop's son comes back with a quick anecdote of his own.
"Ah, poor Mozzer," he sighs. "I admire him greatly. I met him once at a 'Hot Press' gig in Belfast. It was quite odd... I was summoned to his side, but when he saw that I had my wife with me, he suddenly lost interest, heh-heh-heh!"
The Divine Comedy frontman and red-headed Orla, a Drogheda-based designer, split up amicably in 2007. They share custody of their 12-year-old daughter, Willow.
Neil has been living in Kildare for the past few years with the indie singer-songwriter Cathy Davey (below), the object of his adoration in the upbeat love songs of his new album, called 'Foreverland'. "I love you, I really, really love you," he warbles on the final track.
Davey makes an appearance on the album, too, exchanging sweet nothings with her partner on the duet 'Funny Peculiar'. And despite his claim the single 'Catherine The Great' is about a Russian tsarina, the tribute to his loved one is obvious. "The album is about meeting your soulmate and living happily ever after and then what comes after happily ever after," Hannon explains.
"I'm sure you can have more than one soulmate, but they're a lot of hard work. I'm probably quite an introvert and find relationships quite hard work - oh dear, I sound like Sheldon out of 'The Big Bang Theory'.
"Anyway, the less soulmates, the better - that's what I say."
The politely spoken former townie has taken on the role of country squire on the farmland he and Davey share in Kildare with a menagerie of rescued animals.
Named the My Lovely Horse Rescue after the unforgettable Divine Comedy-penned song for 'Father Ted''s Eurovision entry, the sanctuary is home to "three pigs, five chickens, four dogs, some donkeys and quite a lot of horses".
"I gave it its name and my blessing, and I feed the pigs and the donkeys, but at the end of the day it's Cathy's thing and she's amazing at it," explains Neil. "I've no idea what the dogs are, two are large and two are small. I do like country life."
While she has just released an album of her own, Davey will be at home looking after the animals while The Divine Comedy go on their 'Foreverland' tour in autumn.
Neil admits to missing home while he's on tour and says he doesn't intend to ever move house again. He used to live in London but moved to Dublin and regularly visits his father, the Rev Brian Hannon, who was diagnosed with Alzheimer's disease eight years ago. In 2015, he devoted his organ composition 'To Our Fathers In Distress' to Brian.
"Alzheimer's sucks, dementia sucks, there is really no upside," he says flatly. "A lot of people try to find the positives, but I refuse to. I love my dad, but it's very, very hard. It starts to be that they're not there any more…"
He tails off, loath to say if his father has moments of clarity. As he doesn't share the cleric's religious convictions, faith holds no comfort for him, and concept album 'Foreverland' is rooted in this world rather than the next.
"I don't think an afterlife is likely," Hannon says. "Also, I'm not sure I care. Sometimes it can be an excuse not to do your best in this life. This one's the only one I'm sure that exists."
He agrees that many of the greatest pop stars become stale in middle age and espouses the pram in the hall as the sombre enemy of good art. "A lot of the artists I love have gone pathologically boring in middle age," Hannon says. "I think it's family life. Your mind alters when you have a kid. In relation to the world around you, life becomes more about them.
"Pure, youthful ego makes good pop, and selfishness, to be honest. When you have a family, you feel you have to make money to give them the best start in life, which is admirable but tends to lead to lowest-common-denominator stuff.
"I try to avoid that, even if it means I sell less records."
Was the pram in his own hall a hindrance to his creativity? He was 30 when his daughter was born. "Nah, she's a good girl," he replies. "She is a drummer - make of that what you will."
Now 45, the frontman guffaws when I tell him 'Foreverland' sounds like the opposite of a mid-life crisis. He claims he went through his at 30. That's when he released an album he wasn't happy with, as well as becoming a dad.
"I was making my sixth album, 'Regeneration', which was more guitar-driven," Hannon recalls. "I had long hair and wore denim. It was a successful album in its own terms, but a career cul-de-sac.
"This new one is more orchestral pop, as you say. Give the people more of what they want, a large dollop of what they don't. It's a grand old mix really. The usual French and German influences.
"Not subtle? I try to be, but I'm not very good at it." Never better than with an orchestra behind him, Neil joined a line-up of artists at The Proms in July, paying tribute to David Bowie.
"I was more obsessed by Prince as a teenager," he admits. "I adored his stuff, especially 'Purple Rain' - I found 'Parade' a bit slight.
"Bowie was this massive deity, a higher influence presiding over the rest of the pop world... some wonderful songs, but I wasn't a fan of his albums."
Some of the quirky track titles on 'Foreverland' are reminiscent of Morrissey's back in his Smiths heyday. I wonder if 'Why Are You Leaving Me On My Own?' refers to the look on the face of one of Hannon's dogs when he is departing.
"Ha! No," he replies. "It's about middle-aged men when they're left in the house on their own for a weekend or whatever. They revert to cavemen. I sit on the sofa and eat pizza and watch football."
And what about the song 'Napoleon Complex'?
"Well, I wanted to start the album with a song about a short gent who wants to control the world around him... like a Jack Russell," he says.
"My favourite track? Hmmm. I do like 'I Joined The Foreign Legion To Forget'. I had the words Foreign Legion in my notebook for years, like National Express, before I got it right.
"There was always something funny about it, always jokes about it in the 'Two Ronnies' and 'Carry On'. I like all that."
Like Prince and many of his heroes, Neil writes, produces and arranges his own albums. He recorded 'Foreverland' in London and Dublin and the band has announced a 19-date tour, including two London Palladium shows and a Dublin gig, for October 2016 and February 2017.
"This tour is a slog - you do have to take a deep breath and pack very carefully," Hannon says.
"It's more fun to sit at home working on what is your hobby effectively. I make records in the same way as someone builds a model railway in an attic... kind of nerdy.
"On tour, you miss your family, but it's my job. I can't complain. A bit of mass adulation does you no harm every now and then.
"I've no idea what I'll do next - I haven't even thought that far yet. That's a good thing. All I know is that I'll sleep for a month."
But he promises not to become boring.
"I'm happy and contented, and thankfully I don't have an addictive personality," he concludes, in reference to talented souls who self-destruct. "That doesn't stop me from wanting to make better records and songs. Maybe when I write the best ever album I'll give up. But I doubt it. My standards are quite high."