Brendan Behan - far more than a Borstal Boy
Blanaid Walker was only a baby when her father, the writer Brendan Behan, died, aged 41, 50 years ago this month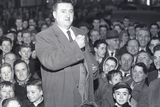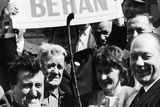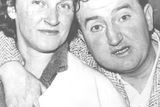 Brendan and Beatrice Behan were married in Donnybrook Church at 7.30 on a Saturday morning. They had been courting just a couple of weeks when Brendan suggested that she "wasn't cut out for the nine to five" job at the National Museum. She would quit and they would move to the south of France where he would write articles for the Irish Press while she would lead the life of a writer's wife.
After the ceremony, to which Brendan had failed to invite his parents, the wedding party celebrated in no fewer than four different pubs around the city. At one point, the newly-weds found themselves outside Lincoln's Inn where Brendan, accompanied by a fiddler, broke into a rendition of the Cunla.
"All around us the windows flew up around Lincoln's Inn there," recalled Beatrice Behan in an interview first aired by RTE in 1974. "All the girls were hanging out while Brendan sang. It was one of the finest times that he ever sang it in my opinion, because he could sing that song, beautifully."
Brendan Behan's wedding day was much like Brendan Behan's life: eventful, frantic, booze-filled but also full of fun. The couple's marriage lasted just nine years. Brendan's death, 50 years ago this month, at the age of 41 brought it to an abrupt but inevitable end.
"He wasn't really a domestic person," says the writer's daughter, Blanaid Walker (nee Behan). "He was a gifted party animal. But my mother, who had great times, and low times with him, particularly towards the end when he was very ill, always spoke with great fondness for him."
Blanaid, who now lives near Oxford, was a newborn when her father passed away due to complications involving a combination of diabetes and alcohol.
"It's obviously difficult to form any idea of what he was like in terms of personality," says Blanaid. "I only really have a few snippets of videos and some family photos, but there's not really enough there for me to build up a picture of him as a personality other than the public persona. I think the idea of him settling down and having a quiet time with a wife and children is hard to imagine though. Had he lived to a grand old age, he still would have been a difficult person to control. So who knows what kind of a relationship I might have had with him growing up?"
After going to school in Ireland, Blanaid moved to England at the age of 20 to work as a television producer. Soon after moving she met Michael Walker with whom she has two children, Guy, 16, and Rupert, 13.
She recently drafted the boys in to help her with a campaign to get An Post to commission a 50th anniversary commemorative stamp of her father which after "much cajoling" has been approved and is due to be issued later this month.
"I'm exceptionally proud of my father," she says. "He had none of the advantages that, for example, my children had. He overcame all the obstacles that he had as a child, coming from a poor family, one of many kids and he was disciplined enough to use his experiences from early life to turn out some incredible work."
Brendan Behan was born on February 9, 1923. His father, Stephen, was a house-painter and an avid republican. His mother Kathleen was no less committed to the cause and even acted as a courier for James Connolly during the Easter Rising. The young Brendan's love of literature and music was encouraged by his mother who would point out the literary landmarks of the city to her children as she ferried them round.
When Brendan left school at the age of 13, he followed his father into the decorating trade. He would soon join Fianna Eireann, which brought him into the circle of the Irish Republican Army.
Republicanism was to loom large in Behan's life. Indeed, it was an unauthorised and botched attempt to bomb Liverpool's docks that landed him in an English borstal prison for three years at the age of 16.
"In a way he was lucky he ended up in a borstal," says Blanaid. "The governor was like a principal and encouraged the boys to rise up out of poverty that many had been born into."
It would be some time before Behan put the education he got at the institution to good use however. Upon setting foot back in Ireland in 1941, he was back working with his friends in the IRA. Again, he was caught. This time he was sentenced to 14 years for his part in a plot to assassinate two gardai. During this stint inside, he produced his first play and also had some stories published. Under a general amnesty granted to all Republican prisoners by de Valera in 1946, Behan was released.
Two years later, the writer moved to Paris where he probably worked as a house-painter although he claimed himself that he was a pimp "procuring girls for Americans on commission" and writing pornography to earn his crust. He also managed to get himself arrested, and according to one source was bailed out by Samuel Beckett. There were many more trips to Paris and France but by the early 1950s Dublin was his base. Behan, along with a regular cohort of writers including Flann O'Brien and Patrick Kavanagh, started to gain a reputation for over-indulging in the capital's pubs.
Nonetheless, the writer stuck to his routine of getting up early to write so he could get to the pubs for opening time and, remarkably, did manage to live quite well off what writing work he got.
His break, albeit a slow-burning one, eventually came in 1954 when the play The Quare Fellow, was produced in The Pike Theatre in Dublin. The play is set in Mountjoy Jail on the day and night before the unnamed and unseen Quare Fellow is to be hanged for murder.
"It's a real anti-capital punishment play but he writes it as a comedy," says Dr John Brannigan of the School of English at University College Dublin. "Everything about it is meant in the spirit of defiance though. [Through it] he tries to articulate the vibrancy of working-class culture at the same time as he's being absolutely honest about the social structures of social division; the poverty and exclusion that marked working-class life at the time. To write it as a comedy was very daring and that's why I think it became so successful."
After a six-month run in Dublin the play moved to London and eventually made it to The West End.
With success came more notoriety. Of course, public displays of drunkenness including an infamous interview with Malcolm Muggeridge on the BBC catapulted Behan's name into public discourse, but there can be little doubt that his natural wit and charm also helped him greatly.
According to one story, for example, he was once asked to describe the difference between poetry and prose.
He replied: "There was a young man named Rollocks, who worked for Ferrier Pollocks. As he walked on the Strand. With his girl by the hand. The tide came up to his knees.
"Now that's prose," he continued. "If the tide had been in, it would have been poetry."
When The Quare Fellow moved to the United States for a run on Broadway, audiences lapped up vignettes such as these but Behan, much like Dylan Thomas, was also expected to live up to the image that he had begun to create himself.
"There was this stereotypical Irish image of him as a heavy drinker," says Blanaid. "To be honest, as he became quite famous, he probably played to that a bit himself."
In many ways, that is the image of Behan that we are left with today, but Brannigan hopes that this might change with time.
"What survives of Behan?" says Dr. Brannigan. "Is it really the celebrity drinker or is there a writer in behind that somewhere that we need to remember and rescue? I'm conscious of the fact that were he alive today, he'd be 91, so there are still people around who remember Behan. I can't give a talk on him without someone coming up to me at the end saying: 'Oh, I remember meeting him in a pub and he threw a pint over me,' or something like that. So we're not yet at the point where we can get past the folklore of Behan the drinker and therefore get back to Behan the writer."
Behan's next play, The Hostage, was met with much enthusiasm when it was first produced in 1958. By the time the play got to the United States, the playwright was the toast of every town and was a must on the to-be-seen guest lists of New York, Chicago and San Francisco. His notoriety attracted women and he was never particularly shy about pursuing them.
Valerie Danby-Smith was the Dublin-born secretary to Ernest Hemingway. She had known Behan for quite some time and, according to herself, she sometimes visited the family home on Anglesea Road. On one of those occasions she explained to Behan that she was on her way to Cuba to live and work with Hemingway. He jokingly replied that she should work for Ireland's greatest writer rather than America's. Years later, she accepted the offer and worked with Behan while The Hostage toured the U.S.A.
In her book Running with the Bulls she describes what happened one night in 1961 after a party in a San Francisco hotel.
"I was awakened a short while later when Brendan let himself into my room ... ," she writes. "I learned then that the romantic fantasies he had hinted at during the preceding months were not just attempts at light-hearted flirtation. It was a night that would change my life forever."
According to Valerie, Behan had got her pregnant.
"The moment I broke the news to Brendan he was elated," she claims in the book. "'I'm coming over,' he said without hesitation. 'I'll be there as soon as I can'."
"Over the next few days, he telephoned me a dozen times. He said he had talked to Beatrice, and if I would agree, they wanted to bring up the child together in Ireland."
In the end it didn't work out.
Valerie had the child and named him Brendan but he was later adopted and brought up as a Hemingway when Valerie married the American writer's son, Gregory. Who had fathered him was not discussed until he was an adult and he has never wanted to know anything about the supposed Behan side of his make-up. For Blanaid, there might be a reason.
"I really don't believe any of that," she says. "I think that if there were any truth in that story, my mother would have mentioned it to me years ago. I don't know when this was all supposed to have taken place. Maybe I'm being very unjust to the woman, and maybe she did have some sort of relationship with my father, but my mother was a very kind and understanding person and I think if there was any rumour she would have been the first person to embrace any sort of product of the relationship, but I genuinely don't believe there's any truth in it. I have to say my mother had a very difficult time latterly with my father and if basically somebody came along and caused trouble between them, I'm not particularly interested in having anything to do with them."
Ulick O'Connor, whose biography on Behan was published in 1970, does not mention anything about a son either. In a 2010 article in The Irish Independent however he wrote he "had known that Brendan was the father of Valerie's child" but that he "didn't ... refer to this in the book as [he] thought it might affect the position of the boy as he was growing up".
Whatever the truth, Brendan Hemingway, who ended up boarding at Clongowes Wood College in Kildare, has never pursued it.
In November 1963, Beatrice gave birth to a baby girl. Four months later, the girl's father died in the Meath Hospital.
"Funny, when I was a child and people would say he was dead by 40, I used to think, well, that's quite old," says Blanaid. "But now that I'm well past it myself, I just think what a waste, what a waste of talent. If he had overcome his alcohol problem and settled down, what would he have become but, as my mother said, that was part of what made him."