'We were that close' – Louth school waiting over 10 years for building to start on permanent home has start date delayed again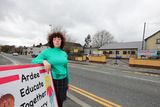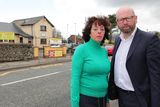 Today is the day the builder's machinery was due to arrive, proof at last that the new school building at Ardee Educate Together National School in Co Louth was happening.
But the project is among 58 "on hold" because of funding pressures on the Department of Education's building programme.
"We were that close," said a frustrated Ann Middleton, principal of the 208-pupil multi-denominational school.
With an 18-month completion schedule, it could plan to be in its new home in September 2024, already a decade behind the original deadline.
Ardee ETNS is spread across two sites on either side of a busy main road – a mish-mash of a 19th-century building, prefabricated units and a former furniture factory.
When it opened with 17 pupils 20 years ago, the school was housed in an 1812 building, designed for education in a different era, with one classroom and a residence, which is still in use.
The principal sees an irony in a state-of-the-art building opening in 1812 for children of tenants of large estates, while now "children are leaving state-of-the-art houses to come to pre-fabs".
The split location means Ms Middleton's daily routine has her crossing a busy main road in all weathers.
At different times last year, they were told that construction would be starting, only to be disappointed.
But early 2023 seemed to be more definite and the principal was keeping close tabs on progress.
In one of her regular calls to the Department of Education, she learned of the latest hiccup and immediately contacted the builder.
He told her he was planning to start bringing machinery on site on the Monday after St Patrick's Day.
"We are never as close as we were to having the builder on site," said the principal.
The co-educational school's contribution to local education includes its four special classes, alongside its eight mainstream ones.
With plenty of new house-building in the area, it is at the centre of population growth and the associated demand for school places.
Ms Middleton can see other Educate Together schools that opened around the same time with much larger enrolments, but "our growth has been stunted".
"We have been asked to open a fifth special class and we have no difficulty doing that, but we can't because we have nowhere to put them."
Every delay not only costs the school community decent conditions, but can be counted in euro.
According to the principal, in 2012 the new school would have cost €1.2m. The next time it was due to start, that had risen to €5m and the last figure she heard was €7m.
The Department of Education is continuing to engage with the Department of Public Expenditure, the National Development Plan Delivery and Reform on funding for the 58 schools.
Taoiseach Leo Varadkar has said "we will have a solution by Easter", but the schools don't know what that means.
Local Labour TD Ged Nash said there was a need for a firm commitment on building a permanent home for the school.