'We look at all the information that has been around for 40 years and wonder why nobody stood up and said this can't go on'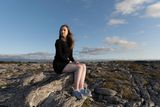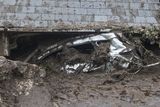 Áine Dempsey has organised demonstrations, negotiated with authorities and addressed her local council and yet she knows what it is like to be underestimated.
"People are often surprised that we're intelligent and know what we're talking about," she says. "They see us out of school and assume truancy."
But if anyone is guilty of failing to learn lessons, says the 16-year-old climate striker from Ennis, Co Clare, that would be the generations before her who ignored the evidence of climate change.
"I first became aware of it from my Junior Cert geography class but there was no sense of urgency about it, no sense that we were running out of time in real life."
Initially unsure what to do, Greta Thunberg provided the inspiration and practical example, and Áine became involved in organising 'Fridays For Future' walk-outs in her own school.
The experience has been positive in ways. "My school is really supportive - we didn't expect that." But it can also be extremely frustrating. "We look at all this information that has been around for 40 years and wonder why nobody stood up and said this can't go on," she says.
"They put profit over our future, they put economic development and growth over the survival of our species."
She is also unimpressed by our current leaders. "I don't think the Government is acting fast enough. The Climate Action Plan is a step but it's a step that should have been taken four decades ago."
Áine sees her role as awareness-raising. "I'm not a scientist.
"I can only take the information that's available and break it down so that other people can get their heads around it."
And while the predictions are gloomy, she's determined not to give in to climate anxiety. "The way to deal with it is to get out our placards and megaphones, get on the street and raise awareness and ensure that climate change is at the forefront of everybody's mind."
The homeowner: Bernie Kearney
Gorse fires never troubled Bernie Kearney before, but the early summer of 2017 was unusually dry and the hills behind her north Donegal home blazed dangerously close.
Bernie closed the windows to keep the smoke out, put her faith in the firefighters who fought the flames and counted herself lucky when the last flicker died.
But on August 17, the weather took an extreme turn in the opposite direction. In just eight hours, as much rain fell as in the entire month of August the previous year.
Bridges collapsed, roads broke apart, homes were deluged and vast quantities of earth behind Bernie's house slid down the hill.
"I just remember a bang and the lights went out and I ran to a back room of the house. I don't know how I got out, I was that shocked," she recalls.
Her house was destroyed, boulders shattering its walls, her car embedded in her kitchen, mud to the top of her windows, a lifetime of sentiment and memories buried.
It was declared a once-in-100-years event, with the warning that climate change would make such incidents much more frequent.
"They say the fire destroyed the roots of the plants and loosened the soil and that's why the rain took it down, but to me it was like an earthquake," says Bernie.
"They talk about climate change and what it does to the weather and I just don't know for I never learned anything like that. My wee niece tells me about it. I just know I never saw rain like it except one year, I think it was 1987, and even that wasn't as bad."
After a year, Bernie moved into a new house across the road from her old home. Her late husband, James, who died 20 years earlier, built it and she didn't want to leave the area.
"I had that house and the garden done the way I wanted to be ready for my retirement and I was sentimental about it. I didn't want to move away.
"My brother rescued some shrubs and plants from my garden and put them in here and it does feel like home now, but I do worry at times. Just recently we had awful rain and I had visions of the hill coming down again on me.
"I hope I've taken my share of bad luck and nothing like that would ever happen again but you just don't know anymore so I'd never say never."