US president Joe Biden to spend most of five-day trip to Ireland next month in ancestral home of Mayo
Mr Biden will visit Ireland for the 25th anniversary of the Good Friday Agreement and will spend time in Belfast and Dublin, but the majority of his time here will be spent in Mayo, where his ancestral roots lie, Independent.ie has learned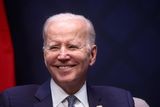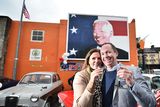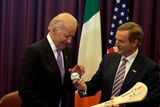 A visit to Ireland next month by US president Joe Biden is set to last five days, with most of his time here spent in his ancestral home of Mayo, Independent.ie has learned.
Mr Biden confirmed last night while meeting UK prime minister Rishi Sunak in California that he will make a trip to Ireland North and South, but did not elaborate on details.
However, sources say Mr Biden will spend time in Belfast and Dublin as he visits to mark the 25th anniversary of the Good Friday Agreement, but the majority of his time here will be spent in Mayo, where his ancestral roots lie.
More details are expected to come this week as the Taoiseach visits Washington DC for an Oval Office interview with the most powerful man in the world on St Patrick's Day.
Mr Sunak had invited Mr Biden to visit the North, and the US president said as the pair met at Point Loma naval base: "It's my intention to go to Northern Ireland and the Republic."
Mr Sunak told the president: "I look forward to our conversations and also importantly, to invite you to Northern Ireland, which hopefully you will be able to do and so we can commemorate the anniversary of the Good Friday Agreement.
"I know it's something very special and personal to you. we'd love to have you over."
Mr Biden said: "Twenty-five years? It seems like yesterday."
Independent.ie has learned that President Biden will fly into Belfast around April 10 to mark the 25th anniversary of the Agreement. He will then come to Dublin.
It is thought he will make at least one major public address, in the manner of predecessors Bill Clinton and Barack Obama.
But there will be up to three days spent in Mayo, according to US sources.
The 46th president of the United States will come to Ireland to celebrate the Good Friday Agreement whether or not the Democratic Unionist Party says 'yes' to the new Windsor Framework to replace the Northern Ireland Protocol.
"The details have to be worked out, the schedule, and what bits fit where," said one official. President Biden will certainly also pay a courtesy call on President Michael D. Higgins at Áras an Uachtaráin.
The trip will equal, and could surpass, the longest taken in his presidency so far. But his five days in the United Kingdom in 2021 were almost entirely political in nature, taking in a G7 meeting. Covid then prevented any pressing of the flesh.
This will be a much more public-facing tour and the president is expected to be on walkabout in Ballina, where his ancestral family, the Blewitts, hail from.
A promised game of golf in Castlebar, Co Mayo, could also be on the cards with former Taoiseach Enda Kenny, with whom he has built up a strong friendship.
President Biden will leave on Air Force One, with efforts to get the world's best-known aircraft to use Knock Airport.
But it may be that US officials deem Shannon Airport more secure. It handles flights involving more than 65,000 US troops annually.
However, the US president has previously flown to Knock in a US military aircraft while serving as vice-president during the Obama administration.
It may even be that two US presidents are on the island of Ireland at the same time. Bill Clinton is believed to be examining a trip here to mark the quarter-century since the signing of the Good Friday Agreement, which paved the way for peace in Northern Ireland after 30 thirty years of conflict.
Taoiseach Leo Varadkar recently repeated to the Dáil that there was a "standing invitation" to President Biden to come to Ireland while in office.
He has replied "just try stopping me" to the same question when posed by then-Taoiseach Micheál Martin. The Covid pandemic prevented it from happening earlier, while his travel in the last year has largely been dictated by the US response to the Russian invasion of Ukraine.
Asked if the DUP's delay in making a decision on the Windsor Framework could impact on the trip, one source was said the president of the United States would always act as he saw fit.
Sinn Féin president Mary Lou McDonald has demanded an early outcome from DUP deliberations. Last weekend she told the Taoiseach he should make common cause with other Northern parties in seeking time-immediate restoration of the Stormont Executive and Assembly.
The visit of Mr Biden may also be followed later this summer by Britain's King Charles, with plans understood to be afoot for a tour of Ireland by the newly-crowned monarch.​
Mr Varadkar, who arrives in Washington tonight for a detailed series of events, will also meet Vice-President Kamala Harris and attend a St Patrick's Day lunch on Capitol Hill hosted by new Speaker of the House, Kevin McCarthy.