US 'crowdfunding' giant to open facility for Irish entrepreneurs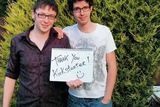 THE online crowdfunding behemoth Kickstarter has revealed plans to open an Irish website within months.
Crowdfunding is a method of raising small amounts of money from a large number of people, usually through the internet.
Thousands of books, films, video games and small businesses owe their existence to Kickstarter, which was set up to offer people alternative small-scale investments.
Since its inception in 2009 Kickstarter has become almost a byword for crowdfunding, and more than 65,000 projects have been successfully funded on the platform – to the tune of more than $1bn (€0.74bn).
Although it has been possible for Irish companies to launch on Kickstarter, they have had to use American or UK platforms – and the website remains relatively unknown here.
To date, 90 Irish projects have been launched on American and UK Kickstarter websites – 48 successful, 38 unsuccessful, and four are still running.
But the Irish Independent has learned that Kickstarter is planning to move into Ireland within a matter of months.
It will rival Fundit, which is one of three crowdfunding platforms already based in Ireland.
Fundit project director Andrew Hetherington said that there are multiple benefits to crowdfunding as opposed to traditional funding methods.
"You have huge buy-in from consumers who are willing to pay six months in advance for something that is only in the concept phase, so the benefits are not just financial," said Mr Hetherington.
"These people will watch your project, they will talk about it, and they will ultimately become advocates for your business," he said.
Ireland has quite an established traditional finance route for enterprise, according to Mr Hetherington, as well as numerous start-up incubators.
But cutbacks to some of these funding sources have left entrepreneurs looking for alternatives, especially in the creative industries. Mr Hetherington is confident that Ireland's three native platforms will compete with Kickstarter when it arrives.
"We have managed to create a very Irish themed and feeling website," he said. "We have a high success rate and I am excited to see what happens."
Giant version of 'Dragon's Den' has raised over $1bn
Kickstarter is a US-based crowd-funding platform. Since it was launched five years ago 6.6 million people have pledged more than $1bn (€0.74bn) to fund 65,000 projects.
The company's stated mission is to help bring creative projects to life. Anyone can launch a campaign on Kickstarter – provided they meet website guidelines – and if people like it, they can fund it and make it happen. Video games, board games, technological innovations and movies are some of the projects that have been launched using the system. Project creators set a funding goal and a deadline, but must not get greedy.
Like a giant version of 'Dragon's Den', Kickstarter funding is all or nothing, and projects need to meet their stated goal to receive any cash. If it is reached, the fundraiser can access the money via the account they have set up on the website.
It's Pip, pip hooray for tech firm
ONE of the most successful Irish projects on the US platform so far was a wireless bio-sensor called 'The Pip' which, when held between your fingertips, measures and helps to control your stress levels.
David Ingram, CEO of Galvanic, the company behind the sensor, said they raised more than $103,000 (€76,152) following a six-week campaign.
"I think we were probably the first Irish company to reach that target," said Mr Ingram.
'The Good Reactor' is an independent Irish documentary about an alternative nuclear fuel that was shelved by the US in the 1970s. And while director Frankie Fenton hoped to raise £40,000 (€50,530), he eventually secured £46,000 (€58,100)
"There is a kind of a guilt about asking for money in this country," said Mr Fenton.
"But I think if you have something that is a worthy offering to people, they don't mind giving to a project they think they are going to get something back from."