US company Dexcom to open manufacturing site in Athenry, Co Galway, creating up to 1,000 jobs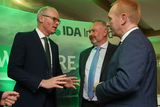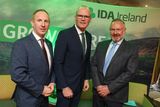 Up to 1,000 jobs are set to be created over the next five years as US company Dexcom opens its first European manufacturing site in Athenry, Co Galway.
The multinational company is known for manufacturing glucose monitor devices which help manage diabetes.
The project is supported by the Government through IDA Ireland and represents an investment of €300m over five years.
Taoiseach Leo Varadkar said the move is "great news" for local employment and the local economy in Galway and the wider region.
"I was pleased to meet with Dexcom this time last year when I visited their headquarters in San Diego," he said.
"This will be one of the biggest single private sector investments ever in the West of Ireland. In addition to the thousand jobs being created by the company, it will bring many spin-off opportunities, jobs and contracts for other businesses in the region.
"The announcement that Athenry is to become Dexcom's first manufacturing site in Europe is very much in line with the Government's policy of balanced regional development.
"It has been enabled by major government investment in infrastructure in the area and a lot of hard work on the part of IDA Ireland."
Dexcom said it expects to provide around 500 construction jobs while the facility is being built and up to 1,000 high-tech graduate and technician level positions once the site is running at full capacity.
Minister for Enterprise, Trade and Employment, Simon Coveney, said this is a "huge vote of confidence" in Ireland's growing talent pool.
"The very substantial employment opportunities that accompany the arrival of Dexcom in Athenry will be a considerable boost to the West MidWest and Midlands regions," he said.
The Athenry facility will contain a "highly automated and efficient manufacturing operation with the emphasis on green technologies and will have the capacity to produce millions of glucose monitors each year."
Barry Regan, executive vice president of global operations at Dexcom, said: "With the continued success of our Dexcom G7 in Europe, we are pursuing an ambitious growth strategy that requires increased manufacturing capacity to support our rapidly expanding European user base.
"Ireland has an exceptional talent pool and an established MedTech sector, making Athenry the perfect location for us to establish a new, state-of-the-art manufacturing facility."