Tragic family killed in murder-suicide named as schools pay tribute
'The most likely scenario is that one person in that house may have caused the death of others' - gardai on five deaths in Cavan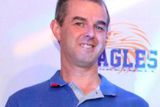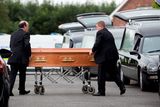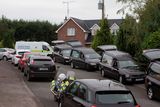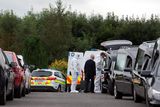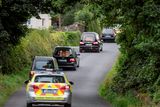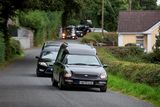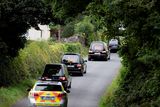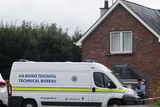 Cian Murray, Ryan Nugent, Martin Grant and Katherine Donnelly
GARDAI investigating the discovery of five bodies at a house earlier today are treating it as a suspected murder-suicide.
The grim discovery was made at Oakdene, Barconey, Ballyjamesduff, Co.Cavan
The bodies of a man in his 40s, his wife - a woman in her 30s - and their three sons aged 13, 11 and six were found this morning at approximately 11.20am.
Five hearses arrived at the house this evening to remove the five bodies.
This evening the INTO issued a statement on behalf of Castlerahan National School, where the father was a teacher.
The father was named as Alan Hawe, the children as Liam(13) Niall (11) and Ryan (6) Hawe. Their mother's name was Clodagh.
READ MORE:  
The principal of Castlerahan primary school Anne Foley said they learnt of the tragic deaths of the Hawe family at lunchtime.
"This is a terrible tragedy for the family, our school and our community. We are deeply saddened by this event. Our sympathy and our thoughts are with the extended family and friends" he said.
Ms Foley said Alan Hawe was "a valued member of our school staff and community, while two of his sons, Niall and Ryan were pupils in our school and Liam was a past pupil.
"They were wonderful children who will be greatly missed by all who knew them."
The principal said  psychologists from the National Educational Psychological Service (NEPS) had visited the school and were supporting and advising our teachers in their efforts to assist our students in dealing with this tragic event.
The school has  also  implemented our Critical Incident Management Plan.
Ms Foley said  the school would be open to parents to support them and to offer them advice and guidance.
"We would ask you to respect our privacy at this time. No further statement will issue at this time," she said.
Clodagh Hawe was described as a "much loved and valued teacher" at Oristown primary school, Co Meath.
Her principal Ann O'Kelly Lynch said they were"  deeply saddened by this event.  Our sympathies and thoughts are with Clodagh's family and friends."
Ms  O'Kelly lynch said it was "a terrible tragedy for the families, schools and the communities involved."
Psychologists from the National Educational Psychological Service (NEPS) have been providing  the school with support and advice
"We would ask you to respect our privacy at this time. No further statement will issue at this time," the principal added.
A Department of Educaiton spokesperson explained the role of  National Educational Psychological Service (NEPS)  is such situations.
The  spokesperson said  that the specific invitation of school authorities,  NEPS psychologists attend at the schools immediately following such incidents to offer direct advice and assistance to school staff and pupils. "It offers support to schools at a potentially overwhelming time"
In any given year some 100 or so requests would be made involving the full range of trauma types.
"In relation to the situation emerging in Co. Cavan, school authorities in locations directly impacted by the tragedy have been in contact with NEPS and psychologists are on the ground to provide advice and support,"  the spokesperson said.
While schools may call in NEPS in the aftermath of a tragedy, it has a wider brief assisting schools in preparing for eventualities that can adversely affect pupils and teachers.
It has  guidelines: called  "Responding to Critical Incidents: Guidelines for Schools" which refer to preventive approaches that schools can adopt in creating a safe and supportive environment and outlines how schools can plan for crises as well as practical guidelines for teachers and principals on how to respond when a tragedy occurs.
The guidelines focus upon alerting schools to planning processes, structures and actions which will better allow them to cope with a traumatic incidents such as suicide or suspected suicide, murder, accidental death including road traffic accidents and drowning, and death through illness of members of the school community. In relation to suicide advice is also given on prevention and positive mental health stratagems and approaches.
Assistant Commissioner John O'Driscoll said at a press conference this evening: "We are not looking for anybody else. We believe all the answers are within that house,"
"The most likely scenario is that one person in that house may have caused the death of others.
"All the circumstances will be explored."
It is understood that a relative of the family called to the home at around 10.45am this morning, and that when they were unable to gain entry they raised the alarm. Gardai arrived at the scene and gained entry.
It is understood that the bodies of the three young boys were found in bedrooms upstairs, while the bodies of the man and the woman were found downstairs.
The cause of death has not been confirmed, although no firearm was found at the scene. Gardai are investigating the possibility a knife or blunt instrument was used.
The motive is also unclear.
It is understood that the man and the woman had been married for approximately 15 years. She was from the local area, while he was from Kilkenny. The family was well-liked and heavily involved in the local community, including involvement with local GAA teams.
Fianna Fail Cllr Matt Doran, who is from Windgap in Kilkenny, said he knew the father involved in the tragedy.  "I've lost track of him in recent years, but I know the family well. They are one of the most respected families from (Windgap)," he said.
"He comes from a family from good handballers. His brother is a very successful farmer down in New Zealand. We are all just shocked.
"The whole area is absolutely stunned and are feeling genuinely devastated for all the families involved."
It is understood the man - who worked as a deputy principal in a school in Cavan - was home in Kilkenny at the weekend for a family member's anniversary mass.
Asst Comm O'Driscoll said that gardai are aware that some members of the family were seen in the local community yesterday.
"We're working on very definite lines of inquiry and we will do our best to advance the case as quick as possible, baring in mind the people involved and affected by this need time to deal with the tragic situation," he said.
"We are that they were in the community yesterday and are aware of a number of people that they spoke with. We haven't dealt with every interaction that they've had.
"Over the coming days more information will be revealed," he said, adding that "All we can do is help the [extended] family members."
He said they have identified everyone they feel may be of assistance in the investigation.
Local councillor Paddy Smith had only arrived back into Ballyjamesduff this afternoon, and said the whole area is "shocked".
"It's just complete shock," Mr Smith said.
"I only heard about it and rang a couple of people and everyone is shocked.
"If there is five people dead, it's tragic, no matter what.
"It's just hard to get your head around the whole thing," he added.
The area has been sealed off and the State Pathologist and the Garda Technical Bureau have been called in.
If you have been affected by issues in this article you can phone the Samaritans in confidence on 116 123.