Tourism to get massive financial boost as Ireland craves end of lockdown
Thousands keen to splash holiday cash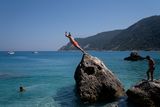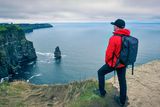 Ireland's battered tourism industry is set to be given a multi-billion euro boost thanks to a hunger for holidays following the pandemic lockdown.
Holidaymakers are set to splash the cash both on domestic and foreign holidays, with the bookings recovery set to be led by 'Golden Years' travellers who are expected to have all received the Covid-19 vaccine by May or June.
Thousands of people have enquired about multiple holidays over 2021 and 2022 – with travel firms revealing queries about premium and extended holidays to countries like Italy, Greece and Cyprus have increased.
However, senior executives of holiday firms including TUI and the Travel Department warned that sun break queries will only turn into bookings once the Government has published its long-awaited roadmap for travel industry recovery.
The domestic holiday sector has also witnessed uneven bookings, with summer rentals in Kerry, Cork, Galway and Waterford booming while bookings in the capital and other urban centres are lagging behind.
Market analytics firm AirDNA said Waterford is seeing growth in demand compared to 2019 for holidays as soon as the lockdown is lifted – with high demand in Cork, Galway and Kerry. Dublin, in contrast, is lagging behind.
Irish Self Catering Federation (ISCF) chairperson Máire Ní Mhurchú revealed coastal properties are already 85pc to 90pc booked for July and August.
She urged Irish holidaymakers to contact property owners directly, with further demand expected to arise from cancelled overseas bookings.
"Self-catering is undoubtedly the most 'in demand' type of holiday accommodation in 2021," she said.
"Coastal regions are already 85-90pc booked for July and August but after that there is a lot of availability in the midlands and away from the coast.
"We have put in a question to the Government on a reopening date for the self-catering sector. If it is allowed to reopen in May or early June there is a lot of availability for those dates."
In contrast, the Irish Hotels Federation (IHF) said the Government's lack of clarity over summer holidays is worrying.
IHF chief executive Tim Fenn said the critical hotel sector was "at a standstill" with cancellations effectively wiping out any new booking gains.
"Hotels and guesthouses are reporting booking levels of just 22pc for July and 20pc for August, which are usually the key summer months that act as a lifebuoy for many other months of the year," he said.
"It is critical that we get certainty. We cannot afford any delay if businesses are to have a fighting chance of survival. Prior to the pandemic, tourism supported over 270,000 jobs, 70pc of which were outside Dublin.
"A severely devastated hotels sector would be a major loss to Ireland's economy and society for many years to come. This can and must be avoided."
In terms of foreign sun holidays, there has been only a trickle of bookings to date with slightly better sales for August onwards.
Bookings have been dominated by older travellers who believe they will be fully vaccinated by mid-summer – while 'value added' destinations such as Italy, Greece, Cyprus and Austria have proved most popular.
Travel Department chief executive Sara Zimmerman said bookings for 2022 have shattered all expectations – but summer 2021 bookings hinge on holidaymakers knowing precisely what the Government plans.
"There is no question but that we are seeing significant pent-up demand from customers," she said.
"Unfortunately that pent-up demand is coupled with anxiety due to the lack of clarity around Government guidance on when travel will be permitted. It is a bit of a mixed bag really."
TUI Ireland boss Simon Eaton said clarity from the Government is now the key to unleashing a wave of holiday bookings.
"There is a large pent-up demand for holidays, there is no doubt about that – but there is too much uncertainty," he said.
Concern over summer 2021 has led to a major hike in bookings for winter sun holidays, skiing breaks and even 2022 sun holidays.
"We have not seen a major change in terms of geography for bookings. Greece, Cyprus and the Canaries are doing well because they have worked to reassure holidaymakers. A lot of it is media-influenced."
He said bookings are expected to be driven by the over-65s who have a good disposable income and younger travellers who are less risk-averse, as evidenced during summer 2020.
TUI has also noticed that people are now considering spending more with extended holidays, upgraded accommodation and luxury add-ons.
CityJet chief executive Patrick Byrne said the EU's digital green travel certificate is a potential game-changer for summer holidays and is now hopeful of summer travel.
"I think it's realistic. I think there's a huge pressure building out there from pent-up pressure of people who have a demand to want to travel, to need to travel. I think that is eventually going to hold sway on political leadership," he said.
"So I think that, yes, I am hopeful that there will be travel this summer, from mid-summer on."
With the exception of the hospitality industry, aviation and travel firms have been hardest hit by the pandemic and the repeated lockdowns since March 2020.
Irish airports have seen passenger volumes drop by a crippling 90pc while, across Europe, more than 7,500 air routes have been suspended.
So-called digital green travel certificates have now been identified as a means of allowing vaccinated EU citizens to resume foreign travel.
The use of travel certificates has been backed by some of Europe's most powerful travel groups, including Airlines for Europe (A4E), ACI Europe (Airports Council International), ASD (Aerospace and Defence Industries Association of Europe), CANSO, European Regions Airline Association (ERA) and the International Air Transport Association (IATA).
Irish holidaymakers rank among the most travel-addicted in Europe. The Central Statistics Office (CSO) reported that almost 9.4 million outbound trips were undertaken by Irish residents in 2019.
Spain and the UK remained Ireland's favourite destinations – closely followed by France, Italy, Portugal and Greece.
Before the Covid-19 pandemic hit, more than one million Irish holidaymakers travelled to Spain every year.
The Irish Travel Agents Association (ITAA), which represents 100 travel companies and more than 140 retail outlets, warned the overwhelming majority of bookings received to date for overseas travel during summer 2021 involves rescheduled bookings from last year.