Tinned peaches, Spam, and lorry jams: 10 effects of a no-deal Brexit
Some warn it will be like 'jumping off a cliff without a parachute'. Kim Bielenberg on what happens to Ireland if the UK crashes out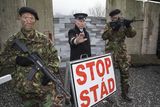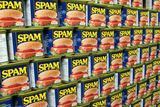 The chances of Britain crashing out of the European Union without a deal receded somewhat this week, as the embattled UK Prime Minister Theresa May offered MPs the opportunity to vote to put off Brexit for a few weeks.
But those who have watched the farce unfolding in Westminster believe that a no-deal Brexit at the end of this month is still a strong possibility. Bookies Paddy Power put the odds of a crash out at 9/2, an indication that we are not yet out of the woods.
The singular talent of May, her ministers and her MPs to unleash the sort of chaos that would lead to a disorderly departure should not be underestimated.
The prospect of a crash out is being greeted with a certain gallows humour, according to one commentator.
Pondering the idea of potential food shortages, the chairman of Tesco John Allan remarked recently: "Provided we're all happy to live on Spam and canned peaches, all will be well."
And the financial new agency Bloomberg described the apocalyptic scenario of the UK quitting without a deal as "the monster that never dies".
So what could the effects actually be in a worst-case scenario if the British government really plays it crazy with a disorderly exit - a process described by one trade official as "jumping off a cliff without a parachute".
1 BORDER CHECKS ARE INEVITABLE
The Government dismisses any talk of border checks along the 500km stretch of the frontier with the North, but a ramped-up security presence is seen as inevitable.
Cathal McCall, professor of politics at Queen's University Belfast, says: "The EU would insist that there are border checks, and food security will be seen as paramount, because they have to ensure that they meet certain standards."
McCall adds that he does not foresee a full-scale return to the violence of the Troubles.
However, if there is border infrastructure, there could be attacks on a scale similar to the IRA's border campaign of the late 1950s and early 1960s.
"You could see isolated incidents of people taking pot shots and the odd blast, but it could have a snowball effect."
The professor fears that a no-deal scenario would lead to the closure of some 208 border crossings, and that would have a damaging symbolic effect.
Michael Carty, former head of the Garda Emergency Response Unit, agrees that an increased security presence along the Border would be required as a result of no deal.
The retired chief superintendent says there were extensive garda patrols when there was a hard border before, and these would have to return - along with a potential threat from IRA dissidents.
"There is no doubt that if you have a border infrastructure, it will become a target."
2 FOOD PRICES WILL SOAR
If the UK crashes out without a deal, supermarket shoppers can expect massive price increases for certain goods.
A study by the ESRI found that a hard border would increase the cost of living by between €892 and €1,360 per household. And lower-­income homes, which spend a greater proportion of their income on groceries, would be hardest hit.
Without a deal, Ireland and the UK would be expected to trade under World Trade Organisation rules and this would be mean hefty tariffs on many goods coming in.
Shane Hamill, overseas trade manager with Bord Bia, says the administrative requirements of customs checks and potential delays would also add to prices.
There could be massive hikes in grocery bills for some goods. The price of bread and cereals would soar by 30pc, coffee and tea by 20pc, and meat by 24pc.
Sugar, jam, chocolate and confectionery could rise in price by 27pc.
Hamill says food producers could try to prevent headline price rises by changing the ingredients of products - or through shrinkflation, where prices stay the same but products get smaller.
He says we are less reliant on the UK for meat, dairy products, fruit and vegetables.
However, a lot of imported fruit and vegetables comes to Ireland from the continent through the UK landbridge, and it is unclear how transport of these goods would be affected by a no-deal Brexit.
3 THERE COULD BE FOOD AND FUEL SHORTAGES
A Central Bank bulletin published in January warned that Irish consumers could see potential shortages of some types of food.
The bank said that a no deal would have an immediate disruptive impact.
"A disorderly Brexit would be associated with additional congestion, disruption to transport services and delays at the Border.
"For consumers, this disruption could result in increases in the price of imported goods while the availability of some products could also be jeopardised," the bank said.
DCU economist Professor Edgar Morgenroth warns that there could also be fuel shortages for a time if Britain crashes out and transport is disrupted, because Ireland imports 42pc of its petrol and diesel from the UK.
4 IRISH FARMERS FACE ARMAGEDDON
The president of the Irish Farmers' Association Joe Healy has warned that Irish farmers face a "potential Armageddon" if there is a no-deal situation.
Irish cattle could be all fattened up with no place to go as a result of import tariffs imposed by Britain.
The beef farming sector is one of the most exposed to a no-deal Brexit with the UK market making up half of all exports by Irish beef producers. Dairy producers could also see exports collapse.
Mella Frewen, director general of Drink and Food Europe, recently forecast that beef and dairy exports to Britain would collapse by 90pc if tariffs were imposed.
5 PLANES WILL STILL TAKE OFF AND LAND
Ever since the referendum vote there have been fears that planes would be stopped taking off and landing between British and EU airports if there is a disorderly Brexit.
But recently both parties have agreed plans to allow planes to fly between UK and EU airports in the event of no deal. This agreement would last for a year.
"There is a lot of confusion in the industry, but nobody can imagine more than a brief disruption to air travel," says Cathal Guiomard, lecturer in aviation management at DCU.
British-owned airlines will be able to travel on a single leg between a UK and EU airport.
But there are still some doubts over whether Aer Lingus will be able to fly unhindered around the EU, because of the ownership of its parent company IAG.
Under current rules, in order to maintain open access to European skies, airlines must have a majority of their shareholders based in the EU.
The European Commission has reportedly expressed doubt about whether IAG, which also owns British Airways and Iberia, will continue to satisfy that requirement after Brexit. "There will have to be some temporary solution to this but it is not yet clear what it will be," says Guiomard.
6 CRASH OUT WILL HIT JOBS
The Department of Finance predicts that our growth in employment would stall as a result of a no deal with 15,000 fewer jobs being created by the end of this year. Those in the agri-food sector are most at risk in the immediate term.
There will still be jobs being created in the economy, but a no-deal scenario would lead to 55,000 fewer jobs being created by 2023, according to the department's predictions.
7 GREEN CARDS FOR CARS AS UK LICENCES ARE INVALID
If there is no deal, motorists crossing the border from the South or travelling in Britain will have to display a green insurance card from March 29 onwards.
Those wishing to display the green cards should already be applying for them.
Green Cards are internationally recognised insurance documents which provide proof of insurance cover to law enforcement agencies.
UK driving licences will not be valid in Ireland if Britain crashes out at the end of the month.
The Road Safety Authority of Ireland say drivers here with UK licences will need to swap their permits before the UK's planned exit date from the EU on March 29.
Irish licences will still be valid in the UK.
8 LORRY JAMS IN PORTS AND ON THE BORDER
The Irish Road Haulage Association warns that the effect of a no-deal Brexit will be catastrophic, with the potential for delays at ports and along the Border as a result of new customs checks.
The association's president, Verona Murphy, says: "It is a chaotic scenario and there is nothing we can do to prepare for it. It will slow everything down and cost us a fortune." She says the delays would threaten the ­viability of the current system of "just-in-time deliveries" of fresh produce.
At Dublin and Rosslare ports, the Government has acquired extra sites for customs checks and lorry parking facilities.
9 IT WILL BE BOOMTIME FOR SMUGGLERS
Professor Cathal McCall says a no-deal Brexit will lead to an inevitable upsurge in smuggling across the Border.
We tend to have a homespun image of ­contraband butter, tea and whiskey being smuggled, but McCall warns that a booming trade is likely to be dominated by organised criminal gangs, benefiting from a divergence in import and export duties for a wide variety of goods.
This will be made easier by the vast number of cross-border roads.
Michael Carty, former head of the Garda Emergency Response Unit, says an increase in smuggling by gangs will inevitably add to the requirement for a greater security presence along the Border.
10 BREXIT COULD WORSEN HOUSING CRISIS
While there may be job losses in some sectors, including agriculture and food production, Brexit is already bringing new jobs to Dublin, with financial services and legal firms moving operations here.
IDA Ireland has predicted Brexit could create more than 4,500 jobs, but others have warned that this could exacerbate the capital's chronic housing shortage.
Speaking at an Oireachtas housing committee meeting recently, Department of Housing official Damian Allen said "affordable" house prices could rise dramatically due to growing demand.
He warned that "very significant net migration" increases could cause a separate housing crisis.