'The journey I had to take after my 20-week scan was torturous'
Journalist Laura Bourne recounts her heartbreaking journey to motherhood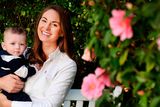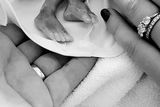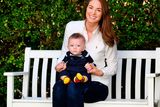 I've never been one for clichés.
But on October 28, 2016, when my husband and I met our baby boy Archie for the first and final time, in a room lit up with fairy lights on a quiet floor of Liverpool Women's Hospital, it struck me that this experience would either be the making or breaking of me.
I'd like to point out from the outset that I am not a volunteer for the Together for Yes campaign and I have no political affiliations.
I'm a mother who has travelled what personally feels like a very challenging road to reach parenthood.
And given the timing, I believe this is an important story to tell.
Aged 29, less than six months after getting married, my better half and I were over the moon when we got pregnant, and naturally couldn't wait to embark on this next chapter as first-time parents.
We were both healthy individuals and had no difficulty conceiving – a blessing when compared to so many couples we know who are put through trauma to have a family.
When we got our positive pregnancy test 12 hours into our summer holiday, the excitement was truly overwhelming.
It consumed us, and we began to visualise life as a trio.
As the first grandchild on both sides, our parents and siblings all shared in our joy that come February 2017 there would be another addition to the group.
It was one of the happiest summers I can remember.
Getting to the 12-week milestone felt like an eternity but despite the nerves, we cleared it with flying colours.
Baby was lying low, we were told, as if in a hammock, but everything seemed fine. Why wouldn't it be fine? People have babies all the time. Perfectly healthy babies.
In the weeks after that, my husband and I had started to plan a nursery when the opportunity to buy his family home arose. Imagining our precious bundle growing up in daddy's old house, sleeping in daddy's old bedroom and learning to ride their bike on the green where daddy did, had us constantly grinning from ear to ear.
So, when October 4 came around, the date of our 20-week anatomy scan, we didn't feel much anxiety at all.
Of course, we'd heard people say that until you pass the halfway mark you don't really know if everything is OK. But we were more concerned in finding out if we would be decorating in pink or blue.
We laughed with the sonographer about putting bets on regarding the gender and the atmosphere was jovial as I settled myself on the gurney.
I was beside myself with giddiness at finding out what I was carrying.
They always say the 20-week scan is a day to remember for any parents-to-be. And it is.
Unfortunately, ours was one to remember for a different reason because within five seconds of placing the gel and probe on my belly, we heard the worst possible news any couple can receive.
I don't think we will ever forget the poor woman's face or the way she sadly and swiftly said 'No' when my husband casually asked, 'So is everything all right?'
Disbelief and utter shock took hold of us.
Instead of finding out whether our baby was a boy or girl, we were told that our precious bundle had a very serious problem. A fatal problem. One we couldn't fix.
We were in a rare percentile of pregnancies and baby had a severe form of anencephaly, a fatal foetal abnormality which means the skull and brain do not properly develop.
The phrase "not compatible with life" is one of the few things I recall clearly from the rest of that day.
We learned that baby either would die during delivery or moments after being born.
As long as he was in the womb he would continue to grow and thrive – completely and blissfully unaware of his condition.
And because of this fact, there would be no chance that we could safely deliver our little man in our chosen hospital, in our home country.
The only way I could physically give birth in Ireland was to go full term.
They could not induce me because I was healthy.
We were also informed that by going to 40 weeks the birth would certainly be far more traumatic, for both baby and myself.
After listening carefully to the expert medical advice, we decided that we simply loved our baby too much to put him through the suffering of coming into this world, gasping for air and shrieking in pain.
If I wanted to deliver in Dublin, I would need to return to routine, to 'normal life', and endure all the friends, colleagues and  strangers asking how bump was doing, what names we'd picked out, or what our birthing plan was.
All the while knowing that the only thing coming was grief and there would be no son or daughter returning to daddy's old house at the finish line.
So not only did we have to figure out how to cope with the idea that the beautiful child we made would never go on to live a full and fruitful life; at almost six months' pregnant we had to make a decision that would affect us forever.
Our consultant and bereavement midwife were very sympathetic and caring. Their hands were tied. Legally, there was nothing they could do. Instead of making us feel shameful for thinking about termination, they advised us of possible options – for us it was to attend a clinic overseas, the Liverpool Women's Hospital.
We would travel to England because Irish law did not support us and would not allow us to deliver our baby in familiar surroundings, with the comfort and support of our families nearby.
And to top it all off, we'd have to wait three weeks before travelling. Why? Because all the rooms in Liverpool were full with bookings, many of which like ours.
The wait I can only describe as torturous.
Almost as soon as our booking was confirmed the baby started kicking constantly in my tummy.
I also bumped into a former teacher of mine whose face lit up when she saw my blossoming belly and immediately began asking questions.
Trying to get the words out to explain our situation through the tears was too much to bear, to be honest.
It all just felt so devastatingly unfair.
Unless you have arranged accommodation or a flight and paid to attend a maternity hospital overseas, you will never understand how crucial it is that this situation stops.
No individual should have to go through the physical and emotional horror that accompanies this.
After paying a fee to attend a Dublin hospital for what we thought would be the most thrilling journey of our married life, we paid another €4,000 to meet and then say goodbye to our angel in a foreign place.
One of the many gut-wrenching moments as you make your way to Liverpool and home again is travelling on a packed plane where 95pc of your fellow passengers are booze-fuelled stags and hens gearing up for a weekend on the town.
However, once we did get there the only thing I can say about the care at Liverpool Women's Hospital is that it was exemplary.
The staff think about your well-being down to the most minute details.
I didn't see one other pregnant person throughout our entire two days there.
My husband was given a bed to sleep next to me for the entire time.
A separate nursery off our suite was decorated with bunting and poetry delicately scrawled across the walls.
And when Archie arrived still-born, it was in a calm, if very sad, environment with the twinkle of dozens of bulbs hanging like a canopy around us.
He was dressed in white and pictures taken of him, as well as imprints of his hand and footprints. He was brought in to us in his wicker Moses basket and a local vicar then came in and blessed him.
We flew home without Archie's body, opting instead to have him cremated at the hospital.
We arranged to collect the ashes on what would have been his due date. We made our second trip to Liverpool in February 2017 to bring home the remains of our darling little boy.
Wonderfully and as if heaven-sent, we were almost seven weeks' pregnant at the time with his little brother – our rainbow baby Noah.
I do not know the exact number of Irish couples that take up rooms in that hospital on a weekly basis.
But I do know that when we made our second trip there were four other couples from Ireland in the birthing suites upstairs. On one single day in 365.
It is utterly despicable that women cannot choose to give birth in Ireland in the case of fatal foetal abnormality or in any case. We need support in whatever decisions we make – because they are never made lightly.
That is why I am voting Yes on repealing the Eighth Amendment.
Again, I've never been one for clichés. But it is true: What doesn't kill you only makes you stronger.