Terminally ill Simpsons co-creator Sam Simon steps in to save Benjy the gay bull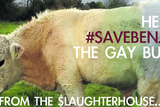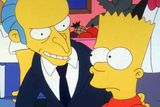 The terminally ill Simpsons co-creator Sam Simon has pledged to pay the €6,250 (£5,000) needed to save Benjy the gay bull, who was destined for slaughter.
Benjy, the non-performing Charolais, owned by a Co Mayo farmer, hit the headlines last week when it was revealed he was destined for the butcher's block.
The bull had failed to impregnate any of the cows in the farmer's herd and he showed more interest in the other bulls.
The Mayo farmer, who is remaining anonymous for fear that he'd be the butt of jokes in his local community.
However, the Simpsons co-creator Sam Simon, who revealed he is suffering from terminal cancer and will be donating his $100m fortune to charity,  has stepped in to save the bull.
Mr Simon pledged the money to help save the bull from slaughter. He learned of Benjy's plight after animals rights group Aran launched an international campaign.
"We did interviews all over the world and we believe Mr Simon saw one that we did we with Russian TV," said John Carmody of Aran. "He got in contact after that. He has offered to pay the £5,000 which is required to have him re-homed in the Hillside Animal Sanctuary in England."
The money put up by Mr Simon will contribute to the €5,000 (£4,000) already raised online by donors, supporters and members of the public and will go towards helping the bull live out the rest of his days in comfort.
Mr Simon joined Matt Groening and James L Brooks to create the popular animated cartoon series in 1989. He assembled and led the original team of writers, and has been described as the "unsung hero" of the sitcom by former Simpsons director Brad Bird.
However, Simon was diagnosed with colon cancer two years ago and given just three months to live. He is continuing to fight against the disease and has described cancer as "the most amazing experience of my life".
Aran has started work on the transport arrangements to get Benjy from the Co Mayo farm safely over to the animal sanctuary in England.  Plans are being made to transport the bull on December 11.
Mr Carmody said:  "What could be better than to present Benjy with a Christmas gift that will literally last a lifetime, by giving him a one way ticket to freedom."