Teachers vote to reject Norma Foley's plan to get them to mark their own students' work for Leaving Cert
Education Minister also faced a silent protest by delegates at TUI conference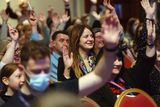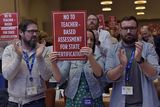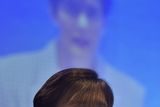 Education Minister Norma Foley will have to move ahead with her plans for Leaving Cert reform with teacher unions in opposition .
Unions welcome much of the proposed change package but are opposed to one key proposal – teachers assessing their own students for 40pc of the marks in each subject.
The annual conferences of both second-level unions have committed to opposition to the move.
The Association of Secondary Teachers' Ireland (ASTI) unanimously endorsed an emergency motion to maintain a firm policy that teachers do not assess their students' work for State exam certification.
Delegates also voted by a majority to refuse to engage in any discussion about Leaving Cert reform until "a full, open and transparent study of the Junior Cert has been conducted and its findings made public".
That could take years. The union will now consult with teachers over the controversial changes outlined by the minister on March 29.
The Teachers' Union of Ireland (TUI) conference also voted unanimously against teachers assessing their own students. The TUI motion also commits to a ballot on strike action if the union's demands for necessary resources to underpin changes are not forthcoming.
Ms Foley, a former second-level teacher herself, faced a silent protest by delegates at the TUI conference just before she stood to address them. Delegates held placards bearing the words: "No to teacher-based assessment for State certification."
But the minister remains "determined" to bring the vision of the reform proposals to life "for the benefit of students".
She said the senior cycle curriculum and system of assessment has to change if is to equip students for the 21st century and allow them to compete internationally.
Ms Foley said she understood that a move to teacher-based forms of assessment would cause some teachers to have concerns or indeed reservations.
But she said these assessments would be externally moderated and the National Council for Curriculum and Assessment (NCCA) and the State Examinations Commission (SEC) would also have extensive engagement with teachers and other stakeholders on the matter.
The minister said the 40pc model would be trialled in schools and teachers would be co-constructors of the revised subject specifications.
But in his response to the minister, TUI president Martin Marjoram said: "Direct your and your department's energies elsewhere – do not ask us to co-design, co-construct, co-author, co-concoct or co-half-bake that which is anathema to us and which will not work."
Mr Marjoram said it was a "deeply held belief" in the TUI that teachers should not assess their own students for State certification purposes.
He told the minister to "avoid the mistakes of the past, turn away from what would be a needless dispute and leave teachers to teach and examiners to examine – on that basis you will find us constructive partners in building a better education system together".
At the ASTI conference, general secretary Kieran Christie, said: "Teachers assessing their students for State certification is simply a bad idea. I fear that the equivalent of an educational pyrite fiasco could be under construction."
He said in 2016 they secured an agreement that a longitudinal study of junior cycle be undertaken in the succeeding years. "Wouldn't we be in a much better position today to assess where we are at junior cycle and where we need to go with senior cycle if the Department of Education had not reneged on the commitment," he said.
Donegal delegate Patrick Curley said secondary teachers did not want to operate as judge, jury and exam executioner of their own students.
Another ASTI member said she had previously taught in an Italian school which charged up to €26,000 a year for students.
"Before the exam I told students if you plagiarise, you will get zero per cent."
She said she came under enormous pressure from the families of two students who plagiarised their exams and got the threatened zero per cent as a result – and she eventually even came under pressure from her own principal to relent.
"You are putting teachers in a really difficult position. We do not want to go down that route. The only people who are going to benefit from teachers assessing students are the rich and powerful," she said.