Taoiseach defends 'forward-looking' RTÉ over Liveline trans row but says discussions must be sensitive and tolerant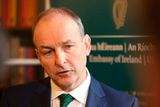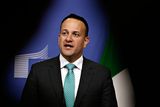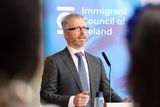 Gabija Gataveckaite and Ralph Riegel
TAOISEACH Micheál Martin has defended State broadcaster RTÉ as "forward-looking" after the Liveline transgender row but stressed that public discussions over such issues needed to be both sensitive and tolerant.
Mr Martin's comments came as Dublin Pride ended its partnership with RTÉ following a dispute over discussions on Joe Duffy's show on Radio One.
"Overall, RTÉ has been very forward looking, I think. It has been effective in having, if you like, a broader and more tolerant debate around these issues over the decades," he said.
"It has been progressive in relation of advancing greater tolerance and greater equality across the board."
"There is room for further discussion and engagement with the trans community. I think we have to be very sensitive and have platforms and for a that facilitate informed discussion and dialogue, as opposed to maybe name-calling and saying things that may not be conducive to a more informed approach."
He added that there are forums for people to review such issues.
"The Dáil is there for various State agencies and people to come in and explain their rationale and background, on decisions that they take," he said.
"Very often programmes where people are not masters of what may transpire on the programme, because people have views and will articulate them (on air)."
"We have got to get that balance right, on freedom of expression, but also I think the most critical thing is that people within the trans community is understanding and acceptance."
"Acceptance is the most important issue for a trans person and that the discussion is a sensitive and tolerant one that understands the need to broaden the community acceptance of this."
"It is a very challenging journey for a person and everyone must recognise that. We must work collectively to make the debate, just like we did prior to marriage equality, a societal wide debate that unites people as opposed to dividing people, that should be our agenda."
The Taoiseach's remarks came after Tánaiste Leo Varadkar earlier called on Dublin Pride and RTÉ to sort out their differences following a row over a series of Liveline debates about the Trans community.
Mr Varadkar said that trans people should be included in debates about their community and position in society and it would be a mistake to excluded them.
The Fine Gael leader he said he knows a lot of member of the community are "very upset" by the debates hosted by RTÉ broadcaster Joe Duffy and said Dublin Pride are within their rights to cut ties with the station.
"The only thing I would say is that these are very sensitive issues, these are a very personal issues. We should talk about them and debate them," he said.
"But if we are talking about issues that relate to Trans people, or any minority group, it's important that they're part of the debate and part of the conversation. They felt they were left out of the debate and if a mistake was made that was the mistake.
"I think that what should say I do hope Dublin Pride, and Dublin Pride is a great event, and I do hope they can sit down with RTÉ and come together again and sort it out," he added.
Mr Varadkar's comments today came after Equality Minister Roderic O'Gorman said transgender people should not have their "basic rights debated quite so vigorously or in an ill-informed way" after days of controversy following Liveline debates on trans rights.
In thinly veiled criticism of the state broadcaster, Mr O'Gorman said debates about transgender people should begin with the real-life experiences of those people.
It comes as RTÉ bosses are set to appear before the Oireachtas Media Committee next week after Dublin Pride severed its ties with the national broadcaster following days of debate on transgender issues on Liveline.
Pride festival organisers accused RTÉ of holding "unacceptable, triggering and extremely harmful anti-trans discussions" on the programme which is presented by Joe Duffy.
Mr O'Gorman, one of two openly gay Cabinet ministers, told the Irish Independent he believes Irish people are "fundamentally fair", want everyone to have an "equal chance in life" and support "efforts to make life equal and fairer for all our citizens, including our trans citizens".
"I think they'd also agree that everyone deserves to live their life quietly and not have basic rights debated quite so vigorously or in an ill-informed way," he said.
"That's why I think it's important that public discussion about trans people should be grounded in basic respect for individual rights and should start with real perspectives and lived experience of trans people themselves.
"I would hope that RTÉ and Dublin Pride will be able to restore their relationship in the future," he said.
A spokesperson for RTÉ confirmed it will write back to the Oireachtas committee today to confirm its attendance next week.
Labour senator Annie Hoey said she wants to hear what the broadcaster has to say and accused it of letting trans people down. "RTÉ should have an opportunity to listen to the trans community. They have let the community down," she said.
Senator Malcolm Byrne said it is "important" that Dublin Pride and RTÉ "engage and talk to each other". "The way to achieve change is through understanding and dialogue," he said.
Independent senator Sharon Keogan, who is not a member of the committee, said she will be requesting to attend the meeting next week. She said Liveline was a "sounding board" for "national issues".
RTÉ said it was "disappointed" with the decision by Dublin Pride to end their media partnership over what the campaign group said were "harmful anti-trans discussions" on Liveline.
Callers have been discussing transgender issues since last week on the programme.
The broadcaster said public discussion, which it described as sometimes "uncomfortable and difficult", is "central to RTÉ's prescribed purpose".
It said it will, consistent with its statutory obligations, respond to any formal complaints concerning the broadcasts.
"RTÉ is disappointed with the decision to end a partnership we had developed together with a range of bodies over the last three years," a spokesperson said.
"Public discussion – sometimes uncomfortable, difficult, and contentious – is central to RTÉ's prescribed purpose. RTÉ is acutely aware that discussions on issues such as gender and identity are deeply personal to many.
"It is important we listen to them, their families and those close to them, and it is also important that we allow our audiences engage with and understand the issues involved.
"RTÉ will continue to stand with our LGBTQ+ staff and the wider community during Pride month and beyond. In time, we hope that we will once again get the opportunity to continue to develop our partnership with Dublin Pride."