Tánaiste vows to leave 'no stone unturned' in bringing Irish soldier Seán Rooney's killers to justice
Micheál Martin spoke ahead of first deployment of Irish forces overseas since Private Rooney's death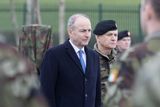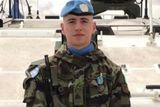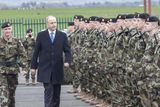 Tánaiste and Minister for Defence, Micheál Martin has said that no stone will be left unturned into the investigation into the death of soldier Seán Rooney.
Mr Martin spoke during a Ministerial Review of the 67th Infantry Group United Nations Disengagement Observer Force (UNDOF) at Finner Camp in Co Donegal ahead of their deployment to Syria in April.
It is the first deployment of Irish forces since the tragic death of Pte Seán Rooney.
The 24-year-old soldier, who was on his first overseas tour, was shot after two armoured vehicles carrying members of 121st Infantry Battalion came under fire near Sidon, around 30 miles south of Beirut on December 14.
Pte Rooney died and another soldier Shane Kearney, 22, from Cork was critically injured in the attack but has since recovered.
Two other members also serving in the 121st Infantry Battalion also received minor injuries.
Tragic Pte Rooney was born and raised in Dundalk, Co Louth but spent much of his later life in Newtowncunningham, Co Donegal, where he was later buried with full military honours.
Minister Martin, accompanied by the Chief of Staff of the Irish Defence Forces, Lieutenant General Seán Clancy, said the death of Pte Rooney was a "shocking reminder" of the dangers faced by soldiers on peacekeeping missions.
He said: "Peacekeeping is the most important action you can undertake. You personify the nation's commitment to that noble work.
"Peacekeeping is not without its dangers.
"That was most painfully felt when Private Seán Rooney was killed in Lebanon. His death broke the hearts of his family, his friends and his military comrades.
"It was a shocking reminder of the risks taken by each and every one of our troops in maintaining the country's proud record in the service of peace.
"It showed the tragedy and suffering that war and conflict can bring."
However, Minister Martin reassured Pte Martin's family that the Government will do all in their powers to bring his killers to justice.
He added:  "I want to assure Private Rooney's family that the Government is determined that all facts and circumstances of the incident will be fully established.
"I have been with Private Rooney's colleagues in Lebanon and I have assured them, as I assure you, that no stone will be left unturned to ensure that those responsible will be brought to justice."
He added that of the 130 personnel traveling, a total of six are women and he vowed to continue a campaign of greater recruitment of women in the defence forces.
The minister also paid tribute to the families of the 130 personnel heading to Syria commending their "dedication, courage and resilience."
He added that overseas operation will remain a priority for the Government saying "we are conscious of the importance of this tradition as an essential component of our foreign policy."
A total of 130 personnel of all ranks from the 67th Infantry Group will travel to Syria in April under the command of Lieutenant Colonel Stephen Morgan.
The group contains of all ranks, consisting of 14 officers, 115 enlisted personnel and one chaplain.
A total of 23 counties are represented from across the country as well as three other countries, including Poland, Moldova and Czechia.
For 38 of these personnel, it will be their first tour of duty overseas.
However, the group has already undergone a Mission Readiness Exercise, which puts commanders and soldiers through a demanding series of scenarios based on the current situation in the Golan Heights and potential threats that may be encountered in the mission area.
Troops face a series of scenarios involving simulated explosive strikes, air strikes, helicopter drills, anti-ambush tactics using a variety of advanced weapons systems, detailed planning and traditional peacekeeping methods.
The group has a wide range of capabilities including armoured force protection, patrolling and mobility, surveillance, communications, medical and operational expertise.
The purpose of the mission by the Infantry Group is to carry out peacekeeping duties under Chapter 6 of the UN Charter.
Lt Colonel Stephen Morgan, the Officer Commanding of the 67th Infantry Group, said his troops were ready for the mission ahead.
He said: "The soldiers are highly motivated and highly skilled, well equipped and well trained in order to meet the challenges they will face.
"They will pursue their mandate in an impartial and professional manner, ensuring that the highest standards are maintained in accordance with the Defence Forces Values of respect, integrity, honesty, selflessness, moral courage and physical courage."
Hundreds of family members were among the crowds at Finner Camp for the parade.
Among the local dignitaries were Deputy Thomas Pringle, Senator Niall Blaney, Garda Chief Superintendent Aidan Glacken and Garda Superintendent Karen Duffy.