Suspected murder-suicide: Tributes flood in to 'amazing mother' Connie, as son Conor remains in hospital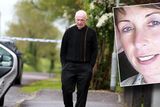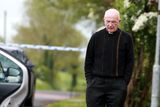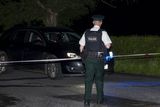 Victoria Leonard and Ian Begley
Tributes have been paid to the "amazing mother" Concepta Leonard, who was killed as part of a apparent murder-suicide in Co Fermanagh.
Detectives are investigating the circumstances surrounding the deaths of a 51-year-old woman and 55-year-old man at a house in Abbey Road on the edge of Maguiresbridge in Co Fermanagh.
At this stage detectives have confirmed they are not looking for anyone in relation to the incident.
The female victim has been named locally as Concepta Leonard, a former businesswoman and daughter of traditional Irish musician Dinny Leonard.
Online tributes have been made to the woman who was popular among traditional music circles in the tight-knit community.
"We will always remember Connie with great fondness for her affection, dedication and energetic outlook shown in all areas of her life; as an amazing mother, daughter, sister, music teacher and friend," said traditional music group Newtownbutler CCE in a Facebook post.
It is understood that a third victim, believed to be Concepta's 30-year-old son Conor, was taken by ambulance to the South West Acute Hospital in Enniskillen.
He is believed to be in a stable condition in hospital.
The man whose body was found in the house has been named locally as Peadar Phair.
The PSNI have released a statement saying they are treating the death of the woman as a murder.
Detective Chief Inspector Eamon Corrigan said: "Post mortem examinations will be carried out in due course and at this stage we are working to establish the circumstances surrounding the incident. Although our enquiries are at an early stage, we are threating the death of the woman as murder.
"The injuries to a man, aged in his 30's, who was also in the house at the time of the incident and who suffered stab wounds to his abdomen, is being treated as attempted murder. He is currently in hospital in a stable condition."
Former Fermanagh and South Tyrone SDLP MLA Richie McPhillips, who knows the Leonard family, said there was a sense of shock and sadness in the community over the tragedy.
"This is a tragic case for all involved and I want to send my condolences and sympathies to Concepta's family," he said.
"Concepta was a businesswoman in the south Fermanagh region, she was involved in catering and had a business in Lisnaskea in recent years.
"She was also a musician and played traditional Irish music like her father.
"She had a good sense of humour; they are very solid, salt-of-the-earth people - good community people.
"She had a son with Downs Syndrome, and when you saw Concepta you saw him.
"He also was involved in traditional music.
"Concepta's father has been involved in the promotion of traditional Irish music for many, many years - he teaches classes all over the community and has given his talent to young people.
"Reports are sketchy as to the circumstances but it was a tragic case for those involved.
"Thanks be to God it's rare in this part of the world, but for someone from your own area to be involved makes it all the more poignant."
Sinn Féin MLA Michelle Gildernew also spoke of her shock at the deaths. Ms Gildernew told the Irish Independent: "The deaths of the woman and man in Maguiresbride is a tragedy.
"This is a quite a tight knit community and the news has upset many.
"It is too early to say what happened but the police are investigating.
"I have spoken to family members who are quite obviously shocked and devastated.
"I would appeal for anyone with information surrounding this incident to bring it to the PSNI."
For anyone affected by the issues raises in this article, contact Pieta House on 1800 247 247 or the Samaritans on 116 123