'Such an unpleasant way for her to go' – family of elderly woman made famous in pandemic book call for better public health system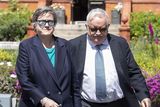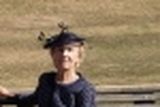 The family of an elderly Dublin woman who was the inspiration for a best-selling book during the Covid-19 pandemic have called for improved funding for public health services in Ireland after claiming she suffered a "sub-optimal death".
Monica Hyland (91) of Thornleigh, Rush, Co Dublin, died at Beaumont Hospital in Dublin on March 27, 2021, less than 48 hours after being admitted with bad nausea and vomiting.
The retired pharmacy assistant became an online celebrity through her acerbic wit and pithy observations on lockdowns during the pandemic and life in general, being published by her niece, Helen O'Rahilly on the latter's Twitter account which had over 35,000 followers at the time.
The popularity of the conversations between the two women resulted in Ms O'Rahilly – a former director of TV at RTÉ and former deputy controller of BBC in London – subsequently publishing a collection of their exchanges, where Ms Hyland was simply known as "Aunt".
The book, The Stairlift Ascends: Tweets from a Covid Cocoon, has sold over 10,000 copies.
Ms O'Rahilly told a sitting of Dublin District Coroner's Court today that she had become her aunt's main carer after returning to Ireland from having spent over 30 years working in London.
She said Ms Hyland, who had lived in their family home since she was a child, was "like a second mother" to herself and her brother.
The retired TV executive described how Ms Hyland was brought to hospital by ambulance on March 25, 2021, after vomiting "bile" in her home.
Ms O'Rahilly said there was an offensive odour from a dark vomit stain on her aunt's gown when she visited her the following morning.
She described how her aunt was in the emergency department for around 18 hours before she was transferred to a ward.
Ms O'Rahilly said her aunt had still wanted to get out of hospital to go shopping at the Pavilions shopping centre in Swords and her final words to her were "please be back".
Fighting back tears, Ms O'Rahilly said: "She was a wonderful woman. She was spirited and incredibly independent. We loved her and still miss her."
A respiratory consultant, Peter Branagan, said the patient had been comfortable with stable vital signs and no signs of pain during most of her short stay.
Prof Branagan explained that medical staff felt the vomiting was secondary to any infections which Ms Hyland had because it was totally settled when she had been examined.
Neil Fennelly, a pathologist who carried out a post-mortem on Ms Hyland's body, said she had suffered acute pneumonia which he said would have been difficult to survive.
The inquest heard she also had a urinary tract infection as well as a previously unknown tumour in her pancreas while blood was found in her small intestine.
Ms O'Rahilly's brother, Stephen O'Rahilly – a UK-based medical expert in human obesity who attended the inquest with his sister – said he was not convinced that the pneumonia and urinary tract infection were responsible for his aunt's sudden demise which he believed was linked to the internal bleeding.
Prof O'Rahilly said he felt confident that the vomiting had played "a significant role" in his aunt's death but it had been "overshadowed" by the focus on pneumonia.
However, he stressed that there was "no issue of blame" as he recognised that there were various potential diagnoses for his aunt's condition.
Although solicitor for Beaumont Hospital, Jane O'Neill, called for a verdict of death by natural causes, the coroner, Clare Keane returned a narrative verdict.
Dr Keane said the evidence from a post-mortem showed acute aspiration pneumonia was the main cause of Ms Hyland's death, while a tumour in her pancreas and a urinary tract infection were contributory factors.
Offering her condolences to Ms Hyland's relatives, she noted that they had been concerned about the length of time it took to hold the inquest.
Dr Keane apologised for the delay and revealed that the average waiting time for an inquest was currently 22 months due to "multiple reasons".
Speaking at the conclusion of the inquest, Prof O'Rahilly said he did not believe his aunt would have survived the cancer if she had gotten over her other illness.
However, Prof O'Rahilly said the manner of her dying was "sub-optimal" and "such an unpleasant way to go".
He expressed hope that investment would be provided for the public health services
"In a very wealthy country that an elderly lady ended her days in that way should not be acceptable," Prof O'Rahilly said.
He also observed that "intolerable delays" in holding inquests should not be the mark "of a civilised country".
Ms O'Rahilly said she was happy that her aunt was alive to take delight in the success of their lockdown book.
"She was absolutely thrilled to read the cards and messages that people sent her," she added.