Stormont crisis: Exclusion of Sinn Fein on agenda as police believe Provisional IRA behind shooting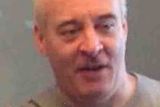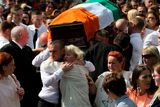 Brian Rowan and Adrian Rutherford
The First Minister of Northern Ireland is to hold talks about the potential exclusion of Sinn Féin from the Stormont Assembly after police said members of the Provisional IRA may be involved in a murder in Belfast last week.
Organisational involvement of the PIRA in the killing of Kevin McGuigan would have major significance for the political process in Northern Ireland. It is almost 20 years since the group called a ceasefire.
McGuigan was shot in a suspected feud between former IRA members. But detectives said they were not in a position to assess whether the killing was ordered by a command structure within the outlawed, and supposedly defunct, organisation.
PSNI Det Supt Kevin Geddes said: "A major line of inquiry for this investigation is that members of the Provisional IRA were involved in this murder."
Suspected IRA members' involvement in such a ruthless killing threatens a political backlash and casts a spotlight on the actions of republicans.
First Minister Peter Robinson said his Democratic Unionist Party entered government with republicans on a commitment to exclusively peaceful and democratic means.
A DUP walkout would cause the collapse of the power-sharing administration at Stormont.
The PSNI line also contrasts with statements by Garda Commissioner Nóirín O'Sullivan earlier this year. She said in February that gardaí "have no information or intelligence to support the assertion that the Provisional IRA still maintains its military structure".
Execute
However, PIRA activity is firmly in the spotlight after McGuigan (53) was shot dead in the republican Short Strand last week.
He was suspected by some in the republican movement of involvement in the murder of former IRA leader Gerard 'Jock' Davison three months ago.
Det Supt Geddes said police were investigating whether a criminal group calling itself Action Against Drugs was behind the McGuigan killing.
He noted that it had issued a statement threatening to "execute" anyone it believed was involved in the Davison murder.
Mr Geddes said this group was made up of "criminals, violent dissident republicans and former members of PIRA".
But he said current members of the PIRA were also suspected of involvement in the murder.
When asked whether members of the IRA or "former" members had a part in it, he said: "It is my assessment at this stage and my belief that people who are members of the Provisional IRA were involved in this murder, but we will not speculate on at what level.
"I have no information at this stage to say whether this was sanctioned at command level or not, and I am not prepared to speculate on that."
The IRA has been on ceasefire since 1997 and decommissioned its weapons in 2005.
Those steps were crucial in the political agreements that brought power-sharing to Northern Ireland.
Mr Robinson warned Sinn Féin it would face expulsion from the Stormont Executive if IRA involvement was proved.
However, Sinn Féin has vehemently rejected the suggestion the IRA had a role in the killing.
Deputy First Minister Martin McGuinness said: "The people who murdered Jock Davison are criminals. Those who murdered Kevin McGuigan are also criminals. They must be brought to justice."
And Gerry Kelly MLA said the IRA could not have been involved because it was no longer an organisation.
He said: "The IRA army council does not exist. The IRA have gone away."