Sinn Fein defend Gerry Adams 'laissez faire' comments over RUC deaths
Adams attends theatre as controversy grows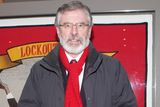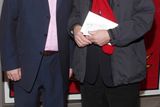 SINN FEIN Justice spokesperson Pádraig MacLochlainn has defended comments by leader Gerry Adams after the publication of the Smithwick Report.
Mr Adams had questioned security arrangements after two senior RUC officers were murdered by the IRA in 1989. Yesterday Mr Adams had suggested that the men had taken a "laissez faire" to personal security.
Speaking on Morning Ireland earlier today, MacLochlainn defended Adams' comments. "There is no direct evidence of collusion in this report and Judge Smithwick has made a conclusion but it is a very contradictory report. You could reach the same conclusion that the amount of times that they travelled across in a Republican heartland could have to lead to circumstances of their deaths. There is nothing wrong with saying that."
Mr Adams sparked fury after he accused the two men of displaying a "laissez faire disregard" for their safety.
He further claimed in a radio interview yesterday  that the deceased officers "seemed to think that they were immune to attack by the IRA" prior to their murders in Armagh in 1989.
Chief Supt Harry Breen and Supt Bob Buchanan were gunned down on March 20, 1989, in south Armagh, shortly after a meeting with senior gardai in Dundalk, Co Louth.
The details of their deaths have come to light again following the publication of the Smithwick report which found that there was collusion between gardai and the IRA.
As the row rumbled on, a non-plussed Mr Adams was pictured last night at the opening of The Risen People at the Abbey Theatre
MacLochlainn said: "I believe that what Gerry Adams did in the course of that interview was talk about the fact that the findings of the report itself are quite contradictory. Judge Smithwick said himself that they didn't uncover any evidence of direct collusion but on the balance of probability, he felt there was some collusion."
He claimed that Gerry Adams was simply quoting the report.
"Gerry Adams was quoting the report. That phrase is used in the report. What Gerry Adams was doing yesterday was quoting from the report.
It is to a personal interpretation of the report. You must reach your own assessment. It is equally valid to say that they amount of times that they travelled in a very strong Republican area could have led to their deaths."