Savita's Law? Pro-choice groups back call from family to name abortion legislation after her
Calls for Government to progress abortion legislation 'without delay'Ireland has lit a 'beacon of hope' for countries all over the world - campaigners'Together for Yes' campaign hold final press conference after landslide 66.4pc vote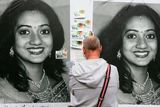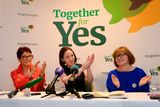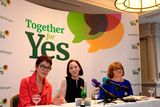 David Young, Rachel Farrell and Laura Larkin
PRO-CHOICE campaigners have backed calls for Ireland's new abortion laws to be named after Savita Halappanavar, the expectant mother who died after being refused a termination.
The Together for Yes coalition said the gesture would recognise the "great debt" the Irish people owed to Savita, the 31-year-old Indian dentist who died in a Galway hospital after doctors refused to perform an abortion as she miscarried.
They supported a call from Mrs Halappanvar's father Andanappa Yalagi for the abortion reforms to be named Savita's Law as they urged the Government to expedite legislation in the wake of the landslide referendum vote to end the state's near blanket ban.
Together for Yes said the Government should reconsider its proposed end of year schedule for passing the legislation and called for a special summer sitting of the Dail and Seanad to ensure new laws were brought in as soon as possible.
Mrs Halappanvar's death in 2012 has become emblematic for advocates of abortion reform.
As people continued to lay flowers and messages at an impromptu shrine to her in south Dublin on Sunday, Together for Yes co-director Grainne Griffin said the coalition would support new legislation being called Savita's Law.
"In terms of Savita and her family I think our country owes them a great debt and we were so honoured and so touched by the support that they lent to the campaign over the course of it," she said.
"I was really glad to see her father say that yesterday they felt they had justice for their daughter."
Those campaigning for liberalisation secured a stunning victory on Saturday, after it was confirmed that 66.4pc of voters in Friday's referendum backed repeal of the controversial Eighth Amendment of the constitution, which bans abortion in all but exceptional circumstances.
Health minister Simon Harris will seek cabinet backing on Tuesday to draft legislation that would allow abortions within the first 12 weeks of pregnancy, subject to medical advice and a cooling-off period, and up to 24 weeks in exceptional circumstances.
He has indicated the new legal framework will be drafted over the summer and is set to be tabled in the Dublin parliament in the autumn, with aim for the legislation to be passed by the end of the year.
Together for Yes co-director Orla O'Connor urged a more ambitious timescale.
Opposition parties Sinn Fein and Labour have called on the Government to aim to pass the law before the Dail's summer recess.
"I certainly think that all of our TDs and senators should really consider a special sitting so that it can be progressed through the summer," said Ms O'Connor.
She added: "After this phenomenal vote to remove the Eighth Amendment we now need to move very quickly to introducing and progressing the legislation.
"We are calling on the Government to now start the process next week. The people have spoken, they have spoken very loudly and we now need to see this legislation happen quickly because as we know today, as we are here, there are women who are planning their journeys and who are having to travel to access abortion outside of Ireland."
The referendum vote did not set new laws in itself - rather, it gave politicians the freedom to do so unhindered by a constitutional prohibition.
The Government made clear ahead of the referendum campaign the type of abortion regime it would seek to introduce if the Eighth Amendment was consigned to the history books.
Changed the world
Together for Yes co-director of Grainne Griffin described the results as "a big movement of change".
"I think yesterday and throughout the campaign we were very aware that this wasn't just about Ireland, and that the world was watching," Ms. Griffin said.
"It changed Ireland to the world, and more than that I think we lit a beacon of hope for countries all over the world where people are working towards similar change."
Alongside fellow co-directors Ailbhe Smyth and Orla O'Connor, the campaign leaders said they hoped the landslide vote would encourage other countries in similar situations to Ireland to seek change, including Brazil and the Philippines.
"Across the world, this is such a big movement of change. To the people across the world, particularly the global south, Argentina will vote next week on an incredibly important vote for women to get access to abortion care up to 14 weeks. We stand with those women.
"In El Salvador, in Brazil, to countries who may be thinking that sometimes, with a background quite similar to ours, this kind of change is not possible- I think yesterday we showed that this change is possible. I hope that those women will look to us as a sign of what they will achieve in their own future.
"To the Philippines, and to Chile, who have their own version of the Eighth in their constitutions, I hope that they will also see change."
Labour Party Leader Brendan Howlin agreed with the calls made by Together for Yes today, calling on Fianna Fail and Fine Gael to ensure debate begins in the Oireachtas before the summer.
"The Cabinet will approve the process of drafting legislation on Tuesday, but I echo the calls of Together for Yes today that this should be progressed as quickly as possible this summer. The Dáil will sit until mid-July providing significant time between now and then to progress this.
"I would hope that the two months of the referendum campaign will have facilitated work on a draft bill and that the Minister for Health can move speedily from Tuesday to produce a published bill for the Houses to debate before the summer recess.
He added; "Now we need to get on with it. The people of Ireland have resoundingly spoken."
The campaigners also thanked the women of Northern Ireland for their support and also sent their gratitude to those in Donegal that voted 'Yes' on May 25.
"I know our minds and our eyes turn to the North, where there is a need for clear, comprehensive abortion legislation to be introduced. To give the women in Northern Ireland access to the care that they need.
"We have received huge support and solidarity from the women of Northern Ireland, and I know that everybody in Together for Yes will say that we stand with you now. And we look to you, to work with you and to help you, in receiving the same change in Northern Ireland as we saw here yesterday."
Results
Speaking yesterday after the result, Taoiseach Leo Varadkar called the result a "quiet revolution."
He said: "We have voted to look reality in the eye and we did not blink."
For those who voted No, he said: "I would like to reassure you that Ireland is still be the same country today as it was before, just a little more tolerant, open and respectful."
Mr Varadkar said for 35 years we had "hidden our conscience behind the Constitution" but voters had said "no more".
"No more doctors telling their patients there is nothing that can be done for them in their own country.
"No more lonely journeys across the Irish Sea.  No more stigma. The veil of secrecy is lifted.
"No more isolation. The burden of shame is gone."
Mr Varadkar said the results represented "the culmination of a quiet revolution", one that had been taking place in Ireland for the past 10 to 20 years.
"We are a country that is not divided, a country that says that we respect women, that we trust women and we support them."
He said the result was a mandate to bring forward legislation enabling the procedure and the Government is expected to pass laws by the end of the year.
"The people have said that we want a modern constitution for a modern country, that we trust women and we respect them to make the right decision and the right choices about their healthcare."
A vocal anti-repeal movement conceded defeat, calling the the result "a tragedy of historic proportions."
Anti-repeal activist Cora Sherlock said that "what we voted on today is the ending of human life."
Ms Sherlock said she is personally "very, very upset" at the exit polls but that the pro-life movement will continue in its pursuit to keep Ireland abortion-free.
"I will accept the will of the Irish people, at the same time I will make it very clear what I feel of the campaign that has taken place. We will now regroup and find out what our next move is," says Ms Sherlock.
Head of Save the 8th John McGuirk said that "the constitution has changed but the facts have not".
"The 8th Amendment did not create a right to life for the unborn child- it merely acknowledged that such a right exists, has always existed, and will always exist," Mr McGuirk said.
"What Irish voters did yesterday is a tragedy of historic proportions. However, a wrong does not become right simply because a majority support it."