Ryan Tubridy warns followers about 'fake account' using his name
He asked followers to "please ignore" the account.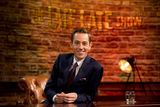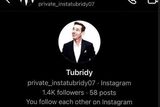 Ryan Tubridy has warned his social media followers to ignore an Instagram account that was impersonating him.
The Late Late Show host wrote on Instagram to flag the issue with fans, telling them: "If anyone receives a message from this fake account, please ignore.
"Working on getting it removed."
The account had over 1,000 followers.
It is not the first time the RTÉ star has been forced to address fake accounts, previously hitting out at scams using his face to sell a cryptocurrency training program.
"I really want to make this really abundantly clear this morning that I have nothing to do with cryptocurrency," he said on radio last March.
The RTÉ radio star added: "I'm sure it's making some people somewhere a lot of money but I have nothing to do with it. So please tell all your friends when you see that ad… it's not me."
A link in the fake advertisement brought followers to an article where the star is falsely quoted as sharing his "secret" to wealth.
He said at the time that he admired fellow RTÉ host Miriam O'Callaghan for taking a case against similar advertisements.
In 2018, the Prime Time presenter was being referenced in social media posts claiming she was going to leave the show to sell skincare products.
Another RTÉ star has also been the subject of fake profiles: Doireann Garrihy.
The Dancing with the Stars co-host took to Instagram to warn followers of a Facebook account pretending to be her.
"There is a Facebook page pretending to be me doing a money giveaway," she said. "Please ignore and report if you see it. Thank you."
Just a week prior, Una Healy shared a similar word of warning to followers when she spotted a fake account "trying to scam people."
She said she had reported the account "many times."
"Please @instagram remove this fake account that is pretending to be me and trying to scam people," The Saturdays singer said.
"I've reported it so many times now. It is FAKE."
Una recorded a video to prove to fans her Instagram account is the only one she has, telling followers to "report and block those scammers because they need to be stopped."