Revealed: The gifts Enda Kenny brought for Donald, Melania and Barron Trump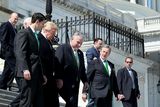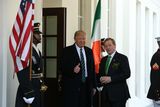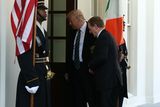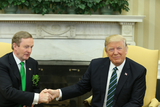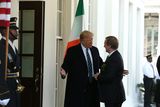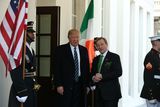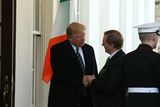 Kevin Doyle and Jason O'Brien in Washington
Taoiseach Enda Kenny brought presents to the White House for Donald Trump's wife Melania and youngest son Barron.
The Taoiseach will tonight handover the traditional bunch of shamrock to Mr Trump in a crystal bowl made in the Waterford Gaeltacht of An Rinn was selected to make the Shamrock Bowl.
Eamonn Terry, owner and founder of Criostal na Rinne and a master craftsman glasscutter with over 45 years' experience designed the special piece.
The design of the bowl is inspired by the artwork from the Book of Kells, one of Ireland's greatest cultural treasures as well as the Celtic crosses of Ireland.
The main design theme is represented by a repeating pattern of intersecting Trinity knots hand cut around the bowl with the top scalloped to show the brilliance, shine and versatility of the medium of crystal.
Polished shamrocks are engraved into panels on the bowl to mark the occasion and an uncut panel is engraved with the inscription.
Near the base a series of interwoven Celtic lace cuts represent the strong ties between Ireland and the United States of America.
Mr Kenny also gave the President some Declan Killen Cufflinks and Bord Bia Hamper containing a selection of Irish produce.
Irish Linen and a Carrickmacross lace brooch was presented to Melania Trump and "The Moon Spun Round" by W.B. Yeats for Children was gifted to Barron Trump.
A framed copy of the census of Ireland 1911, including details of Vice President Mike Pence's Grandfather Richard Cawley and his Great Grandmother Ellen Cawley was presented to Vice President Pence.