Revealed: how much the average house price is in your county
Brief trend of house prices sliding backwards in Dublin has halted as demand heats market again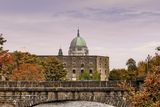 More first-time buyers chasing an ever more limited supply of homes mean that property market supply problems are getting even worse.
In Dublin, the brief trend of house prices sliding backwards has halted, according to the latest Real Estate Alliance (REA)/Irish Independent Average House Price Index.
There are 81pc of first-time buyers in the Dublin city and county market, as second-time buyers hold out for more certainty on interest rates and the cost of living.
Outside the capital, properties which are in need of modernising are proving more difficult to sell.
Meanwhile, the "Covid rush" which heated rural markets so much previously has now abated.
The current selling price of a three-bedroom, semi-detached house across the country rose by 0.6pc over the quarter to €293,343 – representing an annual increase of 5.3pc.
The data shows that first-time buyers now make up an unprecedented 81pc of purchases of the "average" three-bedroom semi-detached homes in the capital.
While first-time buyers can avail of a slew of incentives, this high rate also indicates a fall-off in second-time buyers because many more are staying put.
With interest rates rising steadily and construction costs doubling, a logjam is fast developing.
Those who already own homes have very quickly become increasingly reluctant to sell and trade up on the property ladder.
So while prices were recently starting to fall, as might be expected when interest rates and building costs rise, worsening supply means less property for sale for younger buyers. This is pushing prices back up again.
Nationally, however, first-time purchasers make up a much lower 60pc of the market, the analysis of the first three months of this year has found.
The biggest quarterly rise came in Ireland's most affordable county, Donegal, where prices increased by 3.4pc to an average of €150,000 in the past three months, with properties reaching sale agreed in an average of four weeks.
The lowest increases were recorded in Dublin's commuter counties where growth was almost zero.
But in Dublin itself, where prices are already the highest in the country, they rose again by 0.5pc to €498,333 in the past three months.
This means they lightly exceeded last September's prices and show an annual rise of 3.5pc.
The Irish Independent REA Average House Price Index concentrates on the actual sale price of Ireland's typical stock home, the three-bedroom semi.
It aims to provide an accurate picture of the property market in towns and cities countrywide.
Time taken to reach sale agreed nationally has stayed steady at five weeks, as REA agents reported a less frenzied approach to viewing and bidding.
"The number of houses on the market this quarter has been less than expected," said REA spokesperson Barry McDonald. "However, after a slow start, late February and March viewings have been much more active, with homes in my own area of Lucan in Dublin selling within five weeks.
"That figure rises sharply in areas of the capital where many three-bed semis command more than €750,000, with our agent REA Hanlon McKenna reporting properties in Donnybrook now taking up to 12 weeks to sell.
"As prices increase, there are fewer buyers, and we are seeing less competitive bidding and more one bidder-one buyer scenarios."
Mirroring the capital, cities outside Dublin experienced a 0.4pc rise to an average selling price of €310,250.
Cork and Waterford were static, but average prices in Limerick rose by 0.7pc in the quarter to €272,000, with agents REA Dooley reporting a steady increase in new listings since late February, after a later start to the season.
The biggest city rise was in Galway city, where prices increased by 0.9pc to €334,000 – an annual increase of 11pc in an active market, according to agents REA McGreal Burke.
As purchasers seek affordability outside the city, Co Galway saw selling values increase by €5,000 in the three-month period to €225,000 – an annual rise of 16pc, the highest in the country.
A total of 70pc of sales in the county were to first-time buyers, with 30pc of purchasers moving from renting or living in cities.
The smallest percentage increases came in commuter counties, where average prices went from €312,778 to €313,056 – a rise of just 0.1pc on average.
In traditional commuter towns such as Ashbourne in Co Meath, where prices fell by 1.32pc in the quarter, mortgage interest rate rises and cost-of-living concerns are foremost in purchasers' thoughts.
"Stock levels are improving – but we are finding purchasers continue to be cautious in quarter one, and energy efficiencies and BER ratings are playing a bigger part in property sales," said Paul Grimes of REA Grimes, Ashbourne.
In areas where new homes are being built, such as Drogheda, the price gap is widening.
There is good value to be had in second-hand property, where prices average a steady €280,000.
Traditional two-way movement from commuter towns to the capital has stalled in some counties, with Kildare agents REA Brophy Farrell reporting that most sales in the past six months have been investor-related, with landlords exiting the market. The balance includes vendors moving elsewhere in the county.
Demand for scarce properties has driven a 2.6pc three-month rise in Kerry, where average prices have hit the €300,000 mark for the first time.
Agent REA Coyne and Culloty are reporting that the number of houses for sale in the county is at its lowest level in recent times, with no new builds on the horizon.
Regarding Donegal's 3.4pc hike, local agent Roger McCarrick of REA McCarrick in Bundoran said: "This quarter has been characterised by the traditional strong demand from buyers in Northern Ireland looking for holiday homes, as well as a strong local market."
Nationwide, the effects of the pandemic, which heated rural markets so much previously, have now abated.
Previous Covid-19 lockdowns had caused an increase in purchases in rural locations as those from other counties but working in Dublin opted for remote working and to buy at home.
The holiday homes market has had a surge in demand this quarter, with Westport prices rising by €20,000 to €260,000 to recover from their pre-Christmas slump and interest from UK buyers seeing increased activity in west Cork since the New Year.