Religious fanatic hid overnight to steal relic of saint's heart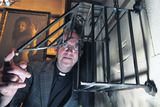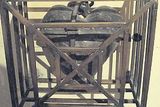 A RELIGIOUS fanatic hid overnight in a cathedral before stealing the 800-year-old preserved heart of Dublin's patron saint, church officials believe.
The 12th century preserved heart of St Laurence O'Toole -- which has been a religious focal point in Christ Church Cathedral, Dublin, for the past eight centuries -- was stolen from a small heart-shaped wooden box which was sealed in an iron-barred case.
The Dean of Christ Church, Reverend Dermot Dunne, said yesterday that he believes the culprit secretly hid in the cathedral before closing time on Friday evening.
It has also emerged the thief lit two candles during the night before making off with the relic the next morning.
"The vergers realised it was gone when they opened the cathedral at 9.30am on Saturday morning," he said.
"It was definitely there the evening before. They also noticed that there were two peace candles lit on the Trinity Altar. It's all very strange.
"Somebody must have hid in the cathedral overnight on Friday and slipped out first thing on Saturday morning. There was no sign of forced entry and all our doors are alarmed."
He added: "It looks like somebody used strong shears to cut into the cage. The cage is pretty robust; it would take a lot to cut the metal but somehow they managed to do it. It has no monetary value but there are various speculations as to a motive.
"One theory is that they are being stolen to order. Perhaps a religious fanatic wants the relic and paid somebody to steal it. Nobody has ever attempted to steal the heart in the past; it was just there and it never crossed my mind that it might be stolen. It has no monetary value but we have loads of silver. It's the last thing we thought would be stolen.
"St Laurence O'Toole is the patron saint of the capital. His heart was our link with the past. It's an artefact, a relic and has particular meaning to Christ Church."
Reverend Dunne said the loss is akin to "a piece of your family history being taken away", and said part of the fabric of the cathedral has now been lost.
Security
"It's a pity but after what's happened we're going to step up security. We will install more CCTV and we'll do it in a very tasteful way but there's no doubt we need to do it. We already have security on the outer doors and for our treasury we have super security, it's almost impossible to break into it."
Gardai who recovered the precious relics of the True Cross of Christ which were stolen by thieves from Holycross Abbey in Co Tipperary last October have been assigned to the case, and are trawling through hours of CCTV footage.
Reverend Dunne said the theft has left everybody at the cathedral "in a state of disbelief".
"I am appealing to whoever did this to hand it back; it's a desecration of a holy place. I'll take it back without any questions asked, we just want it back," he added.
St Laurence O'Toole was the second Archbishop of Dublin and founded Christ Church Cathedral in the 12th century with Richard 'Strongbow' de Clare.
While travelling to Rome on a pilgrimage, he died in Eu in northern France. His body was buried in Normandy but his heart was returned to Ireland.