Queen meets McGuinness: It's a wonderful moment, says Mountbatten daughter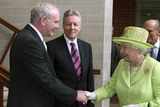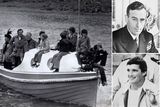 THE daughter of Earl Mountbatten, killed by the IRA when his boat was blown up in Sligo, has described the Queen's historic meeting with Martin McGuinness as a "wonderful" moment.
Countess Mountbatten lost her 14–year–old son Nicholas Knatchbull as well as her father and mother–in–law in the IRA bomb that claimed four lives on Aug 27, 1979.
But she said the Queen had her full support for meeting Mr McGuinness, a former IRA commander who was allegedly part of the terrorist group at the time of Lord Mountbatten's murder.
"I think it's wonderful," she said. "I'm hugely grateful that we have come to a point where we can behave responsibly and positively."
The Countess, 88, survived the bomb that blew up a fishing boat on which the family was enjoying a day out. Her husband and her son's twin brother, Timothy, also survived, though all three were terribly injured.
As he recovered from his injuries, Timothy was invited by the Queen to spend a holiday with her, the Duke of Edinburgh and the Prince of Wales at Balmoral while his parents continued their own recuperation.
He has spoken in the past of the Queen's "unstoppable mothering mode" as she looked after him and his older sister, Amanda.
Mr McGuinness has claimed in the past that he left the IRA in 1974, but he courted controversy recently by allowing the only man convicted of the murders to help him with political campaigning.
Thomas McMahon was given four life sentences for placing a bomb on board the Shadow V, which blew up at Mullaghmore, Co Sligo, killing Lord Mountbatten, 79, Doreen Knatchbull, 83, Nicholas Knatchbull and his 15–year–old friend Paul Maxwell.
McMahon, 63, was released from prison in 1998 under the terms of the Good Friday Agreement, but the person who detonated the remote–controlled bomb, which exploded after McMahon had been arrested, has never been brought to justice.
McMahon, whose wife, Rose, is a former Sinn Fein mayor of Carrickmacross, Co Monaghan, has never apologised for the murders and has refused to meet the victims' relations. Last year he was reportedly spotted putting up campaign posters for Mr McGuinness's failed bid to become president of Ireland.
Gerry Adams, the Sinn Fein president, once said of Lord Mountbatten, a former Chief of the Defence Staff: "What the IRA did to him is what Mountbatten had been doing all his life to other people; and with his war record I don't think he could have objected to dying in what was clearly a war situation.
"He knew the danger involved in coming to this country. In my opinion, the IRA achieved its objective: people started paying attention to what was happening in Ireland."
On the day of Lord Mountbatten's assassination, the IRA also ambushed and killed 18 British soldiers, including 16 from the Parachute Regiment, at Warrenpoint, Co Down, in what was the single greatest loss of life suffered by the British Armed Forces during the Troubles.