President Michael D Higgins honours 200,000 Irish soldiers who fought in WWI as he speaks of 'official amnesia' after conflict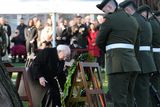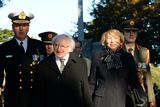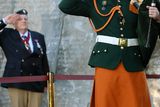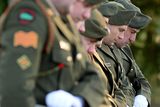 Laura Lynott and Ralph Riegel
President Michael D Higgins led Ireland's Armistice commemorations, marking one hundred years since the end of World War One and honouring the 200,000 Irish soldiers who fought in it.
Thousands of people defied wind and heavy rain today to attend Armistice Day ceremonies across Ireland for the 49,000 Irish soldiers killed in World War I.
Mr Higgins lay a wreath as members of the Defence Forces held their heads down, as a mark of respect.
Dignitaries from across the globe joined together at Glasnevin Cemetery, Dublin, as Victoria Cross commemorative plaques were unveiled, in memory of five fallen soldiers from Dublin, Wicklow, Sligo, Antrim and Down.
Each soldier was posthumously awarded the Cross - the highest British military award for gallantry.
Mr Higgins told the crowd, including families whose relatives died in the conflict: "We remember, in particular, the 200,000 men from across the island of Ireland, North and south, east and west, who served in that war, and we call to mind in a special way the tens of thousands who never returned home who remain forever in the soil of Belgium, France, Greece and Turkey."
Mr Higgins remarked in his powerful speech, that while some of the Irish soldiers had returned from the Front to fight in "our own battle for national independence," others had returned home to Ireland to "experience a lack of understanding of either their service or their wounds and would struggle to find their place in a rapidly changing Ireland."
"For many years, there was an uncertainty, even a reticence, to recognise the human reality of the First World War, and those who fought and died in it," he added.
"In our public history, the reticence was reflected by a form of official amnesia that left a blank space in our public memory.
"That has now changed, as citizens across our island have begun to discover a greater – and perhaps too long-delayed – insight into the experience of their grandparents, great-grandparents and neighbours.
"With this excavation of the past we have a far greater understanding of the motivation of those who enlisted in the war effort, and a better appreciation of the experience of the war, not only for those in uniform, but for civilians."
Minister for Culture and Heritage Josepha Madigan, presented a wreath in honour of one of the dead soldiers, Private Martin Moffat, from the Leinster Regiment.
The Last Post was played in memory of the fallen soldiers and representatives from 47 countries, were invited to lay wreaths in memory of their dead.
Two veteran soldiers laid wreaths of poppies before holding their salutes to the Soldiers Song, as the ceremony came to an end.
Almost 50,000 Irish soldiers were already serving in British units when World War I erupted in 1914 including such famous regiments as the Dublin Fusiliers, Munster Fusiliers and Connaught Rangers.
More than 80,000 more Irish men enlisted to fight by September 1915.
But those who survived the war and were honourably discharged in 1918/1919 returned to an Ireland totally transformed by the 1916 Easter Rising.
Ceremonies to commemorate those who died in 1914/1918 are being staged across Ireland ranging from the biggest ceremony in Dublin to simple wreath laying services in dozens of towns and villages.
In Cork, a wreath was laid at the war memorial on the South Mall and a special Armistice Day service was held in St Fin Barre's Cathedral.
To mark the armistice centenary, a special exhibition entitled 'Cork 1918 - Victory, Virus and Votes' is being staged at the Cork Public Museum.
The exhibition was launched by the Lord Mayor Councillor Mick Finn.
"The addition of these new artifacts relating to Cork and Ireland during World War I is very timely given the centenary of that war's end," he said.
"Significantly also, they include items associated with both the war in Europe and the then ongoing struggle for independence here at home.
The diaries of Iar-Árdmhéara Terence MacSwiney will be of special interest I feel alongside the memorabilia of ordinary people, neatly summing up that period."
Ceremonies were also staged in Kinsale and Cobh, the latter of which suffered particular heavy local losses because of its Royal Navy connections and the Lusitania tragedy.
The largest bell of St Colman's Cathedral solemnly tolled eleven times on the eleventh hour of the eleventh day of the eleventh month, followed by a recital on the 49-bell carillon, to commemorate the moment when the guns of World War I fell silent.
Cobh Cathedral carilloneur, Adrian Gebruers performed 'The Dead March' from Handel's 'Saul' followed by Chopin's 'Funeral March' in memory of the 15 million people – including the 1,198 who died on the Lusitania in 1915 and the 20 Queenstown men killed in the 1916 Battle of Jutland - who died during World War I.
After a special Mass, Carrigaline Pipe Band led a special parade to St Benedict's Priory, which was formerly the local headquarters of the US Navy during World War I, where a special brass plaque was unveiled.
The priory gardens lie in the shadow of the Jutland Memorial, designed by local sculptor James McLoughlin and unveiled in June 2018 to honour the 20 sailors from Cobh (formerly Queenstown) killed in the Battle of Jutland.
In Sligo, a total of 605 people dressed in period early 20th Century clothing, each representing a local person who died in the various battles of World War I.
Dublin's Wesley College posted an evocative picture of their 1914 rugby team, four of whom later died in the 1914-1918 fighting.
In Enniskillen, all churches participated in a special armistice event.
Enniskillen was the first town in Ireland to proclaim the armistice in November 1918 - and yesterday was the most westerly town in Europe to host the 'Battle's Over' national tribute.
Monsignor Peter O'Reilly of Saint Michael's Enniskillen & Lisbellaw attended the special ceremony which began with special lamps being given to each Enniskillen church at 6am at Enniskillen Castle.
A special prayer service was then held at the war memorial at Belmore Street, the site of the IRA's Remembrance Day bombing on November 8 1987.
In Fermoy, Co Cork a special poppy wreath was laid at the memorial erected just a decade ago to the soldiers from the area who died in World War I.
In nearby Kilworth, prayers were offered for one family who endured a loss comparable to those of the Hollywood epics 'Saving Private Ryan and 'Sullivans'.
A white marble plaque in Kilworth Arts Centre, formerly Kilworth Church of Ireland,  pays tribute to Private Hugo Fleury, Rifleman John Fleury and Able Seaman Robert Fleury.
The three brothers, the sons of Kilworth Rector Louis Fleury and his wife, Alice, all died in three different WWI theatres between 1915 and 1917.
Robert was killed in action at Gallipoli aged just 23 with the Royal Naval Division.
John died in the trenches on the western front in 1916 with the New Zealand Rifles.
Hugo was killed in September 1917 fighting on the western front with the Canadian Infantry's Ontario Regiment.
Rev Fleury had served as chaplain to the local Kilworth army camp.
In Waterford, a wreath was laid at the Dungarvan war memorial which commemorates the 1,100 men from Waterford who died in 1914-1918.
The monument was unveiled just five years ago.
The renewed interest in Ireland's World War I legacy has sparked a campaign in Limerick for a special memorial to be created.
Earl of Limerick Edmund Pery, who lost a 23 year old relative in a
1918 battle, said it was "a shame" that a city the size of Limerick dose not have a monument to commemorate more than 1,350 people from the area who died in 1914-1918.
A proposal to build a special memorial wall in the People's Park was rejected by Limerick City and County Council - though a revised plan is expected to be re-considered.
The project has been backed by Limerick Civic Trust.