Pop-up park regenerates and inspires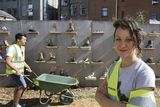 EVERY cloud has a silver lining – or in this case, a green one.
The country's first pop-up park has opened on a council site which saw its regeneration plans halted by the downturn in the economy.
Granby Park has opened on an empty space at Dominick Street, Dublin, which has been barren since the demolition of council apartments there seven years ago.
Upstart, the voluntary arts collective, gained control of the one-acre inner city site from Dublin City Council in May, and have turned it into a temporary park – set to be a colourful outdoor haven of art, nature, education and performance.
The family-friendly park will be open for one month only, and boasts an amphitheatre, outdoor cinema, benches, kids play areas, trade school and a cafe. It will also host free events and performances.
Liam Doyle, the project co-ordinator, said that the idea for the project came after the group's last initiative in 2011– a colourful general election poster campaign.
"The group realised that doing large art projects is something that can be used to ask questions, to challenge the status quo, to engage people with art in unusual spaces." The park has been created by a group of more than 250 volunteers, which Mr Doyle expects to expand to 350 by the end of the month.
It is estimated that the park could cost up to €70,000. It has been funded from private sponsorship, Dublin City Council, and the group raised €20,000 from pledges on crowdfunders Fund It. Constructed from materials including palettes, concrete and even old shoes, the initiative showcases how a compact inner city space can be used.
Local resident and volunteer Rosie Leonard (21), has described the park as "absolutely incredible".
"Creating something so beautiful where it wasn't expected – it's inspiring".
Rosie explained that other projects and the local community are set to benefit when the park closes, as they will receive some of the materials, plants and trees.
"It's about bringing people into the area, showing its potential and showing the greatness of it."
Liam Doyle added that he hopes that the project leaves a legacy behind, and "inspires" people.
"We will be donating our leftover materials to future projects".
Granby Park is free to visit and is open seven days a week.