'Prejudice has no hold in this Republic' - Leo Varadkar wins Fine Gael leadership battle, and is set to be next Taoiseach
Overall result Leo Varadkar 60pc versus Simon Coveney 40pc.Leo Varadkar says he is "honoured" to be selected as party leaderMr Varadkar set to be youngest ever TaoiseachSimon Coveney said he will work "side-by-side" with new leader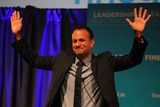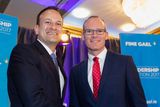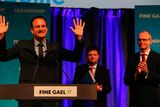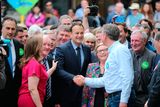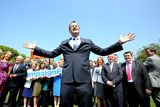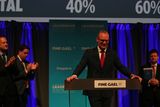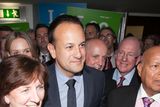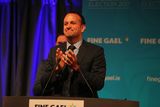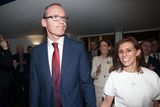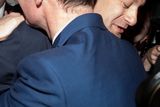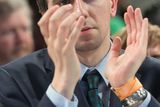 Kevin Doyle and Catherine Devine
LEO Varadkar is the new leader of Fine Gael and on course to become Ireland's first gay Taoiseach.
The Social Protection Minister got the support of 51 TDs, senators and MEP to get over the line despite losing the popular vote.
Massive cheers greeted Mr Varadkar as he arrived at the count centre in the Mansion House.
In his speech he declared Ireland a Republic that holds no prejudice.
He became emotional as he described how he was proud to live in a country where the son of an immigrant can become leader.
"Prejudice has no hold in this Republic," he said, acknowledge that he is a gay man and the son of an Indian immigrant.
"Around the world people look to Ireland as a country where it doesn't matter where you come from but where you want to go.
"I know when my father travelled 5,000 miles to make his home in Ireland, I doubt he ever dreamed that his son would one day grow up to be its leader," he said.
"That despite his differences, his son would be treated the same and judged by his actions and character not his origins or identity."
Mr Varadkar, who will become Taoiseach in the coming weeks, said every "proud parent in Ireland today can dream big dreams for their children".
He said every child should no that there is no limit to their ambition.
The Dublin West TD also paid tribute to Simon Coveney who beat him in the popular vote among Fine Gael members.
He said Mr Coveney had gained the admiration of Fine Gael members and fought a "spirited and persistent campaign".
"We're going to work together to bring Fine Gael and Ireland forward."
In total 10,842 of the party's 21,000 member voted, with 7,051 siding with the Cork candidate. Some 3,772 voted for Mr Varadkar. There were 19 spoiled votes.
Mr Varadkar won the votes of 123 councillors, against 100 who went for Mr Coveney.
But it was his popularity among his Leinster House colleagues that ensured victory.
The vast majority of the parliamentary party, who make up 65pc of the electorate, have publicly supported Mr Varadkar since the early days of the campaign.
We need your consent to load this Social Media content. We use a number of different Social Media outlets to manage extra content that can set cookies on your device and collect data about your activity.
Simon Coveney who lost out on the vote thanked all of his team for their work on his campaign and paid tribute to Enda Kenny in his speech at the Mansion House in the wake of the results.
"The first thing I want to do is pay tribute to extraordinary work of Enda Kenny for the  last 15 years," he said.
He said the party must now continue to progress after a "sparky" competition.
"My message is very clear - one of unity... This is a great party. It's a party that founded the state and we are going to move on now to build a stronger better country," he said.
"I am so proud of everyone in Fine Gael of the way we have conducted a competitive and sometimes sparky content. But one that I think had dignity."
He pledged to work "side-by-side" with Leo Varadkar.
"He is a worthy winner of this contest - He has the potential to be a hugely successful leader of this party that can broaden our horizons," he said.
"It is a decisive result and we should all recognise that and move forward and work Leo and his leadership."
Meanwhile, Taoiseach Enda Kenny has offered "heartiest congratulation" to Leo Varadkar.
"This is a tremendous honour for him and I know he will devote his life to improving the lives of people across our country. He will have my full support in the work that lies ahead," he said.
"I want to also thank and pay tribute to Simon Coveney for making the Leadership Election a real contest. This has been a wonderful exercise in democracy for the Fine Gael party. Fine Gael supporters all over the country really enjoyed the experience of participating in the election of a new leader, in a new way."
Read more:
Mr Varadkar will automatically take over from Enda Kenny but must wait until Tuesday, June 13 before being elected Taoiseach.
Fine Gael TDs, senators and MEPs gathered in Leinster House early this morning to cast their final votes in the leadership contest.
The former Minister for Social Protection was the front runner from the start of the election campaign with a number of high profile TDs quick to back him.
The 38-year-old will be the youngest ever Taoiseach and the fourth openly-gay world leader after Belgium, Iceland and Luxemburg.
BeLonG To, is the national organisation for Lesbian, Gay, Bisexual & Trans (LGBT+) young people in Ireland, issued a statement welcoming his election as party leader.
"It is a historic day for the LGBT+ community, and indeed for all of Ireland as we welcome the country's first openly gay presumptive Taoiseach, Leo Varadkar. This is a huge step forward for Ireland and we applaud the fact that this political race focused on policy and the issues, and not sexual orientation," the group said in a statement.
Rise to party leader:
Mr Varadkar has never been shy about his ambitions.
As a precocious seven-year-old he declared his lofty intention to be Minister for Health one day.
That achievement came when he was just 35 and with his progression through the cabinet ranks he steadily began to cement himself as the clear favourite to succeed Enda Kenny as leader of Fine Gael and as next Taoiseach.
Some in his inner circle suggest he has been working on his challenge for the last six years, methodically building relations with parliamentary colleagues while relentlessly maintaining his career trajectory.
And it is a combination of his youth, background and straight-talking that the party faithful think will be a major selling point in elections if his face is emblazoned on posters up and down the country.
Mr Varadkar is a Trinity College qualified doctor and he has been in a relationship with another medic for about two years.
While his centre-right politics are clearly conservative, he portrays the image of a new, progressive Ireland, symbolised best in May 2015 when the Republic voted overwhelmingly in favour of gay marriage.
It came just a few months after Mr Varadkar himself revealed in a radio interview that he was gay.
When the result of the referendum was known, the then health minister declared: "To me this had the feeling of a social movement or a social revolution."
In his relatively short time in the upper echelons of Irish politics Mr Varadkar has set himself apart with a straight-talking attitude.
As transport minister he broke ranks to praise two garda whistle-blowers as distinguished - a remark in stark contrast to former Garda commissioner Martin Callinan's description of their actions as "disgusting".
But it is this same shoot from the hip attitude that creates enemies and something that could cost him.
In 2007, not long after he won a seat in national politics for the first time, he lashed out at Bertie Ahern while he was mired in controversy over his financial affairs.
Mr Varadkar took a swipe at the beleaguered Taoiseach of the day claiming the gutter was his "natural habitat".
In the contest for the Fine Gael leadership Mr Varadkar declared himself as the candidate for "people who get up early in the morning".
And while his public remarks are said to be drilled and scripted to the last iota, that is the kind of statement that could dramatically backfire in a general election.
One of his drawbacks is that he is seen as being to much of a Dublin man.
Joe McHugh, a ministerial colleague who has been firmly in the Varadkar camp, brought him to the heart of his Donegal constituency in the days before the campaign proper began and spoke in glowing terms about his intellect, communication skills and willingness to learn.
"He has a craving to try and understand things," he said.
"No-one is going to know everything. And there is a humility there. He will accept that if he's successful.
"He will have that awareness, that emotional intelligence as some people call it, to know that he still has a lot to learn."
Additional reporting by Press Association