Four Russian diplomats expelled from State were suspected of being undercover military officers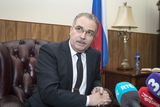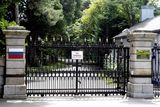 Philip Ryan and Senan Molony
The four Russian diplomats expelled from Ireland yesterday were suspected of being military spies involved in intelligence-gathering .
Taoiseach Micheál Martin announced the expulsion of the four individuals believed to have been carrying out espionage activities from their base in the Russian Embassy in Orwell Road, Dublin.
Gardaí believe the four diplomats were members of a Russian military agency called the GRU, which is responsible for gathering intelligence.
The individuals who have been expelled have been on the Garda radar for some time and are well known to international security services.
The Government has long-standing concerns over the number of diplomats based in the Russian Embassy, which is one the largest operations the Kremlin has in another country.
There have also been concerns over a planned expansion of the embassy and the previous government was forced to draft legislation to allow it  intervene in the planning laws to stop the development.
Last night, a senior Government source said they had to be careful how they described those who have been expelled and their activities because they still wanted to maintain some form of diplomatic ties with Russia.
However, a number of sources indicated the diplomats were suspended over fears they were involved in espionage activities.
In the Dáil, the Taoiseach said yesterday: "Under the 1961 Vienna Convention, four senior officials of the Russian Embassy have been asked to leave the State – because their activities are not in accordance with international standards of diplomatic behaviour."
He also said: "I would have received security advice yesterday, and the Minister for Foreign Affairs would also have received security advice."
In a statement, Foreign Affairs Minister Simon Coveney said: "This afternoon the Department of Foreign Affairs summoned the Russian ambassador to Iveagh House to advise him that four senior officials have been asked to leave the State.
"This is because their activities have not been in accordance with international standards of diplomatic behaviour."
The Government did not suspend Russian Ambassador to Ireland, Yuriy Filatov.
The Russian Embassy in Dublin responded by saying it "rejects such qualifications of the work of our diplomats".
It added in a statement: "This is (an) arbitrary, groundless decision which can only deteriorate further Russian-Irish relations, already damaged by Irish participation in illegitimate EU sanctions against Russia.
"The embassy proceeds from the assumption that such a step by the Irish side will not go unanswered."
There are currently 31 diplomatic staff known to be working in the embassy on Orwell Road.
Three other European Union member states expelled diplomats yesterday.
Belgium expelled 21 for alleged spying and posing threats to security. The Netherlands is kicking out 17 Russians while the Czech Republic gave one Russian diplomat 72 hours to leave.
Dutch foreign minister Wopke Hoekstra said those expelled from the Netherlands have "diplomat on their business card when they are actually doing something completely different".
Mr Hoekstra said he was prepared for a retaliation from Moscow.
"Experience shows that Russia does not leave these kinds of measures unanswered," he said.
"We cannot speculate about that, but the Ministry of Foreign Affairs is prepared for various scenarios that may arise in the near future."
Earlier in the day, Russia expelled a total of 10 diplomats from the three Baltic EU states of Estonia, Latvia and Lithuania in retaliation for those countries expelling Russian diplomats earlier this month.
The Russian Foreign Ministry said it was cancelling the accreditation of four Lithuanian diplomats, three Latvians and three Estonians, and they would be required to leave the country.
That corresponds to the number of Russian diplomats each country previously expelled.
Poland last week expelled 45 Russians whom its government identified as intelligence officers using their diplomatic status as cover to operate in the country.
The US, Bulgaria, Slovakia, and Montenegro have also expelled diplomats.
The decisions came after Russia invaded Ukraine.