'Padraig was so happy to be with us, all he wanted was to be home for Christmas'
Dad raising money for Irish Cancer Society in memory of brave son (11) who died  recently from cancer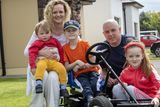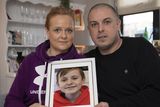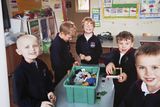 Padraig Beasley died in January at the age of 11. The day before his death, he was sitting up in bed singing Happy Birthday to his uncle, enjoying the little celebration with his family.
Just as he had wished, the brave young boy had been able to come home to Listowel, Co Kerry, for Christmas and sleep in his own bedroom which his family had decorated with fairy lights.
"He was so happy to be home, it's all he wanted to do – to be home for Christmas," said his father, Seamus, who works as a welder with Liebherr Container Cranes in Killarney.
And with great determination, Padraig even made it down the stairs on Christmas morning to see what Santa Claus had left him under the tree.
For his heartbroken parents, Seamus Beasley and Maeve Fitzgerald, and their other two children, Julia (13) and Jack (4), these beautiful and most precious family memories were made possible thanks to the Night Nurse service run by the Irish Cancer Society.
"As a little kid, he was lively and full of beans," Seamus says of his cherished son. "He was funny and he was just super."
Padraig was diagnosed with neuroblastoma cancer in May 2016 after his fifth birthday.
His parents had noticed bruising around his left eye and brought him to Tralee General Hospital where tests were conducted and a CT scan revealed a mass.
An MRI scan at Temple Street Children's Hospital then revealed another tumour on his adrenal gland and he was diagnosed with neuroblastoma, stage four. It is a rare type of cancer that mostly affects babies and young children, and develops from immature nerve cells left behind from a baby's development in the womb.
"We never mentioned the word 'cancer' to him until later on when we thought he could hear those words," said Seamus.
After 14 months of treatment, Padraig's last scan showed no evidence of disease. "So he was in the clear," said Seamus. "He returned to school and started doing normal things again which was fantastic. It was unreal."
But then in August 2019, the couple saw a change in his eye that indicated that the cancer had returned.
"You knew straight away what it was. The thing about stage four is that the chances of relapse are very high and with each relapse, the chances of survival lessened. That was absolutely heartbreaking," said Seamus.
More treatment ensued and while the cancer remained, Padraig was looking "the picture of health". "He was looking great and we thought we might be one of the miracles," said Seamus.
However, last September, doctors found another spot on his hipbone and he was sent immediately to St Luke's Hospital in Dublin for radiation. From that point on, Padraig began to deteriorate.
"You could see him sleeping much more. He wasn't as active. He was still the same Padraig as before but he had battled so long and you could see the toll it was taking on him," said Seamus. "At the back of our minds the thought was always there that this cancer might kill him, but we always stayed positive."
On the night before his death, Padraig had been feeling unwell and consultant in palliative care, Patricia Sheehan of the Bons Secours in Tralee, visited the family and gently broke the news to them that he was dying.
"We knew it was happening. But you never want to hear that it's today. You want another week or a few days," said Seamus.
"In one sense, we didn't want to say goodbye because he didn't know he was dying. He had rallied so many times before and always came out the other side of it. This time he thought he'd get out the other side, too, and so he never asked – but if he did, we wouldn't have lied to him."
The young boy, who would have been 12 this month, died peacefully with his parents and his sister Julia by his side.
Throughout all his illness and treatment, gaming was the thing that helped Padraig through and he made many friends online, as well as his real-life friends in Listowel.
The Night Nurse facility is funded through the donations that are made from the public on Daffodil Day.
It is because of knowing how important a lifeline it can be to a family like theirs that Seamus has now taken part in a "steps" challenge to raise money for the Irish Cancer Society.
His original goal was €250, to walk 12,000 steps a day. But he has already made that 100 times over, raising €2,500. And he wasn't finished either, as he was due to climb Mount Brandon on Saturday.
Most days, his good friend, Dan Browne, comes with him and they walk mostly around Listowel and out the Ballybunion Road, where he calls in to the cemetery to "say hello to Padraig".
If Padraig knew that his dad was walking for the Irish Cancer Society, Seamus believes he would tell him to "keep going".
The Irish Cancer Society's Daffodil Day takes place on Friday, March 24. Go to cancer.ie to get involved or donate.