'Over the moon' – third time lucky for Labour's Ivana Bacik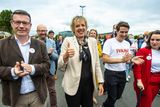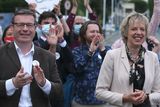 Gabija Gataveckaite and Senan Molony
Dáil Eireann's newest TD Ivana Bacik was "over the moon" as she arrived at the RDS count centre yesterday.
It was third time lucky for the long-serving senator.
"I'm absolutely over the moon. We ran, I think, a respectful and courteous campaign and I think anyone who runs for election deserves to be treated with respect," she said.
Ms Bacik said it was "loud and clear throughout the campaign the need for change that people wanted to see".
Speaking to the Irish Independent, she said housing would be one of her biggest priorities once she got into the Dáil.
The "first thing" she will do as a TD is promote a Labour bill that aims to improve conditions for renters, including the removal of a blanket ban on pets and hanging clothes in balconies in rental properties.
The Irish Independent previously reported that she can keep her lucrative position as a professor at Trinity College for the duration of the Dáil term.
Ms Bacik is currently taking a career break from her role as an associate professor.
She said yesterday she had not made a decision on whether she would leave the post.
"I'm still in shock. I'll obviously review that over the coming time," she said.
Ms Bacik said career breaks gave people who worked in public service a chance to run as public representatives.
"I think what's unfair is where people who may want to be politically active and want to run for office themselves, may not be enabled to do so because they're frightened of losing their job and having no security," she said.
"There is a strong tradition across the public service of enabling people to run for office by providing career breaks."
The salary for the post ranges from €83,570 to €116,528 a year.
Labour leader Alan Kelly said Ms Bacik was "up there with Michael D Higgins and Mary Robinson" as a social campaigner.
He said Labour had "so many canvassers we actually didn't know what to do with them".
On a wider view, he said: "I don't think it's going to massively change the arithmetic in the Dáil, but it is a signal to the Government.
"People have been trying to pigeonhole politics into Fine Gael v Sinn Féin. It's quite obviously not that, as we have demonstrated today."