Out in the cold . . . for the naked pursuit of art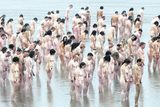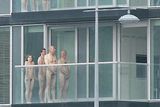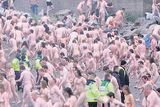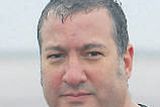 IT seems American photographer Spencer Tunick cannot get enough of naked Irish people.
Not content to photograph thousands of nudes in Blarney last Tuesday and in Dublin's Docklands early on Saturday, he was at it again yesterday morning with an unannounced third photoshoot in Dublin.
And once again, hardy souls proved they were willing to take on the Irish weather and shed their inhibitions and their clothing in the name of art.
Any early risers about the city centre will have got an eyeful as scores of people posed naked on the balconies of Treasury Holdings high-rise Alto Vetro on the corner of Pearse Street.
Docklands
This came after 2,500 people were still recovering from the rain and bitter winds which left volunteers shivering at Saturday's publicly announced photoshoot in Dublin's Docklands.
One volunteer who took part in Saturday's photoshoot, Fidel Villagomez (41), a married father of two, said: "It took me all day to recover my heat."
Fidel and a work colleague had met at the Custom House in the early hours of Saturday morning after signing up for the event over the internet.
"They asked us to take off our clothes, in less than three seconds everyone had done it," said Fidel, who is originally from Mexico but living in Ireland for the past decade.
They then posed in three different formations at the bottom of the pier in South Wall from around 5am onwards.
"Two ferries passed and everyone gave them a moon. They honked at us," he laughed.
After they put their clothes on after the first part, many abandoned the photoshoot and headed for the comfort of their beds. Mr Villagomez said he was also thinking of leaving at that stage. "I felt at that point washed out and tired. But on the other hand being naked with other people gave me a sense of freedom being able to say things and do things you wouldn't normally.
"There is no body that is ugly or nice, just all bodies. There was nothing erotic or horny. Just bums, breasts, eyes -- just bodies."
It took the volunteers seconds to strip off for the second part of the event on the beach and the water near Poolbeg power station.
But just two of the planned three photoshoots took place, due to the harsh weather and poor lighting.
"Despite all the suffering and cold, it was worth it," said Mr Villagomez, who works in a software company. "I'd do it again. It would be amazing on a warmer day. It's something I'll remember."
Tunick, who has been capturing naked bodies in public since 1992, has created scores of images in locations including New York, Amsterdam, Montreal, Melbourne, Barcelona and Mexico city.
His appeals for volunteers were answered by the truck-load -- his event at Blarney Castle in Co Cork early last week attracted 1,100 people.