Oscar winner Glen Hansard celebrates 'Green Flag' win with Dundrum students
Singer visits St Tiernan's School in Dundrum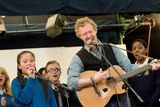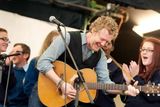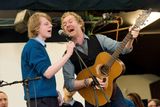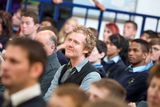 It's not every day an Oscar winner visits a Dublin school.
Award-winning musician Glen Hansard visited St Tiernan's Community School in Dundrum today to celebrate as it was awarded a 'Green Flag' for its environmental action.
The Commitments star played his Oscar-winning song 'Falling Slowly' with the students on stage.
''I'm here to sing with the kids today because it's what I love doing and I love coming along and giving my support to this kind of thing,'' he said.
The singer's song from the film Once, won the Academy Award for Best Original Song in 2007.
He insisted acting was not part of his life anymore as he was devoted to his music career.
The songwriter will be embarking on a solo tour around Ireland next month.
''I've played all over the world but there's something different about playing for your own people and Irish people love their music,'' he added.
He presented the school's award to a loud round of applause and spoke to the pupils about the long path leading to his singing career after leaving school early.
He left school at the age of 13 on the advice of his school principal and began busking on Grafton Street.
The school received the award as part of Green-Schools, an international environmental education programme that promotes and acknowledges long-term school action for the environment.
Schools that have successfully completed all the elements of the programme are awarded the 'Green-Flag'.
''During the summer I decided to write to Glen. He's a musician who I also noticed was quite passionate about environmental issues,'' said school music teacher Catherine Martin.
''I thought it might be quite inspirational for students to see someone they admire, an Oscar winner, taking the time out to come to our school,'' he added.
The programme is currently being implemented in over 50 countries around the world involving over 40,000 schools.