One man arrested as protesters trying to disrupt Dublin St Patrick's Day parade clash with gardaí
The group said the Our Father together before marching towards gardaí on Upper Ormond Quay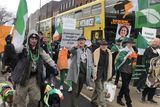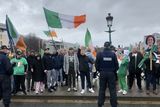 One man was arrested as demonstrators taking part in an anti-immigration protest tried to disrupt the St Patrick's Day parade in Dublin on Friday.
About 50 protesters gathered outside the Four Courts at 11am and marched towards Ormond Quay, where gardaí blocked them accessing the parade route.
Demonstrators carrying Irish flags, voiced their dissatisfaction with the government's immigration policies and shouted slurs and insults at members of the gardaí.
Addressing the crowd, one of the organisers said the official St Patrick's Day parade was "promoting the transgender agenda on our young children", and encouraged members of the public to join in the "real parade".
"We are here defending our Christian values, and I'm ready to die defending them," he said.
The group said the Our Father together before marching towards gardaí on Upper Ormond Quay. The crowd attempted to break through, pushing gardaí and using threats of intimidation.
The crowd caused delays as they blocked traffic on Grattan Bridge, shouting "no passport, no entry" about refugees seeking asylum here.
Extra gardaí were called to the scene around noon as altercations continued, and the crowd was moved down Capel Street away from traffic.
Some of the protestors chanted, "Leo Leo Leo, out, out, out", while others voiced their dissatisfaction with Minister for Integration Roderic O'Gorman and People Before Profit TD Paul Murphy.
Meanwhile, protesters stopped briefly outside Pantibar on Capel Street, and some shouted homophobic slurs as they crossed the rainbow pedestrian crossing.
The crowd then made their way back up to Grattan Bridge where they continued to protest, waving Irish flags at gardaí and shouting, "garda scum, off our streets".
At this time gardaí arrested a man in his 60s for public order offences on Grattan Bridge.
"The man has since been charged and is due to appear in court at a later date," a garda spokesman said.
A significant garda operation was in place across the city during the weekend with extra gardaí on duty and traffic restrictions in place. Rest days and annual leave had been cancelled for gardaí in Dublin.
The planned protest to disrupt the St Patrick's Day parade had been organised and spread by anti-immigration groups across social media.