'One hour for every year of her musical life' – music marathon tribute to Ashling Murphy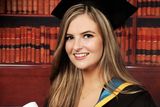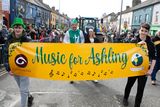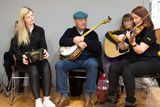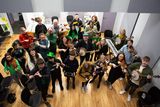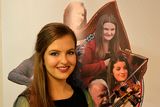 More than 100 traditional musicians gather ed in Tullamore on St Patrick's Day for a unique marathon in memory of schoolteacher Ashling Murphy.
The trad players, young and old, began a 23-hour session – one hour for every year of the young woman's life – on the Killeigh Comhaltas float in the Tullamore parade.
They then took their seats in Teach Comhaltas, the new traditional music venue in the town, for an unbroken session scheduled to last until 10.30am this morning.
Fiddlers, tin whistlers, accordion players, flautists and more joined in jigs, reels and hornpipes under the direction of Attracta Brady of Killeigh Comhaltas.
"Ashling Murphy was a gifted musician. She was my fiddle pupil from the time she was five years old," said Attracta.
"She came into me carrying a very small fiddle, but it was still too big for her – and she was exceptionally musical. She was very conscientious and she was absolutely enthusiastic about the music. She never came with a tune not learned."
Ashling – who was killed on the bank of the Grand Canal near Tullamore, Co Offaly, on January 12 when she went for a jog after a day's teaching at Durrow National School in the town – went on to learn the whistle and flute and had begun lessons on the uilleann pipes before she died.
"Never once did I have to tell Ashling Murphy that she had something wrong," Attracta added. "We organised this because our music world is very important to us and all of us here are musicians."
Ashling was also a member of Ballyboy Comhaltas.
Attracta said: "All the Comhaltas branches in Offaly, we're all like one big happy family and we all help each other out. And we all know that what happened to Ashling was beyond anybody's worst nightmare so we want to keep our memory here, we want to make sure she's part of St Patrick's Day."
The marathon will raise funds for the Offaly Domestic Violence Support Service.
The organiser said: "Originally we said we'd do 24 hours, but it just seems more poignant, more fitting and more appropriate that we would do the 23 hours – one hour for every year of her musical life."
One of the musicians among the first 20-strong group to begin the marathon was 14-year-old Jason Donoghue, a member of Killeigh Comhaltas.
"Attracta just brought up the idea over the last few weeks and said it's important to be there. I think it's just a good cause to be here," he said.